Germany's Spy Agency Employed Nazi Leader Heinrich Himmler's Daughter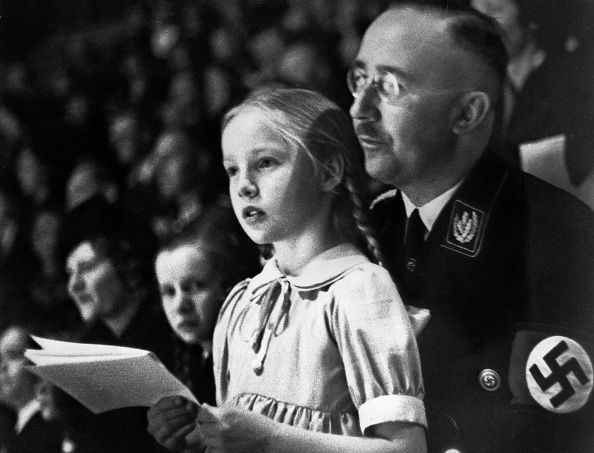 Germany's spy agency employed the daughter of former Nazi commander Heinrich Himmler, Adolf Hitler's second in command, despite the fact that she had never denounced her father's politics, officials revealed Friday.
Gudrun Burwitz, Himmler's daughter, was working as a secretary for Germany's Federal Intelligence Service (BND) for several years in the 1960s while simultaneously working with far-right groups. She died last month, and reports suggest that she continued to believe in the Nazi cause until her death. German intelligence was able to confirm reports of Burwitz's employment because she is no longer alive. She was 88 at the time of her death in May.
Even as an old woman, the German press reports that Burwitz was a holocaust denier who helped run an organization that provided social assistance to former Nazis. The organization, called Stille Hilfe—or Silent Help in English—is suspected of having collected funds for far-right groups and neo-Nazis, in addition to providing support for aging SS officers.
This is not the first time that Germany's intelligence services have been accused of employing former Nazis. When discussing Burwitz's employment Friday, the head of the BND's history department conceded that Himmler's daughter left the German intelligence service at a time when the agency was looking for a new way to approach former Nazis in its midst.
Newsweek subscription offers >
Burwitz worked for the BND when former Nazi military intelligence commander Reinhard Gehlen ran the agency.
Newsweek subscription offers >
Gehlen had been running Nazi military intelligence on the Eastern Front when Germany lost the war. He surrendered to American forces at the end of World War II. The U.S. had promised the Russians at the Yalta Conference that they would hand over any captured Germans who had worked in the East. But the U.S. broke its promise in Gehlen's case and instead allowed him to set up an intelligence unit in West Germany responsible for collecting information on the communists. The Gehlen Organization, as it was known, worked closely with the Central Intelligence Agency (CIA) and the North Atlantic Treaty Organization (NATO).
The organization also employed many former Nazis, including Adolf Eichmann's deputy Alois Brunner. The Gehlen Organization officially became the West German BND in 1956, and Gehlen ran the agency until he retired in 1968.
Documents detailing the CIA's relationship with Gehlen were declassified and published for the first time in 2005.
"The documentation unearthed by the IWG reveals extensive relationships between former Nazi war criminals and American intelligence organizations, including the CIA," according to a report from the National Security Archive.
"For example, current records show that at least five associates of the notorious Nazi Adolf Eichmann worked for the CIA, 23 other Nazis were approached by the CIA for recruitment, and at least 100 officers within the Gehlen organization were former SD or Gestapo officers."
Germany's Spy Agency Employed Nazi Leader Heinrich Himmler's Daughter | World