A New Spy Novelist for Vladimir Putin's World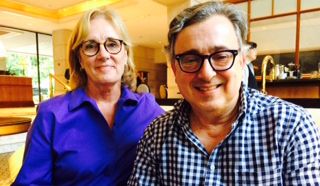 The spy was going to be late. In Jason Matthews's line of work, that was cause for worry. But on this rainy afternoon in Washington, D.C., the former CIA officer was merely dodging traffic, not a Russian trap. And he was rushing to meet a reporter, not a secret agent.
But shedding the cloak and dagger, it turns out, isn't as easy as trading wingtips for Top-Siders. Both Matthews and his wife, Suzanne, also a former CIA secret agent handler, still look over their shoulders for hostile intelligence agents. It comes from three decades of dodging Russian, Chinese and other adversaries' counterspies.
"Yeah, the old habits die hard, proving that there is no such thing as a former ops officer," jokes Matthews, in town to promote his second, much anticipated spy novel, Palace of Treason. "Suzanne and I notice cars behind us, we come home from parties with the same assessments of people, we still pick up a phone and think, 'It's tapped.'"
Likewise, while ordinary people don't give a Georgetown alley a second look, Matthews walks by and thinks, "Good site for a dead drop."
Like his CIA hero in Red Sparrow, which The New York Times called a "startling debut," Matthews has shed one identity for another with hardly a stutter step. One day shortly after his 2008 retirement, he picked up a pen and started writing. Out came a thriller that drew widespread, even ecstatic praise, with the inevitable comparisons to not just John le Carré and Ian Fleming but Cormac McCarthy and even T.S. Eliot.
At its center is Dominika Egorova, a once promising ballerina forced into training as a professional seductress by cretinous Kremlin intelligence bureaucrats. Egorova is back, of course, in Palace of Treason, this time at the behest of her handsome, self-effacing, equally idealistic CIA handler and rules-breaking lover Nate Nash, for whom she takes nerve-shattering risks, including a stab at seducing Vladimir Putin, who turns out to be plagued by EDS. (Trust me: This is high dark humor.)
"Pure inspiration," Matthews chuckles. "Trying to do my bit for the new Cold War. He gets it up when he starts ordering her to kill people. That's the ultimate aphrodisiac."
If such sounds more like Melissa McCarthy fare than le Carré, however, fear not. Palace of Treason, like its predecessor, has enough revelations of real-life spy tradecraft in its pages to qualify as a how-to manual for conducting espionage operations in dangerous places like Moscow, where Matthews and his wife both played very serious hide-and-seek games with Russian security forces.
One of a spy's mantras is, "There are no accidents." Anything out of place usually means danger. But Matthews, an owlish-looking 60-something, ended up in the CIA in a kind of accident. In 1975 he graduated with a degree in journalism from the University of Missouri and came to Washington, D.C. looking for some kind of writing job, perhaps in the government. He interviewed at several agencies before an uncle in the State Department suggested something a little more interesting—the CIA.
"He said, 'You want to try this?' So I said, 'Sure.' And one day I went down to Rosslyn and met some guy in an office. Right at that time, [CIA Director] Stansfield Turner had given pink slips to a lot of old Vietnam hands, and so there was a personnel drought. I got through the background investigation, and they offered me a job. I had two years of training...a bunch of internships on various desks and then it was off for my first tour."
It was the depths of the Cold War, "heady times" for CIA case officers, as spy handlers are called. "Any case officer, back in the old days, knew that the jewel in the crown was popping [recruiting] a Russian, popping an Eastern European, popping a Chinese," Matthews says. "For many years, the North Koreans were impossible—until someone recruited the first one."
The collapse of the Soviet Union in 1991 was succeeded by the rise of Islamic terrorism, presenting the CIA with an infinitely more complicated world and far harder targets. Its failures in that arena, from the September 11, 2001 attacks and through the miscues on weapons of mass destruction in Iraq, and beyond, are notorious. For the past 15 years, the CIA has been playing catch up.
"Our class, back then, was 30 people," Matthews says. "Today, it's 10 times that." But neither he nor his wife, a charming blonde Wyoming native who also was trained in everything from dead drops to hand-to-hand combat, could likely make it into the CIA today, they say.
"They are looking for people who have critical language skills," says Suzanne. "It used to be any language—French, German, Spanish, whatever." No longer. "Those people don't get a second look anymore. It's Farsi, Urdu, Arabic, Russian, Mandarin, Korean—the hard languages."
The focus on terrorism is "important," Jason Matthews says, but it "has actually hurt the agency's ability to do classic HUMINT," he says, using the acronym for human intelligence, or recruiting spies, outside the war zones. Spending hours upon hours in cities like Moscow, Beijing or even Paris doing an SDR—a surveillance detection route to throw off state security or enemy agents—can be boring to young people who cut their teeth in places like Iraq and Afghanistan. "It's hard, and it's slow, after you've been doing very heavy stuff in a war zone," he says.
But the hardest intelligence target in world right now is the Islamic State, also known as ISIS or ISIL, which has surprised Washington again and again with its well planned, expertly coordinated capture of major cities in Syria and Iraq. According to news accounts and intelligence sources, the CIA and Defense Department have utterly failed to get spies close to its leadership.
What would he do? I ask Matthews, who spent 33 years in the CIA's operations directorate. Take advantage of the stream of Western volunteers heading to Syria, he says.
"My inclination would be to put together a little group of really smart guys in a room and say, 'Get everything you can about how these fuckers operate, and then let's figure out some old-fashioned way to get someone in the camps.' Let's [send in] a guy [to join ISIS] and have him flunk out of training...so he can come back and say, 'Here's their vetting process—before I failed, this is what they put me through.' Because then the planners can get [figure out how to] put a satellite link in one of these little Iraqi villages" for other spies to report on ISIS from the inside.
Totally unrealistic, say other CIA veterans. Aside from the difficulty of finding people to chance a beheading, the agency would never risk the capture of one of its own.
"It's a long-term project," Matthews admits. And the CIA, like America itself, doesn't do long term. One of its "soft spots is the lack of ability to really learn a language and keep it," he says. "You may learn Vietnamese and do a tour there, and then they send you someplace else. You never go back for another tour." The same goes for the Middle East, where deep familiarity with the region is critically important to grappling with the challenge of ISIS. But the CIA system of moving people around doesn't permit it.
The Russians, on the other hand, cultivate regional specialists, Matthews notes: "Ivan goes back to Spain every third tour. And when he's back in Moscow he's on the Spanish desk. And his Spanish is flawless."
Matthews sighs. He does a quick, barely noticeable scan of people in the hotel bar. Old habit.
Outside, somewhere in Washington, at least a dozen foreign intelligence agencies are at work, with the FBI on their tails. On any given day the CIA, FBI and military intelligence agencies are also likely to be using the city's streets, stores, alleys and parks as a training ground. You could say that espionage is as much part of the capital's hidden fabric as its water mains and wi-fi.
"The likelihood, as we speak, is that some foreign intelligence officer within a mile of here is having a lunchtime meeting with an agent," Matthews says. According to NSA documents leaked by Edward Snowden, the leading actors in this largely unseen drama are the Russians, Chinese, French and Israelis—and FBI agents trying to catch them.
"Washington has got all these Civil War forts, with little pocket parks" that are "unbelievably good for [secret] meetings," Matthews says. "If I were a Russian, I would case the hell out of them…"
His eyes are twinkling. For a moment, he's back in the game. But of course, he's never really been out. He's just working in a new realm.
"It's an affliction," he cracks, "but at least we're not robbing banks in our retirement."
Jeff Stein writes Spytalk from Washington, D.C. He can be reached more or less confidentially via spytalk@hushmail.com.
Correction: In an earlier version of this article, a character in Palace of Treason was incorrectly referred to as John Nash. The character's name is Nate Nash.