'The Spy Who Dumped Me': 7 Unanswered Questions From the Film
In the month of August, summer blockbuster season begins to wind down. The 2018 calendar was filled with comedies from Ocean's 8 to TAG and jam-packed action pictures from Ant-Man and the Wasp to Mission: Impossible—Fallout. Lionsgate, however, isn't ready to conclude summer movie season just yet as it unveiled The Spy Who Dumped Me on Friday.
The Spy Who Dumped Me stars Mila Kunis and Kate McKinnon. Directed by Susanna Fogel, the film follows Audrey (Kunis) as she discovers her ex-boyfriend, Drew (Theroux), is a spy. At his request, Audrey and her best friend Morgan (McKinnon) embark upon an international mission to deliver a mysterious hard drive to a particular meeting spot. In typical movie fashion, the dynamic duo winds up finding trouble at remotely every turn along the way.
The comedic-action flick had its moments. It features an admirable message on women empowerment, it offers up some laughs and boasts strong action sequences. The film still, however, is far from perfect. With spoilers ahead, here's a look at seven unanswered questions from The Spy Who Dumped Me: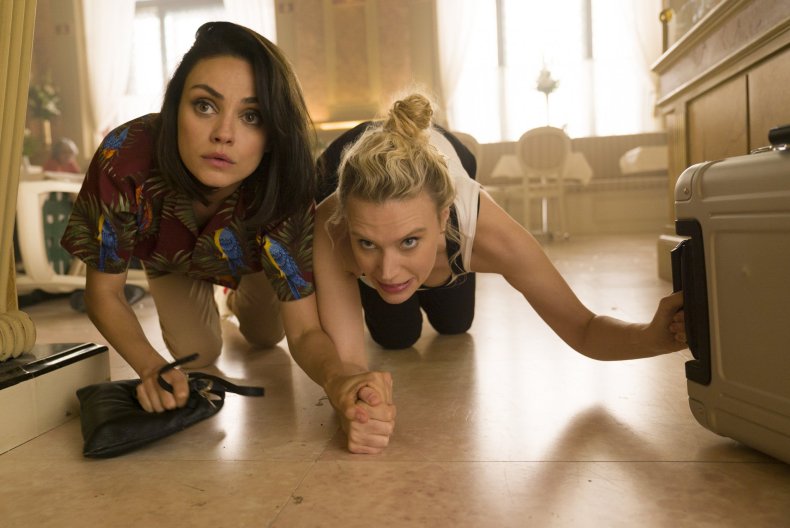 How did Justin Theroux's character come back to life?
Theroux's character Drew dies shortly after he reveals to Audrey he's a spy for the Central Intelligence Agency (CIA). As a result, Audrey and Morgan decide to help Drew complete his assigned mission. Toward the film's end, the viewer—along with Audrey and Morgan—discover that Drew is still alive. Prior to this, Audrey checked his pulse and confirmed he, in fact, died. Drew claims he was determined to remain alive for Audrey, but the movie fails to provide a legitimate answer to this bizarre resurrection.
How did they get away with murdering so many people when they're not CIA?
Before Audrey and Morgan earned jobs at the CIA, they were two average Los Angeles girls entangled in Drew's mission. Throughout the film, they managed to kill at least two people each—and they got away with it, too. Realistically, they would've been caught somewhere along the way, but this is a movie. Audiences will have to suspend believability.
How did Kate McKinnon get away with murdering the gymnast so publicly?
In the midst of Audrey, Morgan and Sebastian's final scheme, the trio attends an upscale event to hit the meeting point where they would complete the mission that belonged to Sebastian's late partner, Duffer (Hasan Minhaj). Morgan, however, partially deviates from the group's plan to participate in the circus-like show presented before the event's attendees. In hopping on the trapeze, she encounters the psychotic Nadedja (Ivanna Sakhno)—a gymnast who tortured Morgan and Audrey earlier in the film—on a trapeze across the room. The two fought to the death, literally. Audrey ended up knocking Nadedja off her trapeze, causing her to gruesomely die. As Audrey sticks the landing, she's met with applause from attendees. This scene alone raises the question: where are the police when you need them?
Why was Sebastian so awful at first if he was supposedly one of the good guys?
Audiences are initially led to believe Audrey's ex-boyfriend Drew is a sweet guy who truly cared about her. His colleague Sebastian, on the other hand, is presented as a jerk and villain whose perfectly OK with threatening Audrey at gunpoint in public. The film does a complete 360 with these male leads, causing audiences to now accept Drew as the bad guy and Sebastian as the good one. If Sebastian is supposedly the good guy, it doesn't entirely add up why he mistreated Audrey and Morgan before they all teamed up. The only possible conclusion is that he takes his job very seriously.
How did Audrey and Morgan get to become official spies?
Sure, this is a movie. Audiences, therefore, are often required to suspend believability. After successfully helping Sebastian save the day, Audrey and Morgan are seen in the film's final scene helping him conclude another mission—as spies. Realistically, they likely would've been placed in the Witness Protection Program since their identities were essentially compromised due to their involvement in the previous mission. They're spies now and viewers will have to accept that.
Did those girls ever get their passports back?
In taking on Drew's mission, Audrey and Morgan encounter issues with traveling throughout Europe. The pair realized that if they use their own passports, it would allow for the hard-drive seekers to track them down quicker. Audrey and Morgan, therefore, aimed to find girls that looked similar to them at the train station to convince them to lend their passports. The girls say no, but Audrey and Morgan stole their passports anyway. Audiences later see the girls speaking on the news about Audrey and Morgan stealing their passports while they were on vacation in a foreign country. It seems like the two ladies will have to obtain a new passport before leaving their vacation destination or hope they'll receive their passports again. Morgan did, however, suggest they'd mail it back to them.
Did the film's ending attempt to set up a potential sequel?
By the film's end, Audrey and Morgan are seen once again teaming up with Sebastian for a mission. At one point, the ladies enter a room and point their guns at a mystery person. This setup alone suggests that a sequel could happen, but it's too soon to tell. Early predictions suggest The Spy Who Dumped Me will earn between $11 to 18 million in its debut weekend. The film has competition as it's slated to go up against Mission: Impossible—Fallout and newcomers Christopher Robin and The Darkest Minds.