Spy-cam Pornography Prompts South Korea Street Protests
Tens of thousands of South Korean women are expected to fill the streets of Seoul on August 4 to protest an epidemic of secretly filmed videos that show women at work, on trains and in changing rooms and bathrooms.
"Entering a public bathroom is such an unnerving experience these days," 21-year-old student Claire Lee told Agence France-Presse (AFP). "You never know if there's a spy-cam lens hidden inside...filming you while you pee."
Spy-cam crimes have occurred since at least 2010, AFP reported, not long after smartphones became widespread. And the number of crimes has climbed significantly since. In 2010, 1,100 spycam crimes were reported to police, AFP said. Seven years later, the number was up to 6,500.
The Associated Press reported that "South Korea has struggled over the years to deal with perpetrators who use tiny cameras or smartphones to film under women's clothing to see their genitalia or underwear. The footage is heavily circulated on illicit porn sites, such as Soranet, which had more than a million users before police managed to shut it down in 2016."
Protesters have been holding rallies protesting spy-cam videos since May. Event organizers said approximately 55,000 people participated in last month's rally, while police said approximately 20,000 took part. The Associated Press reported that many at the women-only protest covered their faces.
Participants held signs that read "My life is not your porn" and "We're humans, not a sexual object for your sick fantasy." One marcher yelled, "Here's my message to men: I am not an object of your sexual desires! I am a first-rate citizen, just like you!" into a microphone.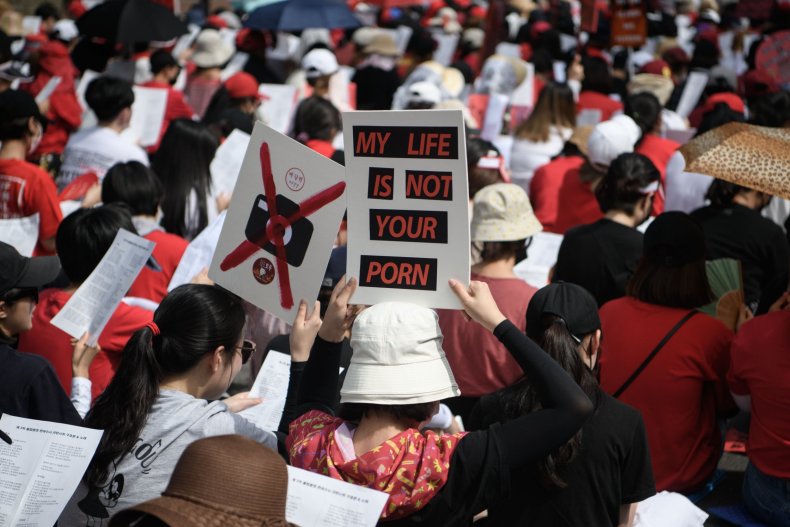 The #MeToo movement has gained traction in South Korea, and women have begun publicly accusing former colleagues and bosses of rape, sexual assault and sexual misconduct.
In January, public prosecutor Seo Ji-hyeon accused a former justice ministry official of groping her at a funeral in 2010. In March, Governor Ahn Hee-jung, who was once considered a presidential contender, resigned after confirming allegations that he had repeatedly raped his secretary. And the works of famous poet Ko Un will be erased from textbooks after accusations surfaced that he had sexually harassed women writers. Ko denied the allegations.
Protests against sexual crimes have spread to other Asian countries as well.
At the end of last month, more than 20 women in China publicized allegations of sexual misconduct against former bosses and colleagues.
Women in Japan also started speaking out. "By far, the biggest scalp claimed was that of Junichi Fukuda, the top bureaucrat in Japan's finance ministry, who is accused of sexually harassing a female journalist by making suggestive comments to her," BBC reported in April. Fukuda denied the charges but resigned.