Spyro Reignited Trilogy was announced for a Sept. 21 release date this past April, but, as of two days ago, the title is now scheduled to arrive Nov. 13. Toys for Bob Co-Studio Head Paul Yan said the change was made because "the trilogy needs more love and care," but a recent video from YouTube's YongYea offers additional context on the matter.
Earlier this month, fans discovered language on the Ignited Trilogy's official website suggesting "games two and three [of the trilogy] require download via internet." This meant those purchasing physical versions would have to download a sizable chunk of data in order to fully experience two thirds of the product they paid for. This practice is customary for smaller files like day-one patches, but some saw the Spyro situation differently. Detractors felt that, by locking so much content behind an internet connection, distributors were not only devaluing the disc itself but also being insensitive to those in rural areas without high-speed internet access.
According to YongYea's source, described as "someone close to the project," the backlash to this decision was one factor in committing to the recent delay. The insider alleges that putting just one of the three games on the Ignited Trilogy disc was not something the team wanted to do, and that it was only enforced by the game's publishers at Activision to get the finished product out on time. Toys for Bob was denied when officials asked Activision for a deadline extension, but the publisher changed its stance after holding a second meeting to discuss the issue.
As of now, the unnamed source suggests the first two games of the Spyro Reignited Trilogy are basically done, but the third installment, Year of the Dragon, still has lots of programming work that must be completed in order to meet the new deadline.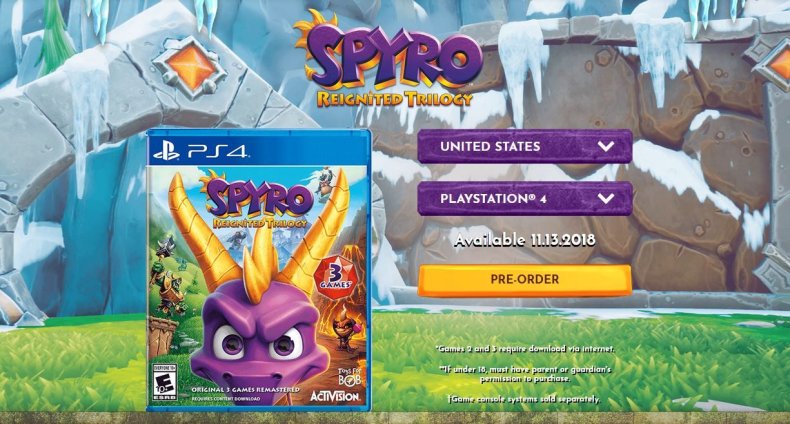 While this info is purely speculation and should be taken with a grain of salt, YongYea, offers several pieces of evidence that add to its credibility. His source provided the proper credentials and also informed the YouTuber of the delay about one week before it was officially announced. The developer's official wording that "we know you'll agree the extra time was worth the wait" also suggests changes are being made that fans will appreciate.
Lucky for fans of Spyro the Reignited Trilogy, it won't be long before this rumor is either confirmed or debunked. The wording on the official website still mentions the download requirements alongside the new date, but, if that changes with the final product, we'll know at least one way the extra time was used.
Spyro Reignited Trilogy comes to PS4 and Xbox One Nov. 13.
Are you disappointed to hear the Spyro Reignited Trilogy has been delayed? Will all three games wind up on the final disc? Tell us in the comments section!