'Spyro Reignited Trilogy' Nintendo Switch Release Possibly Leaked in GameStop Posting
It seems the Spyro Reignited Trilogy is coming to the Nintendo Switch this year based on a leak from a GameStop posting.
According to GameStop's German website, Spyro Reignited Trilogy is coming to the Nintendo Switch on August 16. However, the post has since been taken down, but not before fans took plenty of screenshots of the supposed flub.
Spyro Reignited Trilogy released on Xbox One and PS4 in November 2018, but there was no announcement of a Switch release. However, postings of Spyro coming to Switch appeared on Nintendo's own site in April and on the official Spyro page.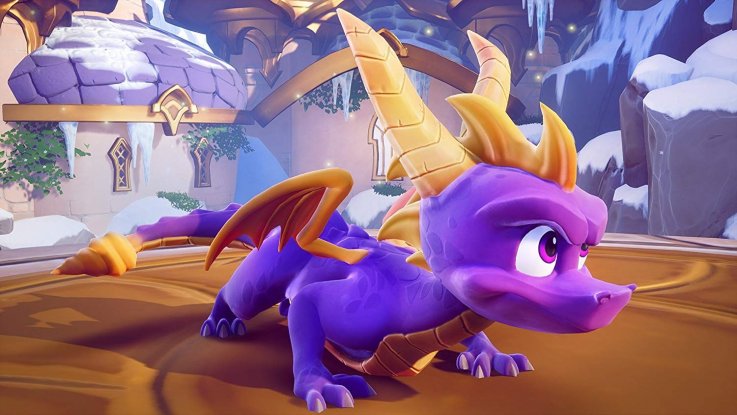 The remakes were a hit for Activision and Spyro fans. Newsweek even praised the Reignited Trilogy for its exemplary visuals:
Immediately, it's obvious special care went into making the Spyro Reignited Trilogy look amazing. The colors pop off the screen, the textures are crisp and the animations are fluid. The level designs are all fairly basic, a holdout of remaining true to the originals, but are populated with enough eye candy to keep them interesting.
The Reignited Trilogy seems to be following the same release date path as the Crash Bandicoot N' Sane Trilogy. First released on PS4 in June 2017, the Crash remakes didn't hit Xbox One, PC or Nintendo Switch until a year later in 2018.
While the rumored Spyro remakes Nintendo Switch release date would come less than a year of its release on other consoles, fans looking to take the purple, sheep-burning dragon on the go will likely get their wish soon.
A new Nintendo Direct is rumored for February 13, and the announcement of the Spyro Reignited Trilogy for Switch may come this week.
Do you think this latest Spyro Reignited Trilogy on Nintendo Switch rumor is legit? When do you see the games coming to the hybrid console? Let us know in the comments section below.
'Spyro Reignited Trilogy' Nintendo Switch Release Possibly Leaked in GameStop Posting | Gaming