A successfully remastered video game changes very little. Its goal is to perfectly recreate childhood memories, to make everything look and feel how we remember it. This philosophy drives everyone involved in the Spyro Reignited Trilogy, from the developers at Toys For Bob, to talent like Tom Kenny.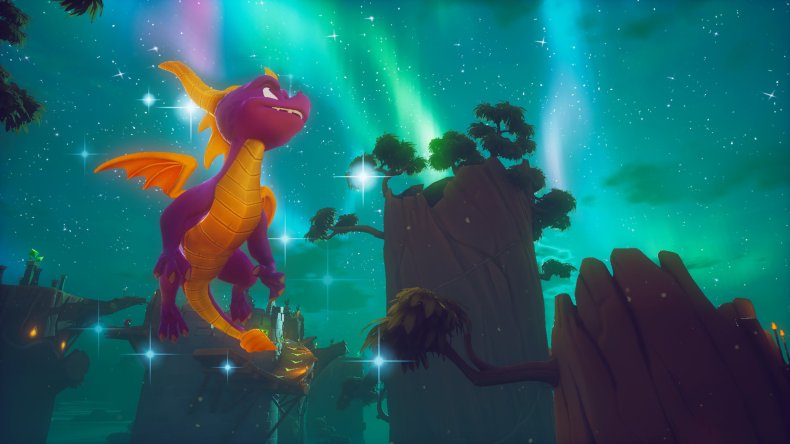 "We're huge fans of Spyro, and those original games served as reference for many things we've made, especially Skylanders," Paul Yan, chief creative officer and co-studio head of Toys For Bob, told Newsweek. "It's been great to go full circle back to classic Spyro and breathe new life into him."
Fun fact: Spyro at one point was an adult, green and named Pete. Insomniac would change all these before release to the dragon we know today.
While the Spyro in the Reignited trilogy doesn't look exactly like the Spyro from the original release, that's largely due to how much gaming technology has improved in the 20 years between both games. "We were talking to one of the producers of the original, and they had a 120 polygon limit for characters in the original game and, honestly, we probably have more than that in Spyro's toe," said Joshua Nadelberg, art director at Toys For Bob. "There's just so much more graphical power we can take advantage of on modern consoles."
A short comparison of graphics from the Reignited Trilogy and the original release
Despite the desire to reboot Spyro and bring his earliest adventures to a new generation of gamers, Toys For Bob knew the changes had to be kept to a minimum to please fans of the originals. "We were very very cautious about doing anything that would change the gameplay in any way," Nadelberg said. "We built a tool that allows us to extract all the original level mesh, the placement of gems and treasures throughout the world and pathing for enemies. Gameplay is as close to the original as we could possibly make it."
Fun fact: A NASA rocket scientist worked with developers to ensure Spyro's glide ability was authentic from a flight control perspective.
Tom Kenny's role in the Spyro Reignited Trilogy was to essentially recreate his performance from years ago because the original recordings couldn't be remastered due to their low quality. Kenny listened to his old recordings, then did his best to mimic them. That is, except for the original Spyro the Dragon.
"There were a few Spyros," Kenny said. "There was Carlos Alazraqui, then me for two games then some kid named Elijah Wood." While Kenny only had to recreate Alazraqui's performance from the first Spyro, he was thankful for it. "It was nice not to have to listen to myself the whole time," he said.
Fun fact: As of 2007, the Spyro series altogether has sold more than 20 million units worldwide, with almost 5 million of those sales being the first game in the series.
"The hardest part was matching those performances from 20 years ago," Kenny continued. "With all this experience under my belt, I wouldn't read the line in that way. Fans are very much sticklers, so the hardest part was staying in the lane from 1998. You want to give them all the good stuff of an update, without messing up the experience."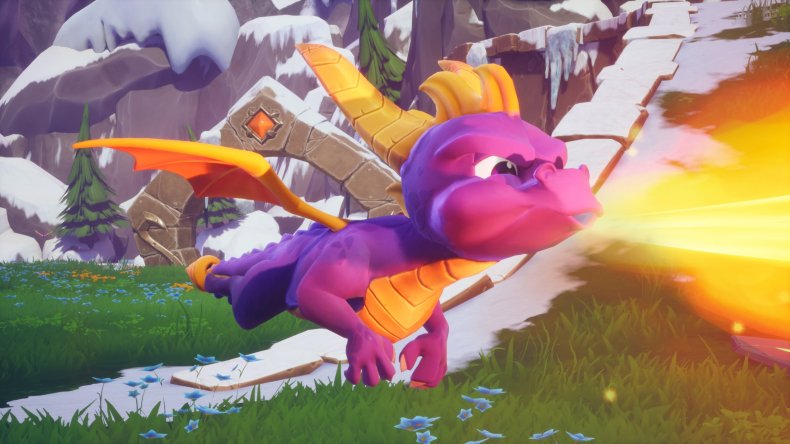 While Kenny had fun recording the dialogue for Spyro 2: Ripto's Rage! and Spyro: Year of the Dragon, he didn't anticipate that the game and character would sustain a loyal following throughout the years. "It's like being a session musician or on a wrecking crew. You show up with your drumsticks and say 'ok, what are we going to play today?'" he said about voicing the character. "It's hard to predict what's going to pop and be big and what stuff is going to come back around a second time. It's totally unpredictable. You go from session to session and do the best you can and try to give life to these characters."
Fun fact: Each level in Spyro was given a theme as the production team wanted them to feel different from each other, and many were inspired by movies. The Beast Makers Hub was inspired by Apocalypse Now; Cliff Town was inspired by Star Wars and numerous others paid homage to the Indiana Jones series.
Kenny didn't give the character much more thought until recently. "I started seeing something happen a couple years ago where people started asking more Spyro questions and people were coming up to me with Spyro stuff at Comic-Con to sign. That hadn't hardly happened at all before," he said. "I think that's a function of people that played those games growing up and getting nostalgic for that thing that blew their mind when they were little dragons themselves."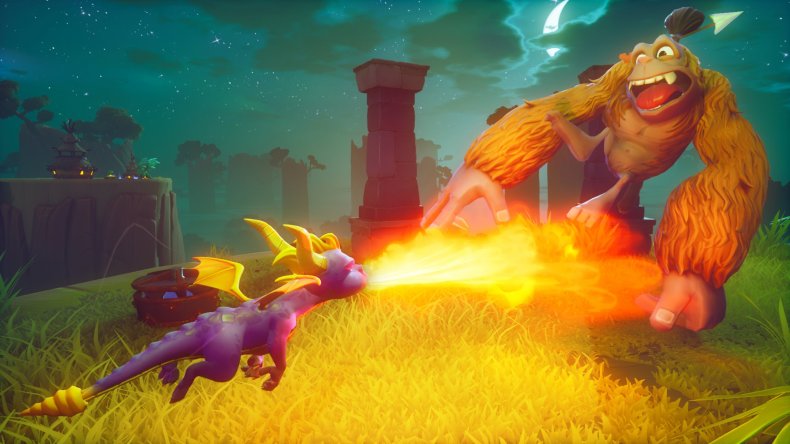 Now that the Reignited Trilogy is here, Kenny is proud to be considered the 'definitive' voice of the purple dragon. "It's nice to know Spyro is part of the warm, fuzzy safe place of these people that are now in a complex, somewhat horrible world," he said.
The Spyro Reignited Trilogy releases for PS4 and Xbox One on Sept. 21.
So what do you think? Are you excited to relive the memories with the Reignited Trilogy? Will this be your first Spyro adventure? Let us know your thoughts in the comments section below.
Note: The fun facts in this article were provided to Newsweek by Activision.