'Spyro Reignited Trilogy' Devs Did Not Just Hit the Beautify Button
The developers at Toys For Bob took the Spyro Reignited Trilogy very seriously. They've spent years rebuilding the games from the ground up, with only a handful of binders filled with hand drawn art and schematics to work with. But enthusiastic early responses from fans seem to indicate the wait will be worth it. Newsweek spoke with several members of the development team about bringing the world, characters and music of Spyro into the modern era.
From the earliest days of the project, the Toys For Bob team knew they had a big responsibility in taking on a beloved franchise, and reached out to the original developers at Insomniac Games. "We really wanted to understand where were they coming from, what were the lessons they learned, what did they try that failed, and how do we take that trajectory forward," said Toys For Bob Co-Studio Head Paul Yan.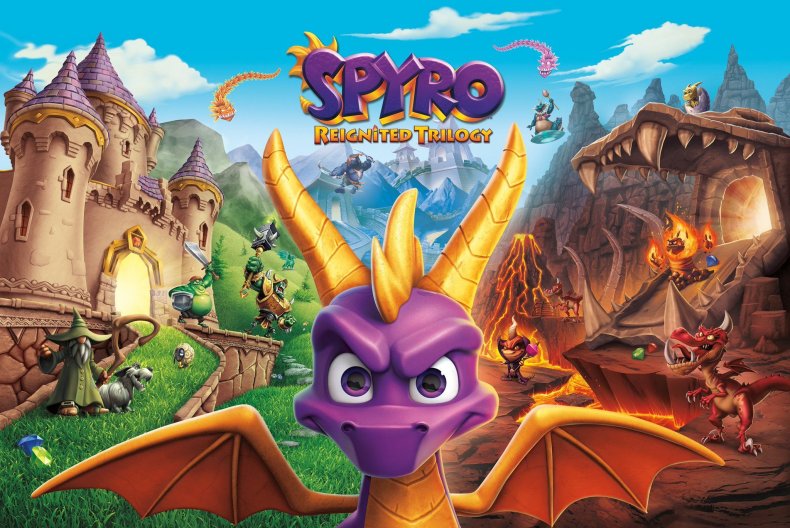 Unfortunately, Insomniac had little tangible to offer, other than a few binders filled with pencil drawings of levels and some original planning documents. Those, along with their insights and stories, were all Toys For Bob had to use to build the revamped games. So they had to get creative.
"We actually built out a tool called 'Spyroscrope' because it put the original game Spyro under a microscope," Yan explained. The developers ran the older game as an emulation, while their real-time tool extracted data to recreate an exact mesh background of the game.
Not only did the "Spyroscope" help build the levels, it also shaped the new game's art. "We would get a little bit of the base mesh from the levels and take that to a concept artist, who would see how they could make this feel more real, inhabited, and not impact the way that you are playing the game," Senior Producer Peter Kavic told Newsweek.
The team found myriad of ways to do this—adding more colors, banners, or even cracks on rocks. They've found ways to define, polish, and improve even the smallest aspects of the game. "The biggest thing is constantly making sure that we're paying attention to details and not letting anything slide," Kavic said.
Technological innovations also allowed the developers to give more depth to the game's characters, and getting Spyro's look just right was key to telling a richer, more lively story better suited to a modern gaming audience. "The original characters of the games were very low poly," Art Director Josh Nadelberg told Newsweek. "They tried to do as much with the technology, but literally we have more geometry in one of Spyro's eyeballs than they had in the whole Spyro character."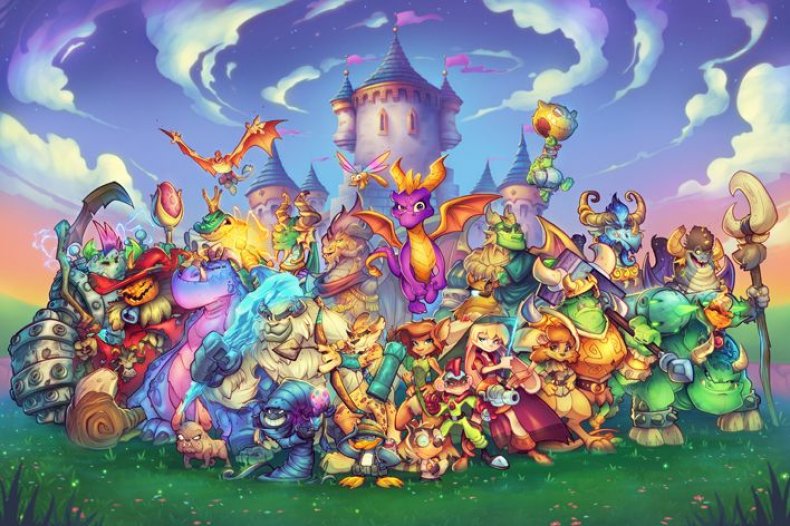 The supporting cast of dragons from the original game needed an overhaul as well. Toys for Bob made every single one of those dragons a unique character, whereas in the past these had been color-swapped clones. "Every time you interact with a dragon, it enhances the story and makes you feel like there's a world that Spyro is in," said Nadelberg. "We felt like to make a game that was going to be as evocative as possible, we wanted to tell a bigger story."
Beyond the beautiful visuals and redesigns, the music is truly a special part of the Spyro world. Music Remixer Stephen Vankov spent hours dissecting Stewart Copeland's original score. It was, by his account, a monumental task. "There were 125 music tracks across the three games. How long would it take to reconstruct all these tracks with render time?" Vankov explained. "We have our own musical sensibilities in terms of what we think the music should sound like. But are fans going to appreciate that?"
"When we started working on the game, I was putting in both the original and the new version and having it on a button press, so that anytime while playing you can switch back and forth," said Vankov. This allowed them to test if their new piece was working as well as Stewart's original. They liked this process so much, Toys For Bob put it in the game. "I'm really proud of the work we've done with the music, but I'm well aware that some people may still prefer the original soundtrack as an option," he said.
With all these hours of research, study, and revision, Spyro Reignited Trilogy hopes to lure fans back into this redesigned world on Nov. 13. Do you have a favorite dragon you can't wait to rescue? Any favorite music from the soundtrack you play on repeat? Let us know in the comments below.