In a move that formalizes their famed political alliance, the four first-term Democratic Congresswomen known informally as "The Squad" today launched The Squad Victory Fund, a joint committee to raise money that will be spent to support each other and like minded candidates in campaign efforts and to advance progressive causes.
The first endorsements from the quartet—Representatives Alexandria Ocasio-Cortez of New York, Ilhan Omar of Minnesota, Ayanna Pressley of Massachusetts, and Rashida Tlaib of Michigan—were for one another as they approach their first re-election bids in what are all predominantly Democratic districts. Ocasio-Cortez won her June 22 primary in a landslide and Pressley is unopposed, but Omar and Tlaib both face credible challengers in August primaries.
Beyond supporting their own collective political futures, the Squad Victory Fund plans to funnel money raised through their individual PACs to "provide vital resources to continue to organize and mobilize a broad, diverse grassroots movement across the country," according to a press release.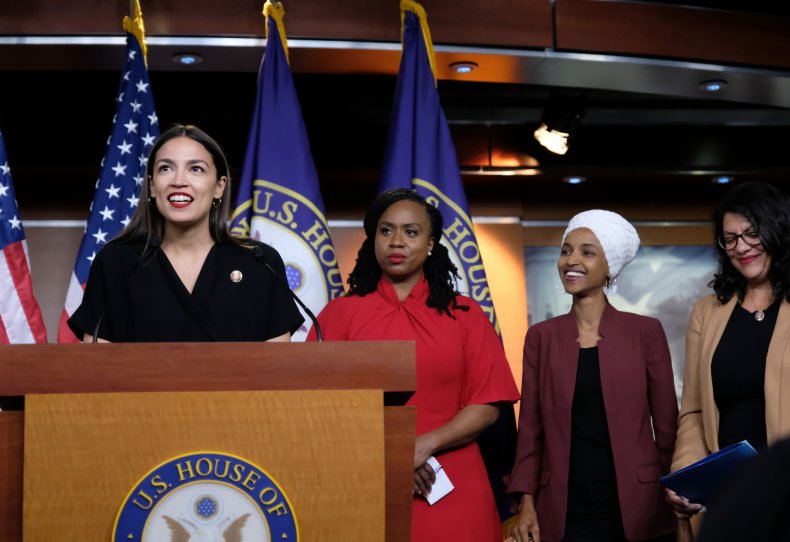 "I am so deeply grateful to call Alex, Ilhan, and Rashida my sisters-in-service and to work alongside them to advocate for our communities and to fight for those who have been left out and left behind for too long," Pressley said in a written statement. "We find ourselves in unprecedented times that call for unprecedented organizing, unprecedented mobilizing, and unprecedented legislating...Together, we'll continue to do the work of ensuring that those closest to the pain are closest to the power."
Omar spokesman Jeremy Slevin says the congresswomen will seek to use their collective prominence to advance a "core set of values" and not necessarily limit their support to women of color. Omar and Pressley are Black, Tlaib is Arab-American and Ocasio-Cortez is Latina.
"It first and foremost means being committed to a progressive agenda, people who want to fight for a Green New Deal, for Medicare For All, for a more peaceful world and to end homelessness in America," Slevin says. "It's people who are committed to those policies and a politics that comes with being a progressive people who have the support of working people and a grassroots movement rather than corporate donors or high-dollar donations."
The move is historic, says political scientist Nadia Brown of Purdue University, who studies women of color in politics.
"It's necessary and timely to have a political unit of women of color," Brown says. "We know from long lines of scholarship that other groups have the same kind of networks, whether they're formal or informal, and women and people of color are often excluded from these networks. These are women who now have power and a national stage."
The Squad Victory Fund is also an effort to embrace a political nickname that started innocuously and was seized upon by political figures on the right including President Donald Trump to package the four congresswomen as scary or radical.
It began when Ocasio-Cortez posted a photo on Instagram in late 2018 of the four congresswomen-elect with the one-word caption: "Squad." She has said since that her use was not intended as anything more than the use of a hip-hop slang term for friendship. Even as part of the most diverse freshman class in the House, they cut intriguing figures after Ocasio-Cortez and Pressley unseated longtime Democratic incumbents and Omar and Tlaib were the first two Muslim women elected to Congress.
Some conservatives, including Laura Ingraham and Kellyanne Conway, referred to them as a squad after that post, but the moniker really took off when Trump attacked them as a group on Twitter in July 2019 for voting against funding for the border wall. Trump suggested they "go back" to the countries from which they came rather than tell the U.S. "how our government is to be run." Only Omar, who came to the U.S. as a 12-year-old Somali refugee, was born outside the United States.
Although Trump didn't use the term in his tweets, media coverage of his comments invariably referred to the women as The Squad. Ever since they have, as a unit, been a durable foil for conservatives aiming to paint all Democrats as liberal extremists.
Embracing the nickname, then, is a way to reclaim and define it, says political scientist Kelly Dittmar of Rutgers University who studies gender and politics. "It's taking something for which they have been demonized and targeted and trying to translate it into an advantage and to mobilize support," Dittmar says.