The Squad Could Shrink As Ilhan Omar Comes Under Fire in Minnesota Primary
Representative Ilhan Omar, an outspoken and progressive Minnesota lawmaker whose first-term in the U.S. House has at times been marred in controversy over her foreign policy stances, could become the latest Democratic incumbent to lose her seat in Congress.
Primary voters will head to the polls in the midwestern state on Tuesday, where Democratic constituents will choose between Omar, one of the first two Muslim women elected to Congress, and Antone Melton-Meaux, a Black attorney who's proven to be a formidable opponent with significant campaign resources.
And depending on the results, Minneapolis Democratic voters may force The Squad—a small group of prominent lawmakers compromised of Omar and three other first-term women of color—to shrink.
"The actors that get you in trouble are forgetting about your home district, not bringing services and benefits to your constituents, and controversy," said Larry Jacobs, a public policy professor at the University of Minnesota who's closely followed the race. "Omar is very subscribed on all the bad stuff and undersubscribed on all the good stuff. Her term has been plagued by controversy and scandal."
During their first two years in the House, Omar and The Squad—Alexandria Ocasio-Cortez (D-N.Y.), Rashida Tlaib (D-Mich.) and Ayanna Pressley (D-Mass.)—found themselves quickly rising to national prominence as some of the chamber's most liberal and outspoken members against President Donald Trump. But they also drew criticism, acting as a thorn in the side of leadership after Omar received bipartisan backlash for anti-Semitic tropes about U.S. support for Israel being tied to money, accusing pro-Israel lawmakers have exerting dual loyalty and claiming the Middle Eastern country "has hypnotized the world."
Jacobs recalled that a high-level Democratic official, whom he declined to name, said that Omar is Minnesota Democrats' Michele Bachmann, an acknowledgement of the headaches that Omar creates for her party similar to that of the former GOP congresswoman.
"Trump would really like to run against Omar, not Joe Biden," Jacobs said.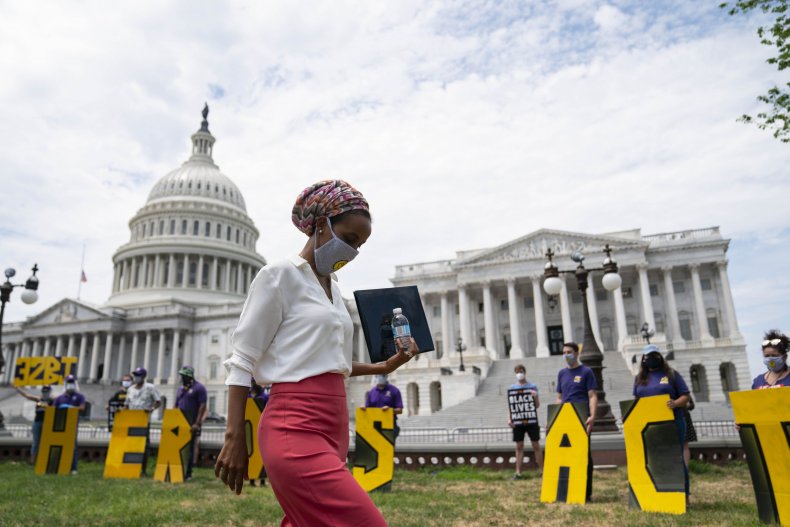 Trump has made several racist comments in the past about Omar and The Squad, including a tweet where he told the four women of color, all of whom are U.S. citizens and only Omar was born abroad, to "go back" to where they came from. Omar was a Somali refugee.
The negative attention Omar has attracted and the political enemies she's created throughout her tenure has helped give rise to Melton-Meaux. During his campaign, Melton-Meaux has raised a staggering $4.15 million, trailing Omar by only about $130,000. A small but affluent, vocal Jewish community has helped prop up Melton-Meaux's campaign, according to Jacobs, who added that Melton-Meaux has a simple yet effective messaging strategy: He's not Ilhan Omar, and he's not divisive.
"They're on fire about defeating Omar. The presidential race is like a side feature," Jacobs said. "In politics, you prefer not to get an enemy with money and intensity."
Minneapolis' hometown paper has endorsed Melton-Meaux, charging Omar with being more focused on advancing her person career than improving the lives of her district's residents.
"While Omar wants to lead a movement, Melton-Meaux seeks to serve the Fifth District," the Minneapolis Star Tribune editorial board wrote last week.
Polling for the primary race is scarce, though the Omar campaign remains confident the incumbent can secure a victory. A survey commissioned by the Omar campaign last month showed her with a 37-point lead over Melton-Meaux.
"We campaign hard because elections are about more than just winning—they're an opportunity to organize your community behind progressive change and get people more involved in our Democratic process," Jeremy Slevin, Omar's communications director, told Newsweek in a statement. "In the Fifth District we believe in having marginalized voices be prioritized. We believe everyone should have healthcare, a roof over their head, and a liveable planet."
"And we believe that this Congressional seat is one that belongs to the people and will remain with the people," Slevin added.
The Melton-Meaux campaign did not respond to Newsweek's inquiry.
Controversy in Georgia
Omar won't be the only high-profile race on Tuesday. Republicans in Georgia will decide whether to back a QAnon supporter who's been disavowed by her own party's top leaders for making bigoted remarks.
Marjorie Greene, who is on the polar opposite side of the ideological spectrum from Omar, is in a run-off election against business owner John Cowan to replace retiring Republican Tom Graves. Greene has led in fundraising—thanks to personal loans she provided her own campaign—but polling has suggested the race is a toss-up, even though Greene in the June primary secured about 40 percent of the vote compared to Cowan's 20 percent.
Greene was condemned by national Republicans, including House Minority Leader Kevin McCarthy (R-Calif.), this summer after Politico uncovered she made racist Facebook videos in which she said Muslims do not belong in government, black people "are held slaves to the Democratic Party" and billionaire Democratic Jewish donor George Soros is a Nazi.
A co-owner of a construction company, Greene has also embraced the QAnon conspiracy movement followed by far-right Trump supporters. And whoever wins the nomination is likely to replace Graves, given the district's conservative dominance.
Connecticut
Republicans in several congressional districts will face off to determine who will take on Democratic incumbents.
Republicans Mary Fay and Jim Griffin are fighting for the state's 1st Congressional District nomination to try and unseat Representative John Larson, a Democrat. In District 2, it's Republicans Justin Anderson and Thomas Gilmer battling it out to go up against Representative Joe Courtney, a Democrat. And in the 4th District, Republicans Michael Goldstein and Jonathan Riddle, the winner of whom will face Representative Jim Himes, a Democrat.
Minnesota
Aside from Omar and Melton-Meaux, it's Republicans Michelle Fischbach and David Hughes in the 7th District. The winner will run against Representative Colin Peterson, a Democrat, and is a potential seat pick-up for Republicans because the district went to heavily for Trump in 2016.
Minnesota also has the only Senate primary on Tuesday. Four Democrats are taking on incumbent Tina Smith, who's expected to easily win her race. Five Republicans are running against one another.
Vermont
The state's at-large congressional seat, held by Representative Peter Welch, is defending his seat against Democrat Ralph Corbo while Republicans Miriam Berry, Jimmy Rodriguez, Justin Tuthill and AnyaTynio vie for the GOP nomination.
Wisconsin
Only one incumbent House member faces a primary challenge. Representative Ronald Kind, a Democrat, is being challenged by Mark Neumann.