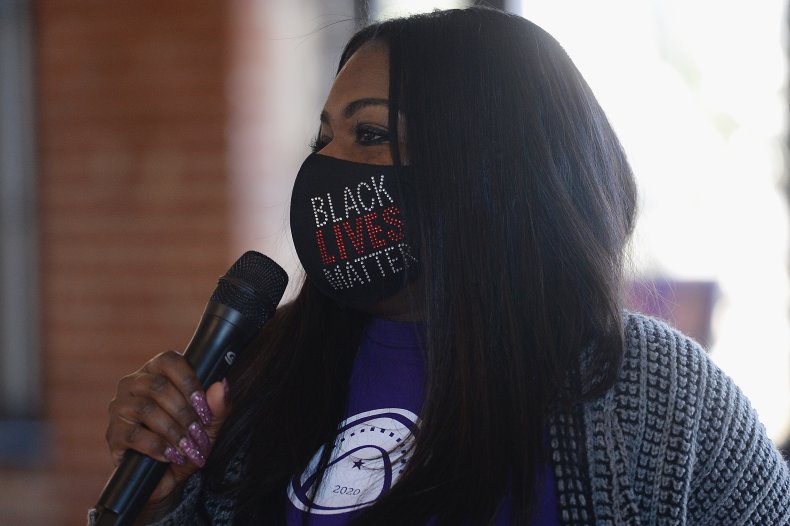 Progressive activist Cori Bush has won her bid for a U.S. Representative seat in Missouri's 1st Congressional District on Tuesday, becoming the first Black woman the state has sent to Congress.
Bush handily defeated Republican nominee Anthony Rogers, holding almost 85 percent of the vote (or more than 80,000 votes) in the heavily Democratic district that includes St. Louis with about 21 percent of the vote counted on election night, according to the Associated Press.
"As the first Black woman and also the first nurse and single mother to have the honor to represent Missouri in the United States Congress, let me say this," Bush said during her victory speech. "To the Black women, the Black girls, the nurses, the essential workers, the single mothers: This is our moment."
As the election approached, the congresswoman-elect was touted by some as a potential new member of "The Squad," the loose group of progressive lawmakers that has so far included Rep. Alexandria Ocasio-Cortez, Rep. Rashida Tlaib, Rep. Ilhan Omar and Rep. Ayanna Pressley.
Prior to entering politics, the progressive was known for her involvement in the Black Lives Matter movement, having taken a prominent role in the Ferguson, Missouri protests that took place following the police shooting and death of Michael Brown in 2014.
Bush beat former Rep. Lacy Clay, a 10-term incumbent, during the Democratic primary in August. Her surprise victory, by a little less than 5,000 votes, ended more than a half-century reign of the district being represented by the Clay family, beginning with the 32-year incumbency of Clay's father, former Rep. William Lacy Clay Sr.
Clay beat Bush in a 2018 primary challenge, with her 2020 victory being viewed as an upset by many. She also fell during the primary stage in her bid for a U.S. Senate seat in 2016.
Progressive political action committee Justice Democrats, who has back both Bush and The Squad when they were elected in 2018, offered their early congratulations to Bush on Tuesday night before results were officially announced.
"It's official. The first-ever recruited Justice Democrat candidate @CoriBush is going to Congress," the group tweeted. "Six years ago police officers maced Cori in Ferguson as she helped spark a global movement. Three months from now she'll be holding police accountable as a member of Congress."
An October 20 tweet from Bush that suggested she would be part of an effort to "defund the Pentagon" taking office sparked controversy, receiving criticism from many prominent Republicans—including Donald Trump, Jr. and House Minority Leader Kevin McCarthy—who viewed it negatively as an extension of Bush's support for progressive policies including defunding the police.
"Donald Trump Jr. and Kevin McCarthy are attacking me," Bush tweeted in response. "A local editorial board calls me ignorant. As a Black woman running for office, I'm used to these kinds of attacks. But let's talk about ignorance. Let's talk about what actually keeps our communities safe."
Update 11/4, 12:33 a.m.: This article has been updated to include a quote from Cori Bush's victory speech.