Squad Member Ayanna Pressley Read Names of 46 Killed Trans People in House Speech
Representative Ayanna Pressley acknowledged 46 transgender and gender-nonconforming people who have been murdered this year during a House speech in recognition of the Transgender Day of Remembrance (TDOR) this weekend.
The day of remembrance, recognized on November 20, began in 1999 by transgender activist Gwendolyn Ann Smith to honor Rita Hester. Hester was a Black transgender woman from Allston, Massachusetts—within the Democrat's congressional district—who had been murdered the year before.
"This day was created to memorialize the loss of her life and far too many others due to transphobic violence," said Pressley in her House speech on Wednesday.
She added, "The cruelty of transphobia is a threat that we must confront and root out wherever it exists, whether in music or on television or in the hallowed halls of the nation's capital. There is no place for hatred because someone is brave enough to show up exactly as they are and to live their truth."
Pressley continued that there have been 46 victims of transphobic violence in 2021 with Black and Latinx trans women being disproportionately affected. The Democrat also acknowledged that the statistic is only based on the number of deaths that have been properly reported.
"On the floor of Congress, we speak their names," Pressley said.
Then she listed their names: Tyianna Alexander, Samuel Edmund Damián Valentín, Bianca "Muffin" Bankz, Dominique Jackson, Fifty Bandz, Alexus Braxton, Chyna Carrillo, Jeffrey "JJ" Bright, Jasmine Cannady, Jenna Franks, Diamond Kyree Sanders, Rayanna Pardo, Jaida Peterson, Dominique Lucious, Remy Fennell, Tiara Banks, Natalia Smut, Iris Santos, Tiffany Thomas, Keri Washington, Whispering Wind Bear Spirit, Sophie Vásquez, Danika "Danny" Henson, Serenity Hollis, Oliver "Ollie" Taylor, Thomas Hardin, Poe Black, EJ Boykin, Aidelen Evans, Taya Ashton, Shai Vanderpump, Tierramarie Lewis, Miss CoCo, Pooh Johnson, Disaya Monaee, Brianna Hamilton, Kiér Laprí Kartier, Mel Groves, Royal Poetical Starz, Zoella "Zoey" Rose Martinez, Jo Acker, Jessi Hart, Rikkey Outumuro, Marquiisha Lawrence, Jenny De Leon, Jahaira DeAlto.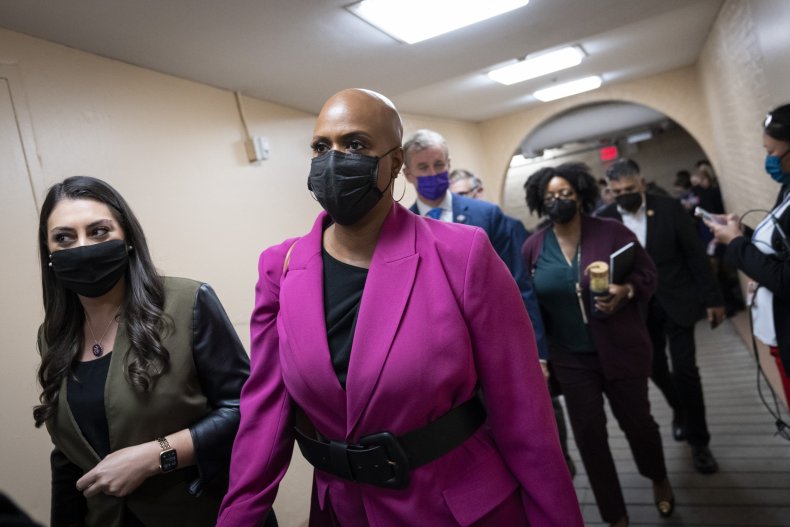 The Human Rights Campaign announced on Thursday that 36-year-old Angel Naira, a Black transgender woman and health care worker, was the 47th victim of transphobic violence.
Pressley noted in her speech that DeAlto, a 42-year-old trans woman who was killed on May 2 in Boston, was murdered in her congressional district. DeAlto was a beloved advocate for the transgender community and survivors of domestic violence, according to the HRC.
DeAlto spoke out 22 years ago on the first day of remembrance when Hester was killed and lived in the Pressley's district until her death this year, the Massachusetts Democrat said.
"Jahaira DeAlto's compassion will forever be her legacy, alongside her legendary status in the ballroom community for serving everyday realness," Pressley said. "While we grieve the loss of loved ones, neighbors and colleagues, we must hold space to celebrate their life and the differences they make in ours."
Transgender Awareness Week, the one-week celebration leading up to TDOR was observed from November 13-19.
Newsweek reached out to Human Rights Campaign for comment.