Squad Member Ilhan Omar Wins Minnesota Primary After Contentious Race
Minnesota Democratic Representative Ilhan Omar was declared the winner in the state's Fifth Congressional District against her opponent, Antone Melton-Meaux on Tuesday night. Melton-Meaux conceded the race.
Omar was the first of two Muslim women elected to the U.S. Congress. Melton-Meaux, who had never run for office before, referred to Omar as "divisive," pointing to remarks Ilhan had made during her first term in Congress that were construed as anti-Semitic. Melton-Meaux's campaign was fueled by large donations from outside sources, including Colorado Governor Jared Polis. With 97.9 percent of precincts reporting, Omar received 57.21 percent of the vote while Melton-Meaux garnered 39.43 percent of the vote.
"In Minnesota, we know that organized people will always beat organized money," Omar tweeted Tuesday. "Tonight, our movement didn't just win. We earned a mandate for change. Despite outside efforts to defeat us, we once again broke turnout records. Despite the attacks, our support has only grown."
Omar has become associated with a group of representatives known as The Squad. Other members of The Squad include New York Representative Alexandria Ocasio-Cortez, Representative Ayanna Pressley of Massachusetts and Representative Rashida Tlaib of Michigan. With Omar's victory, all 4 members of The Squad have won their primary elections.
Newsweek reached out to Melton-Meaux's campaign for comment.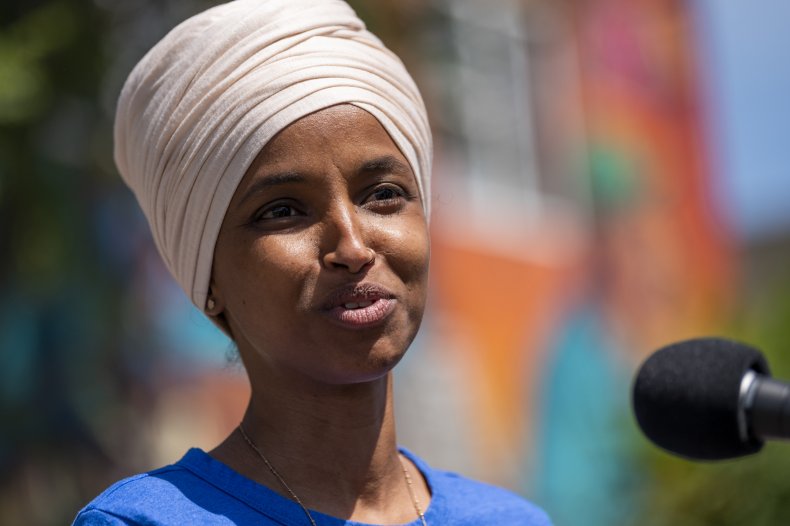 Throughout his campaign, Melton-Meaux had painted Omar as being more concerned with national issues than what was happening in her local district. In an August press release, Melton-Meaux referred to Omar as a "divider" with a poor Congressional attendance record. "I will show up, I will listen, and I will do the work," Melton-Meaux said.
After reporting over $4 million in contributions received, financial donations to Melton-Meaux's campaign caught the attention of Minnesota Democrat-Farmer-Labor Party (DFL) Chairman Ken Martin and Minnesota Attorney General Keith Ellison. In August, the DFL filed a complaint against Melton-Meaux's campaign alleging that the names of donors were being intentionally obscured.
"The campaign of Ilhan Omar's primary opponent has gone against the values of the DFL Party by apparently working with vendors to set up mysterious shell companies to hide millions of dollars in spending," said Martin in a statement. "Not only did those shell companies appear to have failed to file taxes, but the campaign illegally failed to disclose where that money is going. It appears they are illegally paying campaign vendors off-the-books and admitting to it."
Melton-Meaux called the complaint a "frivolous and baseless claim" and a "continuation of more divisiveness and distraction from my opponent, Rep. Ilhan Omar, who is clearly desperate."
Omar drew criticism in 2019 for insinuating that Israel had gotten support from Washington because of donations from a Jewish lobbying group. President Donald Trump said Omar should "be ashamed of herself" for the comments.
Omar walked the comments back in a February 2019 tweet. "My intention is never to offend my constituents or Jewish Americans as a whole," Omar wrote. "We have to always be willing to step back and think through criticism, just as I expect people to hear me when others attack me for my identity. This is why I unequivocally apologize."