#NewFacesOnMountRushmore Trends as People Suggest Barack Obama, 'The Squad' Should Be Carved into Famous Landmark
They may be in their first term as representatives, but the group of liberal Democrats known as "The Squad" already deserve to be commemorated in granite, according to some social media users.
On Thursday, Twitter users came up with a number of new proposed faces to be immortalized on Mount Rushmore, the site where the 60-foot faces of four distinguished presidents gaze out over the landscape of Keystone, South Dakota.
The permanence of the visages hewn into rock contrasted sharply with the brevity of the trending hashtag #NewFacesOnMountRushmore, but for a few fleeting hours social media users listed possible contenders to replace George Washington, Thomas Jefferson, Theodore Roosevelt, and Abraham Lincoln.
One person tweeted a mocked-up image of representatives Alexandria Ocasio-Cortez of New York, Ilhan Omar of Minnesota, Ayanna Pressley of Massachusetts and Rashida Tlaib of Michigan.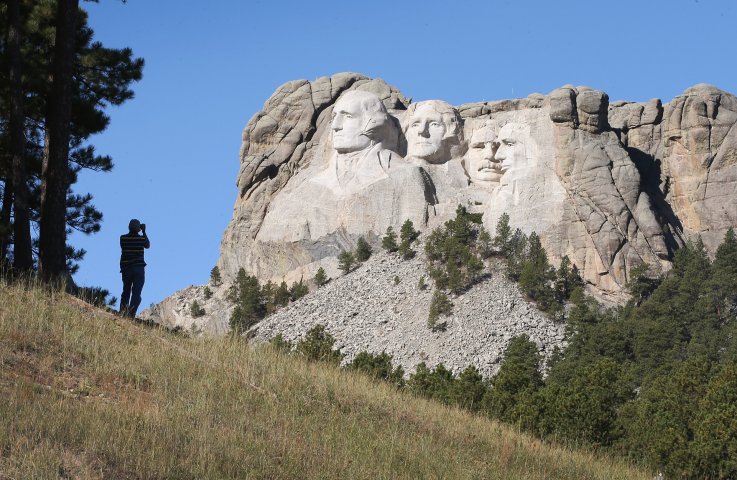 Retweeted hundreds of times, some objected to the depiction, with one user commenting that it was too soon for them to be immortalized.
"Not a single one has deserved the honor. Doesn't mean they cannot in time work to achieve their own monuments for a job well done. But first they need to do their job."
Another said the group were "up and coming at the wrong time in politics! They add fuel to the fire for Trump and the GOP."
Hankering for a time when there was a different president, another tweeted an image of of the iconic four, with the addition of Barack Obama.
Perhaps in reaction to the controversial pronouncements of the incumbent president, Donald Trump, another user tweeted an image of the four presidents with hands covering their faces in embarrassment.
South Dakota Governor Kristi Noem said Trump once told her it was his "dream" to be featured on Mount Rushmore, The Hill reported. At a rally in 2017, Trump said, "I'd ask whether or not you think I will someday be on Mount Rushmore."
"But, no—here's the problem. If I did it joking, totally joking, having fun, the fake news media will say, 'He believes he should be on Mount Rushmore!'"
Many others got a lot less political though, with images of bands like The Beatles, Kiss and even professional wrestlers.
Last month, the last living carver of the notable landmark, Nick Clifford, celebrated his 98th birthday, CNN reported. He was among 400 men and women who helped build the memorial in a laborious process that started in October 1927 and finished the same month in 1941.
The presidents were chosen by artist and sculptor Gutzon Borglum to represent the birth, growth, development, and preservation of the United States. The park sees more than 2.4 million visitors per year.
#NewFacesOnMountRushmore Trends as People Suggest Barack Obama, 'The Squad' Should Be Carved into Famous Landmark | U.S.