'The Squad' Ramps up Pressure on Biden to Cancel Student Loan Debt
Democrats and "Squad" members have revisited the issue of wiping student debts, saying it's time to help fellow Americans.
In a tweet on Tuesday, Rep. Alexandria Ocasio-Cortez dismissed arguments against canceling hefty debts accrued in further education.
"'Things were bad for me, so they should stay bad for everyone else' is not a good argument against debt cancellation - student, medical, or otherwise. #CancelStudentDebt," Ocasio-Cortez wrote.
Rep. Ayanna Pressley further contributed to the debate, adding: "Student debt cancelation will ensure an equitable economic recovery from COVID-19, jumpstart our economy & close the racial wealth gap. One more thing," she said.
Rep. Ocasio-Cortez supports the long-term goal of having tuition-free public colleges to avoid a huge debt in the first place. She believes the current education system is "financially decimating [people in] every generation."
The "Squad," made up of four young and diverse women elected to the House of Representatives—Alexandria Ocasio-Cortez of New York, Ilhan Omar of Minnesota, Ayanna Pressley of Massachusetts, and Rashida Tlaib of Michigan—have strongly supported wiping $30,000 off student loan debts, which they outlined in their Student Debt Emergency Relief Act in March.
The bill aims to provide immediate monthly payment relief to those who have taken out federal student loans and crucially prevent those with student debts from having to make involuntary payments during the coronavirus pandemic.
Congresswomen Ayanna Pressley and Ilhan Omar claimed the legislation would provide much-needed debt relief for some 45 million workers and families, who they said are "being crushed by student debt during the COVID-19 pandemic."
Rep. Pressley said in a statement: "During this unprecedented crisis, no one should have to choose between paying their student loan payment, putting food on the table or keeping themselves and their families safe and healthy.
"Our $1.6 trillion student debt crisis stands in the way of any meaningful economic recovery effort during and after this pandemic, which is why we must cancel student loan debt in order to jumpstart the economy. My bill, the Student Debt Emergency Relief Act, will provide immediate relief for workers and families crushed by the financial and emotional burden of massive student debt. We must prioritize debt cancellation for the 45 million student loan borrowers who are struggling to pay off their debt during this difficult time."
As part of President Donald Trump's $2.2 trillion coronavirus relief bill, a six-month suspension of student loan payments was put in place until September 30. In addition, no interest was added to the debt. Collection calls were also put on hold, while borrowers who had defaulted would not be refused their tax refunds. The relief was later extended to December 31, as the pandemic continued. But the Democratic representatives want to go further with a more permanent solution—wiping up to $30,000 of outstanding student debt, which will help "jumpstart the economy."
Critics of debt forgiveness state that a bailout will simply redistribute the debt to other Americans, and will largely benefit those who can afford to go to college, disproportionately helping a well-off segment of society at the expense of the taxpayer. Texas Rep. Dan Crenshaw has called the proposal to wipe debts "immoral," in response to Sen. Bernie Sanders saying Wall Street should help foot the bill.
"During the financial crisis, Wall Street received the largest taxpayer bailout in American history. Now it is Wall Street's turn to help rebuild the disappearing middle class," Sen. Sanders said in June.
Sen. Crenshaw responded: "When you say #cancelstudentdebt, you're saying a minority of people who had the advantage of obtaining a degree should have their debt paid off by hardworking taxpayers, 2/3 of whom don't have degrees themselves, or already paid their own student debt off."
Alexandria Ocasio-Cortez has previously spoken about being personally affected by student debt, "I have student loans too, and I think it's so funny, a year ago I was waiting tables in a restaurant," she said in 2019, "and it was literally easier for me to become the youngest woman in American history to be elected to Congress than it is to pay off my student loan debt."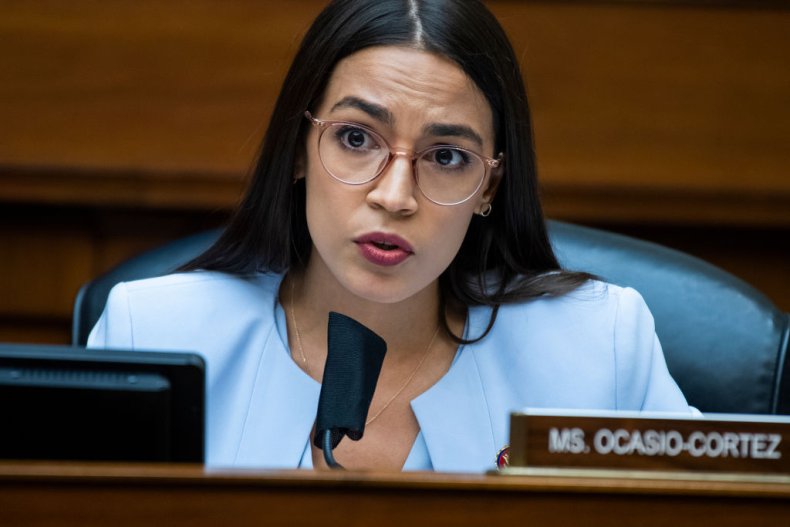 Rep. Ocasio-Cortez made a payment on her outstanding balance during a Congressional hearing in 2019. "I literally made a student loan payment while I was sitting here at this chair, and I looked at my balance and it was $20,237.16," she said during the meeting about student debt.
"I just made a payment that took me down to $19,000 (£15,412), so I feel really accomplished right now."
At the start of the pandemic, Representatives Ocasio-Cortez, Omar and Tlaib were all paying back their student loans.
Rep. Rashida Tlaib believes the student loans issue relates to a wider problem of racism. "I truly believe canceling student debt is a racial justice issue," she said.
"Even though some middle class and wealthier families have lots of student debt, lower-income earners, especially black and brown people have higher balances and are more likely to leave school because they can't pay. Canceling all student debt would restore access to education as a right."
Senator Elizabeth Warren and Senate Democratic Leader Chuck Schumer are putting pressure on President-elect Joe Biden to "deliver meaningful relief to struggling Americans and broadly cancel up to $50,000 in student loan debt."
Sen. Warren last week call for Biden to "cancel billions of dollars in student loan debt, giving tens of millions of Americans an immediate financial boost and helping to close the racial wealth gap. This is the single most effective executive action available for a massive economic stimulus."
Some 45 million people in the U.S. have outstanding student loans, and owe an estimated total of $1.56 trillion, making it the second-largest consumer debt after mortgages.
The average student loan for those who graduated in 2018 was $29,200.
The Congressional Budget Office estimate the U.S. deficit will total $4 trillion this year.