Trump's war of words with "The Squad," the four progressive Democrat congresswomen of color he suggested should "go back and help fix the totally broken and crime infested places from which they came," has been mocked in a new short clip of The Simpsons.
The 90-second video, titled "West Wing Story," has the President bemoaning his trade war troubles in the Oval Office, before going on to argue with Alexandria Ocasio-Cortez, Ilhan Omar, Ayanna Pressley and Rashida Tlaib.
Trump and The Squad sing at each other throughout to the tune of "America," the famous song about the difficulties of being an immigrant in the U.S. from the classic Stephen Sondheim and Leonard Bernstein-penned musical West Side Story.
The clip starts with Trump saying, "So many problems, tariffs—I need a distraction," before picking up a framed photo of The Squad. "They shouldn't be in America. No one but me in America. No taxes for me in America. This is my natural hair-ica," Trump sings.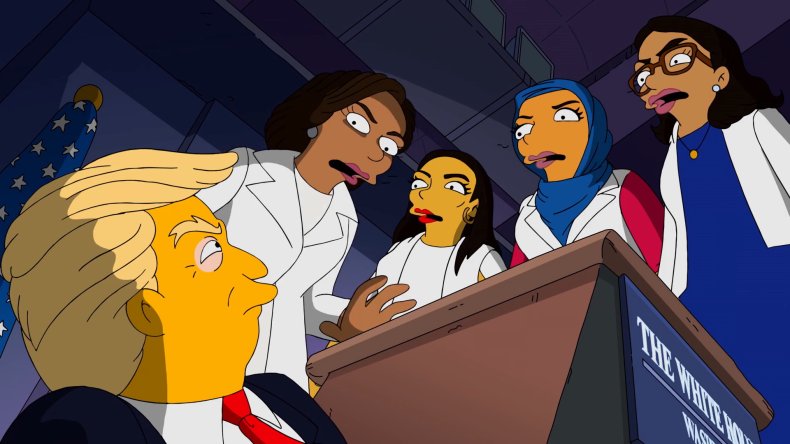 The four congresswomen then leap out of the photo and begin to pursue the president while singing back at him. "We're more American than your wife," sings Omar. "She's not a big presence in my life," Trump ripostes.
Ocasio-Cortez then sings, "Your love life makes us heave," to which the president points at Omar and Tlaib and says, "You two will never see Tel Aviv," a reference to the two Muslim representatives being blocked from visiting Israel last week after Trump said it would show "great weakness" if they were allowed to visit.
The four then sing in unison over a cowering Trump, "You're Boris Johnson without the class. Can't wait to see you behind prison glass. Your nose is right up Putin's ass. We say it's time to impeach you fast."
The president then rushes out onto the White House lawn, only to be confronted by a long line of 2020 Democratic candidates doing the cancan.
Since being posted to YouTube on Tuesday, the video has been viewed over 10,000 times. But a number of people were quick to comment that they didn't find the sketch particularly funny.
One person wrote: "wow, someone pitched this idea, storyboarded it, recorded the song, and at no point did anyone think 'hey, this isn't very funny or clever or entertaining' or 'hey, this is top cringe' and then they sent it off to Asia to be animated."
"Remember how the Bush Sr VS Homer episode was one of the best classic episodes? Yeah.. then there's this," another person posted.
This is not the first time that animated sitcom has taken on Trump. Previous short clips have shown the president trying to bribe Robert Mueller and having a dream where he admits to all his faults and promises to become a new man.