The 'Squad' Is Slipping Parts of the Green New Deal Into Legislation Piece by Piece
The Green New Deal died in the Senate last year with no hope for revival in the Republican-controlled chamber. But progressive lawmakers are looking to breathe new life into it by breaking off sections of the sweeping plan that aims to combat a warming climate—and Joe Biden could play a major role in helping them do it.
Some Democrats, most notably the group of first-term congresswomen known as "The Squad"—Alexandria Ocasio-Cortez (N.Y.), Ilhan Omar (Minn.), Rashida Tlaib (Mich.) and Ayanna Pressley (Mass.)—have tucked pieces of the broad bill into other measures as part of a strategy to adopt portions of the climate plan but also set high standards for future legislative battles.
They and other Democrats in Congress have also appeared to push former Vice President Biden to adopt more progressive proposals in his campaign plans that call for carbon-free electricity by 2035—a sign that an expensive, comprehensive climate deal could receive fresh attention if he secures a win over President Donald Trump in November.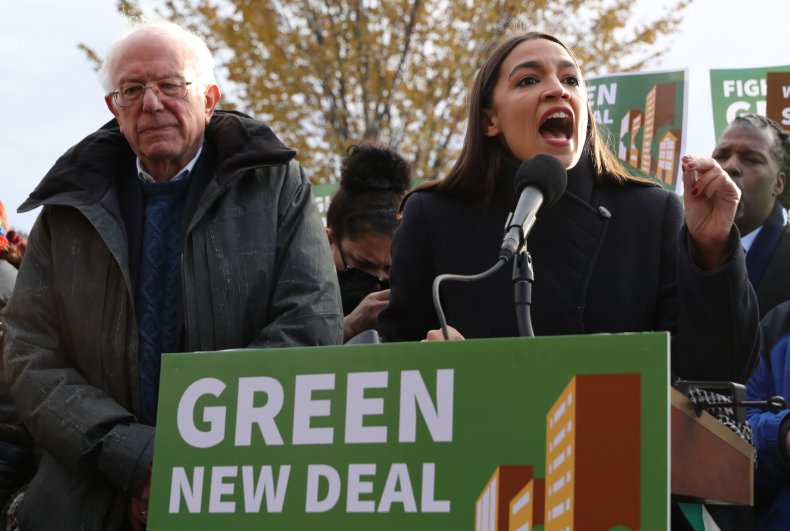 "The hallmark of the Green New Deal was including everything in one package. I'm not sure we see a lot of appetite for that," said Nathaniel Keohane, senior vice president of the Climate Environmental Defense Fund. "But certainly, to the extent that there's room for and energy around major investments in clean energy infrastructure, making clean energy a central part of the economic recovery—we're seeing that."
For example, Ocasio-Cortez included an amendment in House Democrats' $1.5 trillion infrastructure bill passed earlier this month that repealed the Faircloth Amendment, lifting restrictions on building new public housing and was part of the Green New Deal's clean infrastructure push. Tlaib and Ocasio-Cortez also have included text about "disadvantaged communities" in new bills on the environment and the infrastructure proposal.
In addition, Omar has introduced three standalone measures derived from the Green New Deal for housing, recycling and jobs, and is working on a fourth to end corporate subsidies to polluters.
And as they did last year, House Democrats included several clean energy and climate-centric provisions in their appropriations bills for fiscal year 2021.
All of these have a long way to go before they're passed. (As has happened in the past, most of the climate initiatives in the House's budget will almost certainly be stripped by Senate Republicans in order to reach a deal). And to be sure, the Green New Deal that's been touted by progressives as the grand fix to combat a looming crisis and set America on the path to achieving carbon-zero emissions hasn't become law.
But with this head start, progressives believe they've laid the foundation for higher expectations in future legislation if Biden can clinch the election.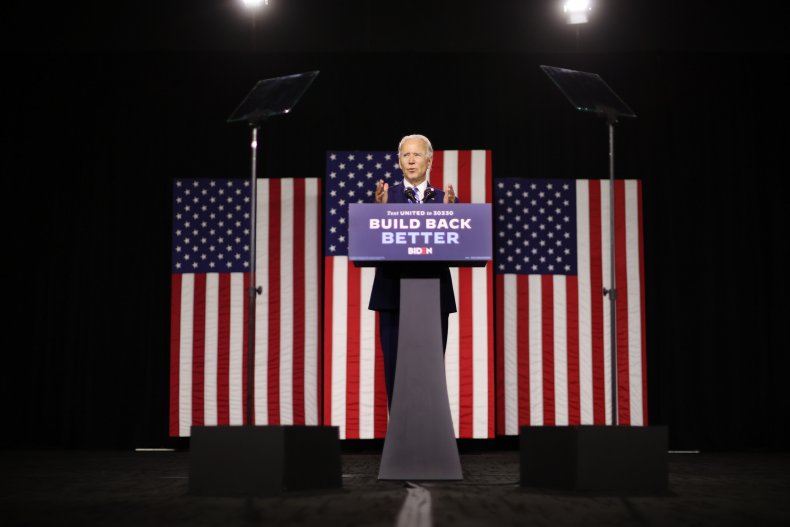 "There is no vaccine or cure to reverse the catastrophic damage caused by climate change," Rep. Ilhan Omar (D-Minn.) told Newsweek in a statement.
Ocasio-Cortez's office did not respond to several inquiries from Newsweek for this story.
For Democrats and climate activist groups, the push for the Green New Deal could soon see a huge boost. Getting Biden in the White House and flipping the GOP-controlled Senate—two scenarios that polls suggest are increasingly likely—would give Democrats all the power they need to enact whatever climate change policy they please.
Although a President Biden might be hesitant to approve legislation that closely resembles the Green New Deal—an idea his campaign says is simply a "crucial framework"—an environmental package he released last week was considered a shift to the left by many that makes inroads with progressives by including Green New Deal-like provisions.
The $2 trillion, four-year climate action plan features setting the U.S. on a path to 100 percent carbon-free electricity by 2035 and net-zero carbon emissions by 2050 by investing in clean energy and infrastructure. The vision was praised by liberal and climate activist groups, as they press lawmakers to include clean energy initiatives in forthcoming economic pandemic relief being negotiated in Congress.
"Progressives and moderates need to realize it's not an either-or proposition," said Brad Bauman, the former executive director of the Congressional Progressive Caucus. "There are a lot of things contained in Biden's proposal that represent the bedrock of what needs to happen in order to get to the Green New Deal in the first place."
Still, some feel far more must be done to address an existential crisis.
Sunrise Movement, a climate activist organization with close ties to Ocasio-Cortez, said that while it feels congressional Democrats and Biden now back more ambitious goals to fight global warming, more immediate action should be included in any further economic aid.
"It's a governing agenda rather than just one bill...It's not like we're failing because we haven't seen one massive bill," said Lauren Maunus, Sunrise's legislative manager. "We've shifted the needle on approach to policy and scale but still nowhere near where we need to be."