The Squad Wants to Shut Down Oil Pipeline, Local Leaders Say it's Time to 'Accept Reality'
Members of "The Squad" are in Minneapolis this weekend to protest the crude oil pipeline Line 3.
Representatives Ilhan Omar, Cori Bush, Alyanna Pressley and Rashida Tlaib held a news conference on Friday calling for President Joe Biden to take federal action and "follow through" on his commitment to combating climate change.
"Rejecting the dirtiest fossil fuel in the world should be a no-brainer," Omar said. "Make no mistake, they want to prioritize corporate profit over the lives of Indigenous women and the future of our planet."
"Today I'm here to help shut it down," Tlaib said.
But local leaders and union representatives say the progressive delegation is too late, as the pipeline is nearly complete.
"We're over 90 percent done with this. We've had challenges the whole way and we've met all the challenges so I don't believe for one minute that there'll be an impact on any of our workforce," Dan Olson, the business manager of the Laborers International Union of North America (LiUNA!) Local 1091, told Newsweek.
"We have a small group of people who can't accept reality," Jason George, the business manager of the International Union of Operating Engineers (IUOE) Local 49, said at a news conference ahead of the lawmakers' visit.
Controversy has surrounded the pipeline project since Enbridge, the Canadian company behind the endeavor, began construction in December 2020. Line 3 is intended as a replacement for the 52-year-old structure that has been carrying crude oil from fields in Canada's Alberta province to the U.S. Midwest.
Enbridge has said the replacement is a necessary safety enhancement due to years of corrosion. The line is so corroded that it's only able to run at 51 percent capacity.
Opponents of the pipeline have argued that the project violates treaties with native peoples and nations in its path. They also say it will aggravate global warming and risk oil spills into key waterways.
Thousands of people gathered last week to protest the pipeline at the Minnesota State Capitol in St. Paul, the Star Tribune reported.
On Friday, the Squad took direct aim at Enbridge, stating the company has "one of the worst safety records" as it has been involved in roughly 800 spills in the past two decades—including one in Michigan's Kalamazoo River, which was the largest inland spill in U.S. history.
Enbridge spokesperson Michael Barnes told Newsweek: "It's clear these officials have been misinformed about Line 3, and the benefits of the project to northern Minnesota."
The company said the group's climate change claims are "unfounded" and asserted the pipeline "does not violate treaty rights."
Barnes added, "Safety and safe operation is our focus every day. In 2020 Enbridge safely delivered nearly 4 billion barrels of oil, close to the highest volume in our 71-year history with our best safety record yet."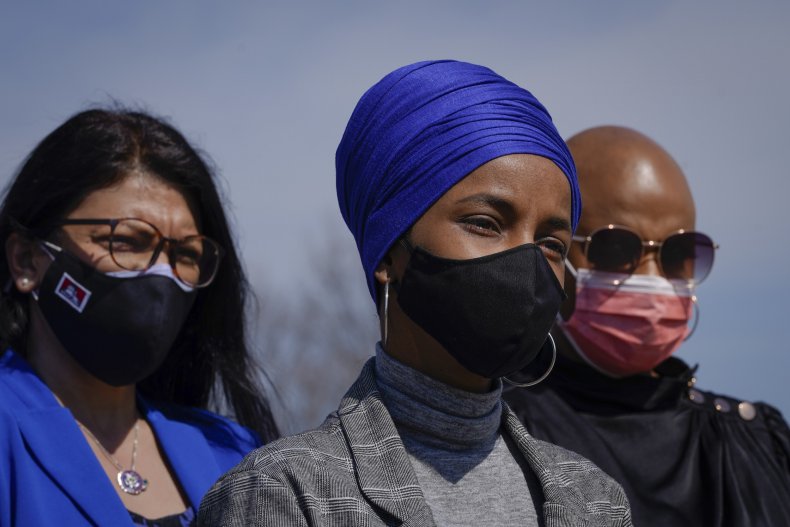 The Squad will continue their visit in Minnesota on Saturday with a roundtable discussion with "treaty violations and the lack of tribal consent."
They will also visit the Mississippi Headwaters, where they will hear from Indigenous leaders on the "impact the pipeline will have on their land and the environment," according to a news release from Bush's office.
Hours before their arrival Friday, Republican Congressman Pete Stauber and other state leaders held a press conference vowing to protect energy independence and "good-paying jobs."
"Over 5,000 skilled union workers are working this project," Stauber said. "That's an economic benefit to them, who by the way are our friends and neighbors living in our communities."
State Representative Dave Lislegard, a member of the Minnesota Democratic-Farmer-Labor Party, said definitively Friday that the pipeline is "going to happen."
"It's time to get over it and move on," Lislegard said. "The men and women of labor did an exceptional job. ... Stop using the state of Minnesota for your platform."