Squalid, Unsanitary Conditions Reported at U.S. Afghan Refugee Base: 'A Living Nightmare'
The air base in Doha, Qatar, where President Joe Biden's administration is housing thousands of Afghan refugees is riddled with squalid conditions that include feces, urine, sweltering heat and a rat infestation, according to a leaked email obtained from the U.S. Central Command.
The email, which was first reported on by Axios, describes "dire conditions" at the Al Udeid Air Base in Doha, as the U.S. continues to evacuate thousands of Afghans in the aftermath of the Taliban's rapid takeover of the country.
The email was sent last Friday by supervisory special agent Colin Sullivan, a State Department official who serves as a liaison to the Central Command, and went to officials at both the State Department and Pentagon. The message was read aloud to Axios by a U.S. government official who chose to remain anonymous for security purposes.
In the email, Sullivan described "a life-threatening humanitarian disaster" and included excerpts from Doha Embassy staff that described the conditions for refugees as "a living hell" and "nightmare."
"A humid day today. Where the Afghans are housed is a living hell. Trash, urine, fecal matter, spilled liquids and vomit cover the floors," wrote one excerpt, according to Axios.
"We're in the middle of humanitarian crises [sic] that compounds itself with every flight that lands in Doha," wrote another. Others described the sweltering conditions as "suffocating" and warned that there are not enough resources to solve sanitation concerns.
In his message, Sullivan also warned government officials that while the conditions that Afghan refugees are escaping in Kabul should not be downplayed, "the current conditions in Doha are of our own doing."
According to the government official who leaked the email, the State Department had done little to advise the Defense Department about how to build appropriate facilities to house the thousands of civilians fleeing Afghanistan.
In response to the report, a State Department spokesperson told Newsweek that is working to process refugees in Doha quickly "in order to ensure we move as many people as possible, in the shortest time possible."
"The State Department and Department of Defense have been in incredibly close coordination at every level, along with the rest of the interagency, to stand up these transit points and ensure that they are safe and have adequate provisions for those temporarily being housed. We have also worked closely to address issues as they arise and improve conditions as we learn of concerns," the spokesperson added.
The Pentagon also said that it has taken concrete steps to improve conditions on the ground, including installing over 100 toilets and offering 7,000 traditional Afghan meals, three times a day.
Navy Captain William Urban, a spokesperson for U.S. Central Command, told Axios that it has been "challenging" to keep up with the flow of refugees, but that the government remains "committed to providing a secure, safe and sanitary environment."
Newsweek contacted the U.S. Central Command for additional comment.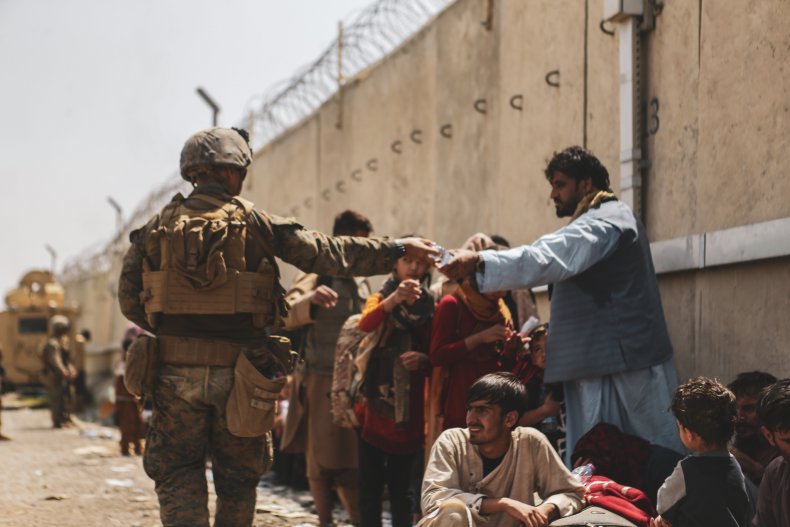 According to a separate report from The Washington Post, the Doha air base has been overwhelmed with evacuees crammed in overheated spaces, and chaotic videos have shown nearly every square foot of the base packed with people sitting, squatting and laying among plastic bags and luggage.
The Biden administration has come under intense criticism in the last week for failing to recognize how quickly the Taliban would take control of the country, and subsequently rushing to evacuate tens of thousands of American citizens, Afghan refugees and allies.
Nonetheless, the White House has touted the success of the U.S. military for working to operate quick evacuations. National Security Adviser Jake Sullivan said on Monday that more than 37,000 people have been evacuated from Afghanistan since August 14, including Afghan allies and Afghans at risk of persecution by the Taliban.
A State Department spokesperson told Newsweek that crowded conditions in Doha are being relieved since the U.S. has evacuation operations in more than two dozen countries.
"When it comes to the time frame for evacuees remaining at Doha, our goal is to process them for onward destinations within a few days of arrival," the spokesperson said.
"We are working quickly to alleviate bottlenecks and are surging consular personnel in Qatar, in addition to expediting manifesting, to alleviate current conditions," the official added.