What is the 'Squid Game' Cookie Trend on TikTok? Recipe and Meaning Explained
Since debuting on Netflix earlier this month, South Korean drama Squid Game has gripped viewers across the globe and has clung on to its Top 10 position in the platform's chart.
In the survival drama, directed by Hwang Dong-hyuk, 456 people who have struggled financially compete to win ₩45.6 billion won ($38.5 billion) by playing traditional Korean children's games, only with several deadly twists.
One of the show's challenges has sparked a trend on TikTok.
This is everything you need to know about the Squid Game cookie trend.
What Is the Squid Game Cookie Trend?
One of the series' challenges centers on participants making a type of honeycomb cookie, also known as Dalgona candy.
Participants must carve shapes into these wafer-thin snacks.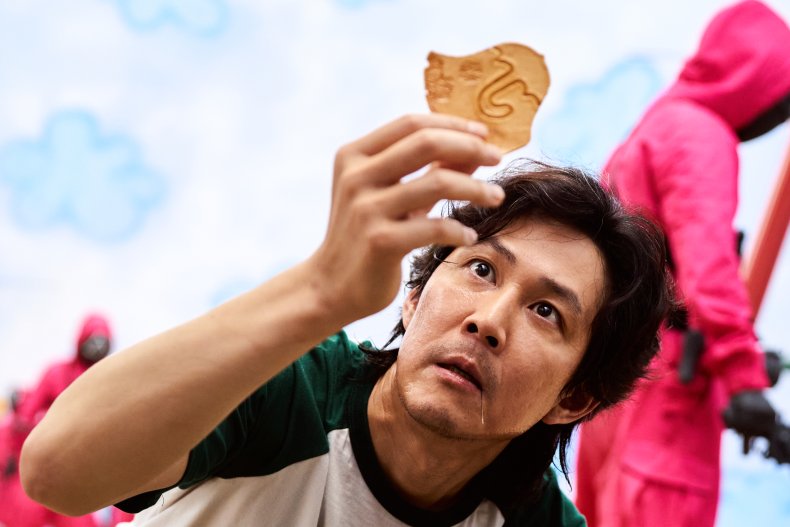 If the cookie breaks, the participant is eliminated from the games.
The TikTok trend sees users attempt the same challenge to see whether or not they would survive the games.
What Is Dalgona Candy?
Dalgona candy is a traditional toffee-like snack in Korea, also known as Bbopgi in some regions.
The snack is made from sugar and baking soda and has a picture pressed in.
Children often attempt to eat around the outline of the image without breaking the picture.
How to Make Dalgona Candy
TikTok users have been sharing how to make the snacks on the app.
Dalgona candy only requires two ingredients to make: sugar and baking soda.
User @franziee_v shared a video revealing how she makes hers, which has over 3.1 million views and 440,000 likes at the time of writing.
She began with one tablespoon of sugar, which she held over the stove on a low heat and gently stirred.
Next, she added a pinch of baking soda and continued to stir gently over the heat.
She then poured her mixture onto a baking sheet lined with parchment paper and left it to set for 20 seconds.
Using a cookie cutter, she pressed a shape into the top of the Dalgona candy and left to harden.
Once the mixture had cooled, she attempted to use a needle to cut out the shape without breaking the biscuit.
Cutting out a star shape proved too difficult and the cookie crumbled, meaning had she been a participant in the fictional challenge, she would have been eliminated.
Other users have fared better with simpler shapes.
In a video by TikTok user @misojenkitchen, she was able to cut out her circular candy without breaking it.
Her video currently has over 13 million views and 1.4 million likes.
In a subsequent video she attempted the umbrella shape and managed to cut it out without breaking it.
Squid Game Season 1 is available to stream on Netflix now.