'Squid Game's' Creepy Doll Song Has Been Remixed Into a Jersey Club Anthem
The creepy doll's "Red Light, Green Light" song from Netflix hit Squid Game might haunt the dreams of most viewers, but now it's become a full-on club banger.
"OJC," an 18-year-old producer, put a Jersey club mix spin on the eerie sing-song tune from the Squid Game doll, and racked up over a million views with it.
Episode 1 of the Netflix show introduced viewers to the twisted games to come with "Red Light, Green Light." The rules are easy—when the giant doll's head is turned, you walk toward her, but if her eyes catch you moving, you're disqualified...and fatally shot.
On October 6, OJC shared his take on the song the 10-foot-tall doll sings in the scene to SoundCloud, making it a Jersey club version remixed with "My Neck, My Back" by Khia.
Titled "Squid Game Jersey Mix," it caught the eye, and ears, of Twitter user @yyyyy_yyed who shared it on the platform, writing: "ENOUGH."
The tweet earned the song over a million views, despite the SoundCloud version gaining just 11,000 plays.
OJC added sound effects and a whole new beat, before introducing the instantly recognizable "pop yo p***y like this" lyrics into it.
"The process of making it was pretty simple, I just ripped the audio from YouTube and rearranged it into more of a consistent rhythm. It probably only took like 10 minutes," he told Newsweek.
"The sample of 'My Neck, My Back' has been used in Jersey and Baltimore club music for years so when I sampled it I was mostly just mirroring what other people have done in the past. The way that different samples and sound effects get reused and put in to different contexts is something I really admire about club and dance music in general and is something I take inspiration from in my music outside of something like the Squid Game remix that's mostly just supposed to be funny."
Jersey club music originated in the early 2000s in Newark, New Jersey, and it's described by The Fader as: "Fast and aggressive dance music that has its roots in Baltimore Club's house and hip-hop fusion."
It's essentially the type of music you'd imagine the Jersey Shore cast to fist-pump aggressively to at Karma Club in any given episode.
After racking up views, the SoundCloud track was met with only positive reactions, including promises to drop the tune at the club.
"Yesterday I said I NEED a Jersey Club mix to this song. Today my wish came tru," wrote one listener.
"Going to drop this in the club this weekend," vowed another individual.
"Make a 10 minute version please, I beg you," wrote one user.
Surprisingly, OJC is yet to watch Squid Game, despite going viral from it himself: "It's kinda funny that the remix has spread this far since I haven't actually watched squid game yet. I just saw that the show was pretty much unavoidable on the internet and I thought it'd be funny to completely take the song completely out of context," he said.
One Twitter user added the Jersey Club mix to the viral meme that sees the Squid Game doll rhythmically dancing to everyone's favorite songs.
The animated edit was originally created by TikTok user @punyaibenk, where it gained over 62 million views since being uploaded on September 25. Although the original paired it with the show's song, users have been adding their songs of choice to the doll—in this case, her own remix.
So, the Jersey club mix has the "Red Light, Green Light" doll's stamp of approval, somewhat.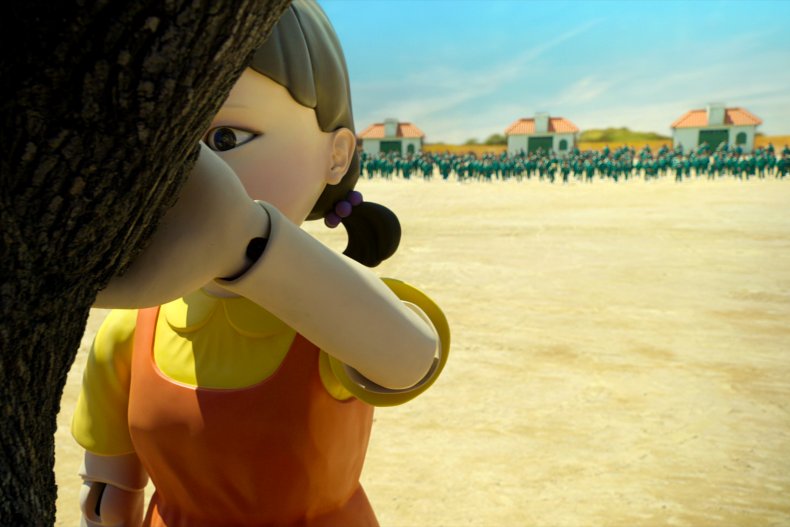 Update 10/11/21 at 3:31 a.m. ET: This article was updated to include comment from OJC.