Couple Hosts 'Squid Game' Challenge at Wedding Reception
Footage has surfaced showing a group of wedding guests playing the "Red Light, Green Light" game popularized on the hit Netflix series Squid Game.
In a video posted to TikTok by Itz_Dzifa, revelers can be seen standing motionless in and around a dance floor while several other guests dressed as guards check on their state. The clip can be viewed here.
On the show, "Red Light, Green Light" sees contestants tasked with moving towards an eerie-looking "Murdering Doll" when they hear it say the words "green light." When the doll says "red light", however, they must stop still. If the doll sees them moving they are shot dead.
A violent riff on the playground game known to many as "Statues," "Grandma's Footsteps" or "Peep Behind the Curtain," the version being played on the viral clip is clearly influenced by the Netflix series.
One of those checking the motionless guests is dressed almost exactly like the "Murdering Doll" that leads the game on the series while the clip also features a brief glimpse of three men dressed as members of the Red Guard that also feature on the show.
The video showcasing their impressive efforts has been viewed more than 750,000 times on TikTok with fans flocking to praise their inventive fun.
Adeolajeks described the video as "extraordinary" with Keekeehare_307 agreeing it was an "awesome" effort by everyone involved.
CallMeZolo dubbed it a "Squid Wedding" while TikTokScreen spoke for the uninitiated by saying: "Okay so now I guess I have to watch this show because everyone is in on it but me."
There were some doubters, however, with Ssum_one writing: "this theme isn't going to age well." Abena Oduro agreed: "Not at a wedding please."
For the most part, however, the response was positive with misslenalo branding it "next level Squid Game."
Newsweek has contacted itz_dzifa for comment.
Currently one of the most-watched television programs ever on Netflix, the popularity of Squid Game has already transcended the small screen.
For example, the "Murdering Doll's" haunting song which features in the series has already been remixed and turned into a dance track by one DJ.
Squid Game is expected to feature heavily among the costumes on display this Halloween while one Youtuber has already expressed interest in creating a real-life version of the series.
Unfortunately, the fun and games have also taken a sinister turn amid reports children as young as six have been reenacting some of the violent scenes that play out on the show.
There have also been reports from one school of children playing their own violent version of "Red Light, Green Light" in the classroom.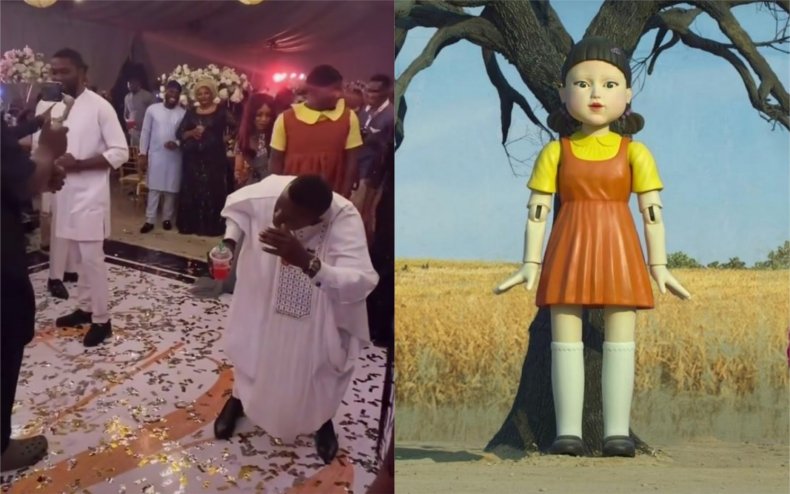 Update 10/19/21, 9:23 a.m. ET: This article was updated a new video and images.