Sri Lanka Attacks: Everything We Know About the Easter Sunday Church, Hotel Bombings
At least 290 people have been killed and more than 500 injured after a series of bombs rocked Sri Lanka on Easter Sunday in attacks that targeted multiple churches and tourist-friendly hotels.
Eight explosions hit Catholic worshippers attending Easter Mass services and guests at high-end hotels in several different locations across the Southeast Asia nation.
St. Anthony's Shrine in the capital city of Colombo, St. Sebastian's Church in Negombo and Zion Church in Batticaloa were all attacked, as were the hotels Shangri-La, the Cinnamon Grand and the Kingsbury in Colombo, where the bomber lined up at the restaurant buffet before detonating the deadly device, according to the Hindustan Times.
"He came up to the top of the queue and set off the blast," said a witness quoted in that report. "One of our managers who was welcoming guests was among those killed instantly."
The seventh explosion occurred at the New Tropical Inn hotel in the Colombo suburb of Dehiwala-Mount Lavinia, near a popular zoo. The eighth and, as of now, final blast took place at a house in Dematagoda, a suburb of Colombo. According to the Associated Press, this last bomb exploded while authorities attempted to search a suspected safe house. Three officers died in this blast.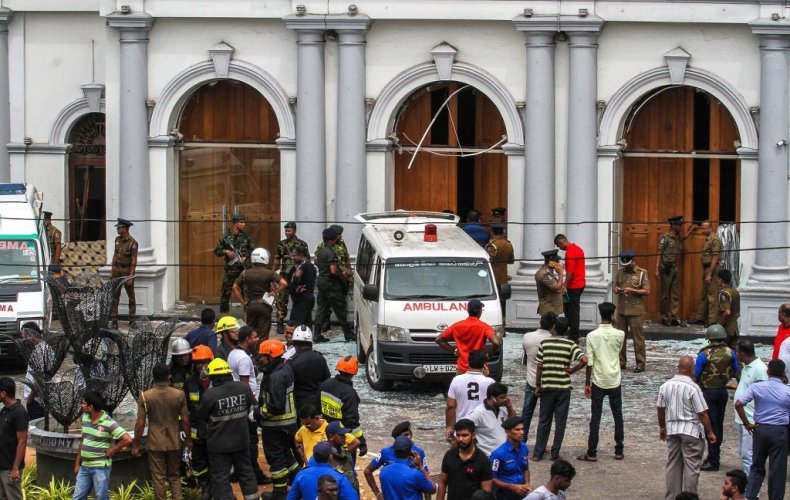 "It was a river of blood," said N.A. Sumanapala, a shopkeeper near St. Anthony's Shrine, according to The New York Times. "The priest came out, and he was covered in blood."
Sri Lanka's junior defense minister, Ruwan Wijewardene, announced an immediate curfew, according to Reuters. "A curfew will be imposed until things settle down," he told reporters. Government officials also announced that social media apps such as WhatsApp and Facebook were blocked to prevent the spread of inaccurate information.
"Please avoid propagating unverified reports and speculation," Prime Minister Ranil Wickremesinghe said on Twitter. "The government is taking immediate steps to contain this situation."
Late Sunday evening, Sri Lankan news outlet NewsFirst reported that an un-detonated improvised explosive device had been discovered by authorities near Bandaranaike International Airport, commonly referred to as Katunayake Airport, near Colombo. The device was successfully defused, an Air Force spokesperson said.
The government said it believes that most of the blasts were carried out by suicide bombers and appear to have been a coordinated attack. Initial reports claimed that at least seven people had been detained in connection with the blasts, according to Wijewardene. However, subsequent reports from Sri Lanka said that only three or four individuals had been arrested, while some people were only questioned by authorities.
Sunday evening brought multiple reports that police had located a temporary hideout in the town of Panadura, about 15 miles south of Colombo, and that 13 individuals had been arrested. It was unclear if that meant 13 people total or in addition to those detained hours earlier. Police in Colombo also seized a van they believed to be used to transport attackers, according to NewsFirst.
Earlier in the day, Wijewardene called on the media to not identify any of the attackers by name. "Don't give extremists a voice. Don't help to make them martyrs," he said, according to The New York Times.
On Sunday evening, Wickremesinghe said that the government may have received advance warning of an attack but he was not made aware of it, according to the BBC. "We must look into why adequate precautions were not taken. Neither I nor the ministers were kept informed," Wickremesinghe is quoted as saying on Twitter.
Dr. Samiddhi Samarakoon, a deputy director of the National Hospital of Sri Lanka, told the Times that at least 11 foreigners were among the dead.
"The bombings are not the doings of a fanatical individual. It's obviously a highly coordinated attempt to create murder, mayhem and anarchy in the country," said Mangala Samaraweera, the country's finance minister, according to The Guardian.
Between 1983 and 2009, Sri Lanka went through a brutal civil war involving Tamil militants and government forces. The majority of the country's population are Sinhalese, while a minority are Tamil. Although Tamils are largely Hindu and Sinhalese are largely Buddhist, both groups have significant numbers of Christians as well.
World leaders were quick to offer their condolences and support. President Donald Trump wrote: "138 people have been killed in Sri Lanka, with more than 600 badly injured, in a terrorist attack on churches and hotels. The United States offers heartfelt condolences to the great people of Sri Lanka. We stand ready to help!"
It is unclear where Trump got the casualty information that he cited in his tweet, but authorities in the country have announced different numbers.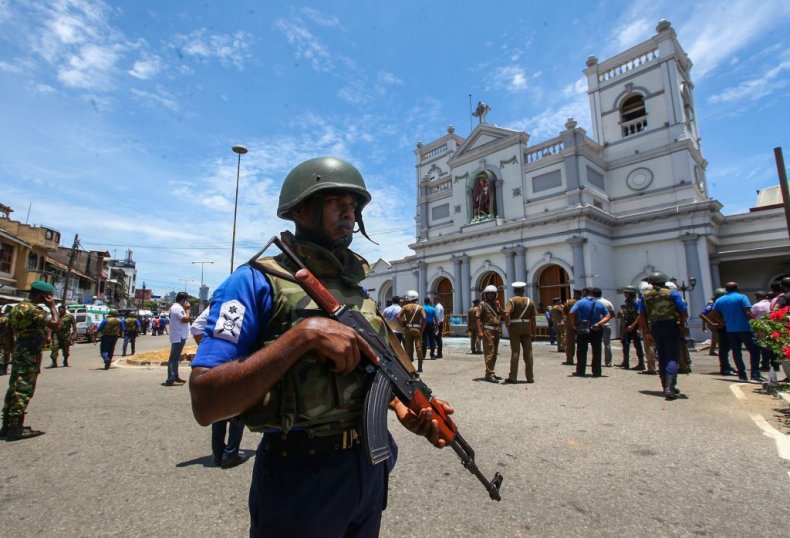 "Strongly condemn the horrific blasts in Sri Lanka. There is no place for such barbarism in our region," Indian Prime Minister Narendra Modi tweeted. "India stands in solidarity with the people of Sri Lanka. My thoughts are with the bereaved families and prayers with the injured."
Pope Francis also voiced his solidarity with the people of Sri Lanka at the conclusion of his Easter address in St. Peter's Square. "I wish to express my heartfelt closeness to the Christian community [of Sri Lanka], wounded as it was gathered in prayer, and to all the victims of such cruel violence," he said.
On Sunday, the Sri Lankan government confirmed, via its official online news portal, reports that it had put a temporary block on social media use in the country.
"The government has decided to temporarily block social media sites including Facebook and Instagram," read a post to the site. The Presidential Secretariat said in a statement that the decision to block social media was taken as false news reports were spreading through social media.
The statement added that security forces were investigating the explosions and that the blockage would be effective until they ended.