Sri Lanka Muslims Attacked, Forced From Homes Following Bombings: 'Feelings of Anger, Grief and Fear Are Very High'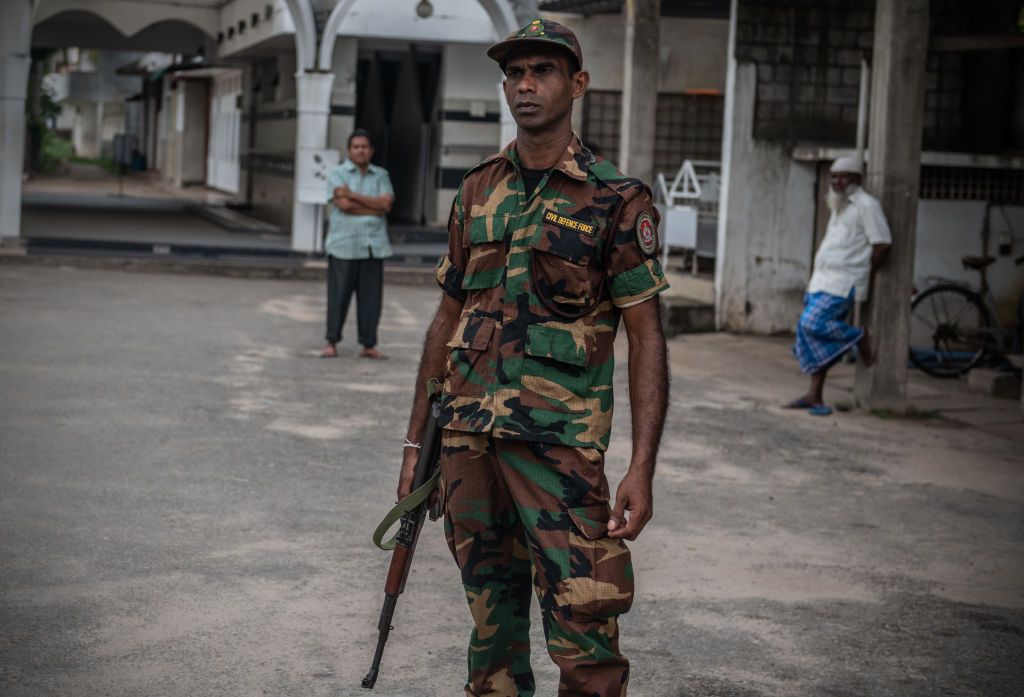 Human rights groups have warned tensions between religious communities in Sri Lanka are at breaking point in the wake of the terror attacks targeting churches and hotels on the island nation, which killed at least 359.
Hundreds of Muslim refugees have been forced to flee Sri Lanka's west coast amid attacks of revenge, Reuters reported Thursday. The majority of those fleeing have left from the multiethnic port of Negombo, where the deadliest of Sunday's attacks took place.
The death toll from the attacks carried out by the radical Islamist National Tawheed Jamaat (NTJ) group at St. Sebastian's Church in Negombo is believed to be close to 200, making the assault there the deadliest of six blasts across the country.
In the wake of the atrocities carried out on Easter Sunday the Islamic State militant group (ISIS) released footage of NTJ members swearing allegiance to its global terror brand. ISIS has made spectacular acts of violence, stoking ethnic and religious tensions, its calling card throughout the world.
Alan Keenan, Sri Lanka Senior Analyst for the nongovernmental organization International Crisis Group, told Newsweek that in the Catholic-majority area of Negombo emotions were running over. "Feelings of anger, grief and fear are very high," Keenan said.
"But even before the Easter bombings, anti-Muslim sentiment was high across the country, a product partly of a seven-year campaign by radical Sinhalese groups who say they are defending Buddhism against the threat of a too powerful and dangerously radical Muslim community," he added.
Sri Lanka's Muslim minority make up nearly 10 percent of the country's population, which is overwhelmingly made up of ethnic Sinhalese, 75 percent of whom practice Buddhism. Hindu Tamils make up 15 percent of the nation's inhabitants.
Initial reports have said the first reprisals against Muslims have been meted out against the refugee Ahmadi population from Pakistan. The group, which believes in a 19th-century prophet, was chased out of the country after their sect was declared non-Muslim.
Farah Jameel, a Pakistani Ahmadi, told Reuters she had been thrown out by her landlord with nowhere to go. "She said, 'Get out of here and go wherever you want to go, but don't live here,'" Jameel explained, as she waited with others hounded from their homes at a nearby mosque.
At Katara police station, 35 Pakistanis had to be taken into protective custody and then sent on to an undisclosed location. Their neighbors have overwhelmed law enforcement with calls accusing Negombo's Pakistanis of involvement in the Easter bombings.
Keenan said it is not only Pakistani refugees who could bear the brunt of hostilities. "I think all Muslims in Sri Lanka are at risk of retaliatory violence. The Pakistani refugees were probably particularly vulnerable because there were foreign, don't speak Sinhala well [and] are less integrated," the analyst said.
Authorities have said they are still searching for individuals involved in the bombings. The Associated Press reported the country's Prime Minister Ranil Wickremesinghe said Thursday suspects remained at large and could still have access to explosives.
Wickremesinghe also admitted his government faced gave challenges not seen since the end of Sri Lanka's internecine civil war a decade ago. "This is another experience for us. Not that we are not strangers to terrorism, but this is global terrorism, so we have to ensure that we root this out," he told the news agency.