Sri Lanka to Start Hanging Drug Dealers to 'replicate Success' of Philippines' War on Crime
Sri Lanka will end its moratorium on the death penalty and begin hanging repeat drug offenders, citing the "success" of the war on drugs in the Philippines as a major influence for the change in policy.
The country has commuted death sentences to life imprisonment since the last execution took place in 1976. But President Maithripala Sirisena has now announced an end to this policy, The Guardian reported.
Presidential spokesman Rajitha Senaratne said Sirisena hopes to "replicate the success" of the brutal drug war waged in the Philippines by President Rodrigo Duterte. The clampdown has seen at least 12,000 people killed since Duterte took office in 2016, according to Human Rights Watch. Of these, around 4,000 have been killed by police and the rest by "unidentified gunmen," many of whom are vigilantes acting with the government's tacit approval.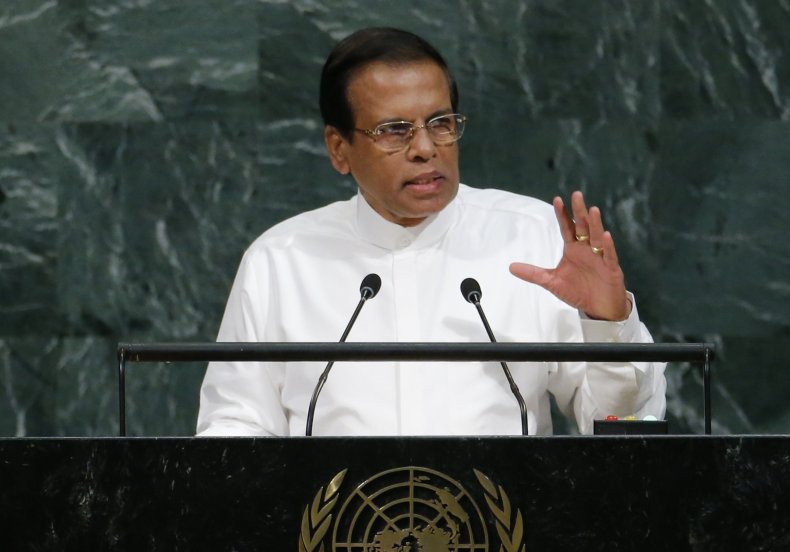 "From now on, we will hang drug offenders without commuting their death sentences," Senaratne said, adding there were currently 19 drug-related convicts whose death sentences had been commuted to life. All will now face execution, according to local media. "We were told that the Philippines has been successful in deploying the army and dealing with this problem. We will try to replicate their success," Senaratne explained.
The new policy is intended to address an apparent spike in drug-related offenses and provide a deterrent to repeat offenders. Senaratne said that even convicted drug offenders have continued their business from behind bars, necessitating a drastic approach. This week, one jailed drug dealer was caught importing around 220 pounds of heroin into the country, despite having been handed a death sentence commuted to life in prison.
The president also suggested that drug use was a major contributor to an increase in murder rates and sexual abuse of women, the Sri Lankan Daily News reported.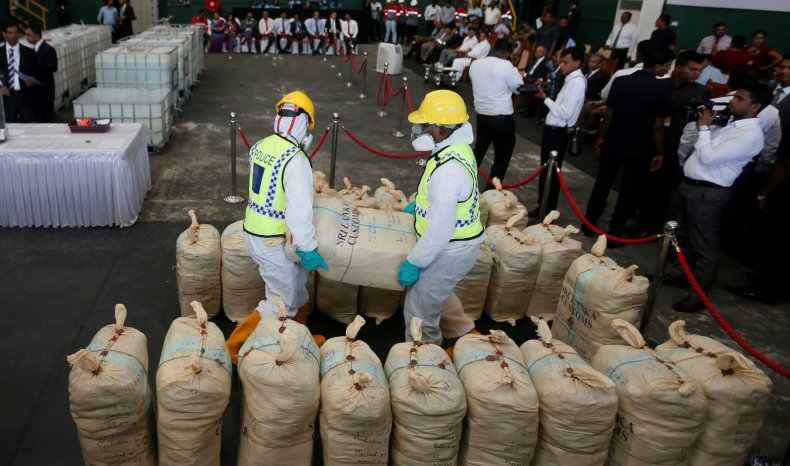 Advocates argue that Sri Lanka's rise in drug traffic stemmed from its importance as a transshipment point for smuggling illegal substances. In 2016, Sri Lanka's drug enforcement agency intercepted a ship in the capital Colombo carrying more than 2,000 pounds of cocaine to India. The haul was worth around $108 million, and was Asia's largest-ever drug bust. The drugs were destroyed as part of a public event earlier this year.
As the narcotics were destroyed, Sri Lanka's minister of law and order, Sagala Ratnayaka, told reporters that the government was "very serious" about zero tolerance for drug smuggling. "There is a distribution process, and we are tracking the network and the peddlers," he said.
Amnesty International released a statement condemning the president's comments. "There is no evidence that the death penalty has a unique deterrent effect against crime," said Dinushika Dissanayake, Amnesty's deputy director for South Asia. "Executions are never the solution and, for drug-related offenses, constitute a violation of international law. Sri Lanka should choose a more humane and just path," he said.