Bruce Springsteen Songs, Ranked By The Age You Should Listen To Them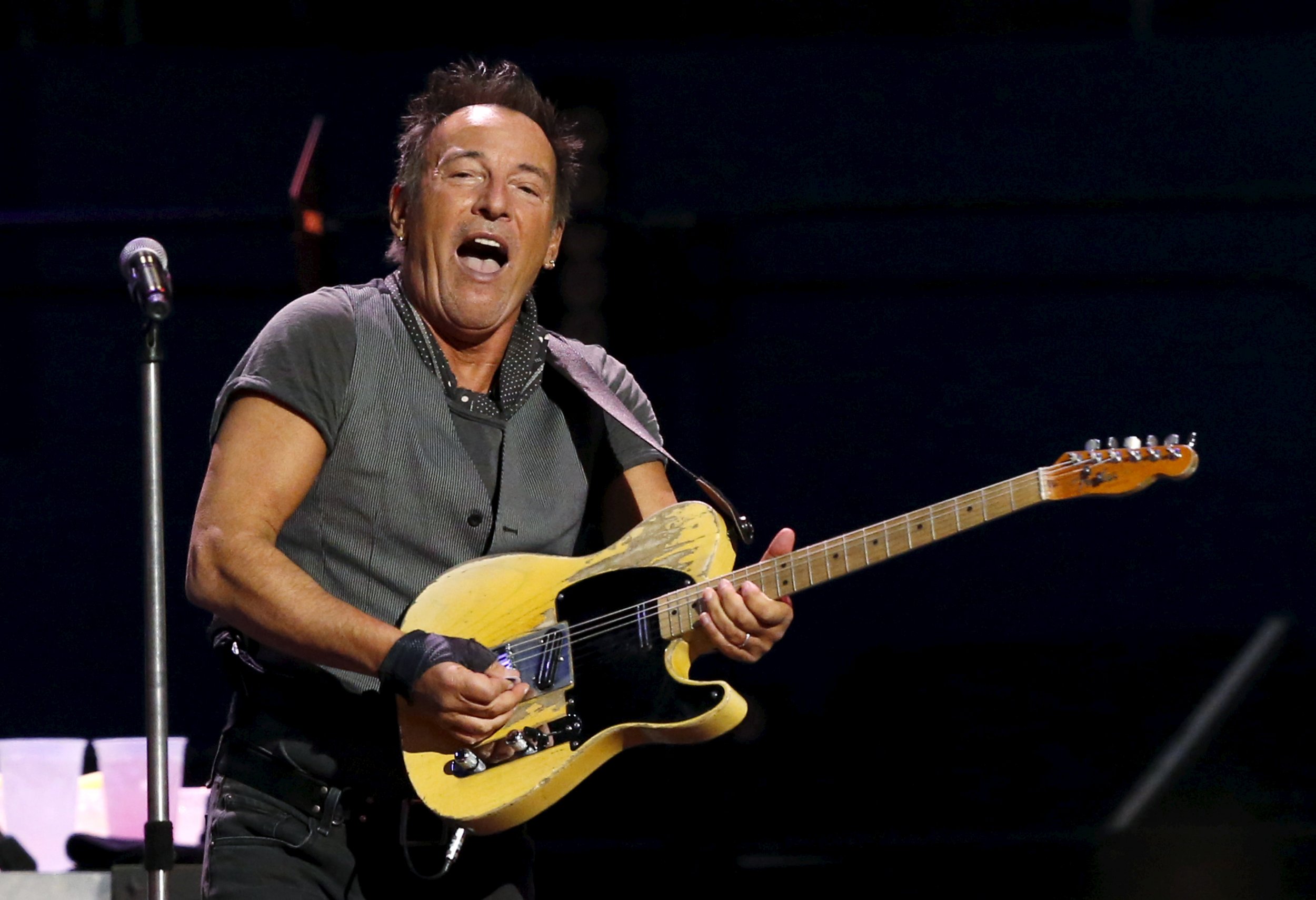 Bruce Springsteen turns 67 on September 23, and next week he will embark on a tour of a different sort: a book tour to promote his autobiography, Born to Run. One imagines four-hour book readings with the Boss mopping sweat from his brow as he implores bibliophiles in attendance, "Is anybody a scribe out there!?!"
The tome has 79 chapters, which may have something to do with the fact that the average lifespan of an American male is 79 years. As a tribute to the Bard of the Boardwalk on his birthday, we've compiled a set list of age-appropriate songs from his discography.
At age 7: "Blinded by the Light"
Springsteen has never written expressly for the prepubescent set, but where better to begin than with the first song off his first album, Greetings From Asbury Park, N.J.? Besides, it all takes place at a boardwalk amusement park, with references to a merry-go-round. This 1973 tune is arguably a rap song, with its free-form lyrics ("Madman drummers bummers Indians in the summer with a teenage diplomat…") throughout. Did the Boss invent hip-hop?
At 17: "Born to Run"
Springsteen wrote more songs that deal with teen angst than there are jughandles on Highway 35, but this is the essential work in his canon. It's the tune that put him on the covers of both Newsweek and Time in October 1975. More than a few fanboys will select "Thunder Road," the opener from the same album, as their song of preference here, but there's no reason to be divisive: The two tunes are basically the same song.
It's the story of a young man who has not much more than an engine and a dream of escaping his dead-end town. Does it really matter whether the girl's name is Wendy or Mary, whether she is being invited to "wrap your legs 'round these velvet rims" or "climb in," whether "it's a death trap, it's a suicide rap" or if it's simply "a town full of losers"? He's pulling out of there to win. And if you want to throw in "Prove It All Night" as a clone of these two, you're correct.
Note well: More than 40 years after writing these songs, Springsteen lives just a few miles away in Monmouth County from where he penned them and from where they were presumably set.
Also from this era: "Candy's Room," "Growing Up," "Independence Day," "Jungleland" and "Racing in the Street."
At 27: "Rosalita" or "The River"
You can head in two directions at this age: You're either a man on his way to fulfilling his wildest ambitions ("Cuz the record company, Rosie, just gave me a big advance…") or you're already looking back ruefully at the choices you made that have set you on a path of regret ("Is a dream a lie if it don't come true/Or is it something worse?"). The former song, off The Wild, the Innocent & the E Street Shuffle, is a cocksure and exuberant autobiographical strut. The latter, off The River, released seven years later in 1980, is a dirge that was inspired by the lives of Springsteen's sister and brother-in-law.
Also from this era: "Out in the Street," which when performed live is now the peak moment of many a Springsteen concert; "Tenth Avenue Freeze-Out"; "Spare Parts"; "Where the Bands Are"; "Because the Night," which Springsteen wrote and Patti Smith turned into her signature hit; and "Shut Out the Light," about post-traumatic stress disorder.
At 37: "Badlands"
Springsteen himself cops to the fact that he lifted the intro guitar riff from "Please Don't Let Me Be Misunderstood" by the Animals. That title may as well be this song's theme. This is the rant of a man who has seen enough to understand how the world operates but is nowhere near ready to give up: "Poor man wanna be rich/Rich man wanna be king/And a king ain't satisfied/til he rules everything/I wanna go out tonight/I wanna find out what I got."
This is your 20-year high school reunion song. You've made most of your important life choices by now, but there's a whole lot of living left to do. And you've finally figured out the rules of the game. It's all about getting off the mat after that first knockdown.
Also for this age: "The Promised Land," which is the sibling to the above song; "Tunnel of Love," which takes place on a joy ride but is actually about the roller coaster that is marriage; "Hungry Heart," which was written years before but seems to take place after "Tunnel of Love"; "I'm Going Down"; "Brilliant Disguise"; "No Surrender"; and "Glory Days."
At 47: "My City of Ruins"
Springsteen wrote this song in November 2000 as an elegy to the central Jersey beach town that was in the title of his first album. The song gained much more traction after he performed it at the televised tribute to the victims of 9/11 just 10 days after the 2001 attacks.
For all the thousands of rousing live shows that Springsteen has played over the span of nearly half a century, that somber performance in a studio bereft of an audience at 30 Rock may be his most uplifting. Springsteen draws from a seemingly bottomless well of passion, but this song definitely required a larger bucket. Also, it's worth noting that 16 years after Springsteen penned this prayer, Asbury Park is thriving.
Also for this age: "Darkness on the Edge of Town," "Jackson Cage," "Downbound Train," "One Step Up," "Pink Cadillac" and "Lucky Town."
At 57: "The Rising"
Having reached the age where a good man has evolved beyond cynicism to gratitude and even optimism, Springsteen delivers a song of hope and salvation. The man who nearly two decades earlier wrote "I'm Going Down" is joyfully headed in the opposite direction and inviting everyone he knows to join him. He "can't see nothing in front of me" and he's "lost track of how far I've gone," but he doesn't care. This is the artist fully realized, a man in full who completely appreciates the evangelical power of rock 'n' roll.
Also for this age: "Atlantic City," "If I Should Fall Behind," "Roll of the Dice" and, perhaps, for the GOML couch potato in your life, "57 Channels."
At 67: "Land of Hope and Dreams"
Springsteen wrote this pledge of allegiance in 1999 and performed it live hundreds of times before putting it on his 2012 album, Wrecking Ball. The Boss had been professing that "I believe in the promised land" for more than two decades when he wrote this song to testify that it did indeed exist and that it was all-inclusive: "This train carries saints and sinners/This train carries losers and winners."
If "Born in the U.S.A." is a forced baptism, then "Land of Hope and Dreams" is a fully realized profession of faith. Should Springsteen not die but instead ascend directly to heaven—and why shouldn't he?—this will be the song that is playing in the background as he vanishes into the clouds over Freehold, New Jersey.
Also for this age: "Fade Away" and "My Hometown."