St. Louis Couple Charged for Waving Firearms at BLM Protesters
Mark and Patricia McCloskey, the St. Louis couple who brandished firearms at a Black Lives Matter protest in their neighborhood in June, were charged Monday with one felony count each of unlawful use of a weapon. If convicted, the McCloskeys could face a $10,000 fine and a maximum jail sentence of four years each.
The McCloskeys became the center of controversy after video of them waving firearms at protesters in their neighborhood went viral. Mark McCloskey could be seen holding an assault rifle in the direction of the demonstrators. Patricia McCloskey appeared to be holding a semi-automatic pistol. While some have supported the McCloskeys' actions, others believe that they violated the rights of the protesters.
St. Louis Circuit Attorney Kim Gardner said on Monday that it "is illegal to wave weapons in a threatening manner at those participating in nonviolent protests, and while we are fortunate this situation did not escalate in deadly force, this type of conduct is unacceptable in St. Louis."
Attorney for the McCloskeys, Joel Schwartz, said in a Monday statement that he believed the couple was innocent.
"I, along with my clients, support the First Amendment right of every citizen to have their voice and opinion heard," Schwartz said. "This right, however, must be balanced with the Second Amendment and Missouri law, which entitle each of us to protect our home and family from potential threats."
Governor Parson's office directed Newsweek to a Monday tweet on Parson's feed.
"Kim Gardner's action toward the McCloskeys is outrageous," Parson wrote. "Even worse, the Circuit Attorney's office has admitted there is a backlog of cases and dozens of homicides that haven't been prosecuted, yet she has accelerated this case forward."
"We must prioritize laws that keep our citizens safe over political motivations," Parson continued. "Kim Gardner owes every single family who has had a loved one murdered an explanation on why she has acted on the McCloskey case instead of theirs."
"I am open to recommending the McCloskey's participate in one of my office's diversion programs that are designed to reduce unnecessary involvement with the courts," Gardner said in a statement sent to Newsweek on Monday. "I believe this would serve as a fair resolution to this matter."
Gardner also said the right to peaceful protest must be protected "and any attempt to chill it through intimidation will not be tolerated."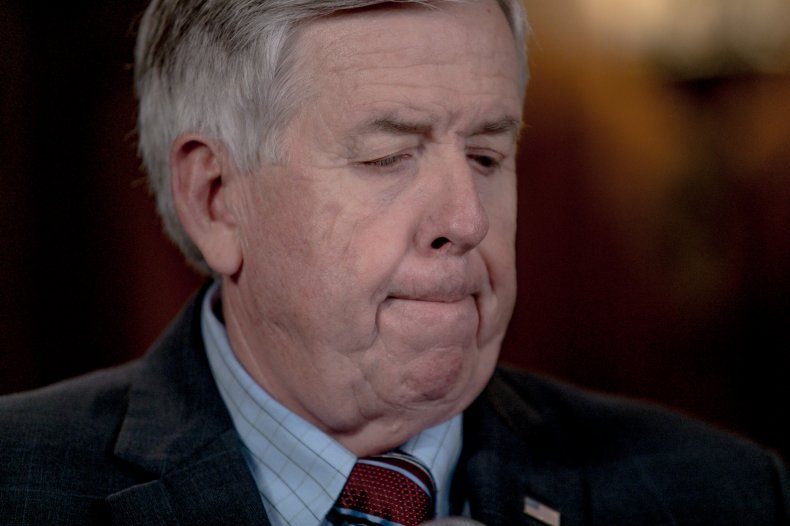 Governor Parson, who has publicly supported the McCloskeys actions, said during a Friday interview that he would pardon them if they were convicted.
"I think that's exactly what would happen," Parson said. "If that scenario in fact happened, I don't think they're going to spend any time in jail."
Mark McCloskey said Friday during an interview with Making the Case, an online program presented by President Donald Trump's reelection campaign, that protesters "smashed through the gate into my neighborhood and poured into my front yard."
"We're talking two, three hundred, I think the estimates are as much as 500 people all rushing at us, coming towards us," McCloskey continued. "We were just out on the east patio trying to barbecue dinner."
Parson said during a Tuesday news briefing that he had discussed the situation with President Trump. "The conversation I had with the President, said that he would do everything he could within his powers to help with this situation and that he would be taking action to do that," Parson said.
President Trump said during a Friday interview with Townhall that had the McCloskeys not displayed their weapons, "they were going to be beat up badly and the house was going to be ransacked and probably burned down, like [protestors] tried to burn down churches." Trump also said that idea of prosecuting the McCloskeys was a "disgrace."
Updated 11:52 p.m. EST 7/20/2020: This story has been updated with statements from the offices of Governor Mike Parson and St. Louis Circuit Attorney Kim Gardner.