St. Louis Grocery Store Gets Priorities Right And Puts Wee Liquor Bottles in The Salad Bar
Imagine all the lettuce, chopped tomatoes, and croutons from a salad bar replaced with a buffet-style table of tiny liquor bottles. That's exactly what shoppers found at one St. Louis grocery store. A photo snapped of the salad bar stocked to the brim with booze has now gone viral.
Yesterday morning, Emily A. walked into her grocery store and noticed something rather odd. And this was something so out of the ordinary, that she just had to take a snapshot of it. Instead of putting together a healthy salad plate, customers were now buying 50 ml mini-bottles for 99 cents.
Amused by what she saw, @emzorbit tweeted, "My grocery store has replaced the salad in the salad bar with liquor." It wasn't long before her image captured the web's attention as a humorous representation of the challenges that 2020 has presented thus far.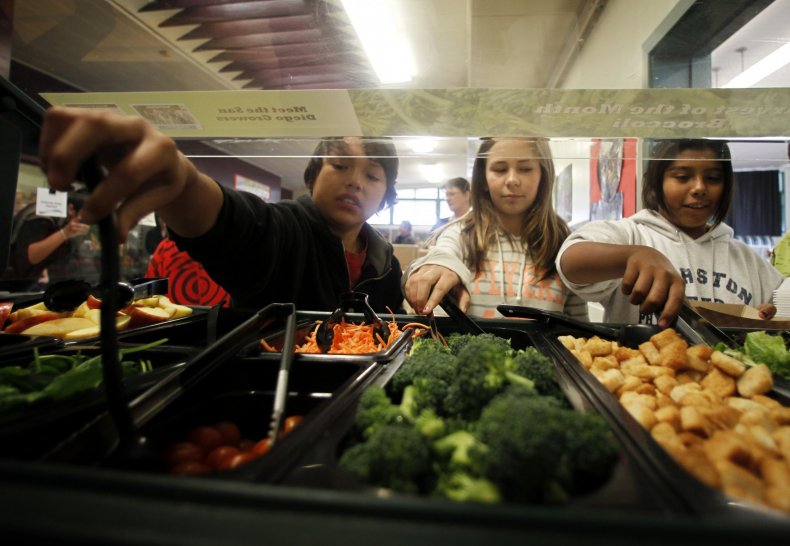 This isn't the first time that the grocery store's new stocking policy has caught the internet's attention. Two weeks ago, Jonathan Fredrick shared a photo on Facebook of his salad bar replaced with booze. Frederick's post differed from the most recent viral image in one way, it named the grocery store as Dierbergs of Missouri. Fredrick wrote, "Well, Dierbergs finally said 'screw it' and changed the salad buffet into a mini bottle scoop and go. So drink up!"
When asked why the change, Jamie Collins, VP of Advertising and Marketing at Dierbergs Markets, told Newsweek, "On an everyday basis, we challenge ourselves to build best-in-class displays. That doesn't change in a crisis."
"Looking for a way to leverage an empty salad bar, which has been closed since March of this year during the COVID-19 operational changes, Rick Rodemacher, our store director at our Manchester, had the idea to place beer cans in the empty space," added Collins.
As seen in photo below, other Dierbergs stores, such as the one in Arnold, have kicked things up even further! This location replaced their salad bar with this kicky tiki bar.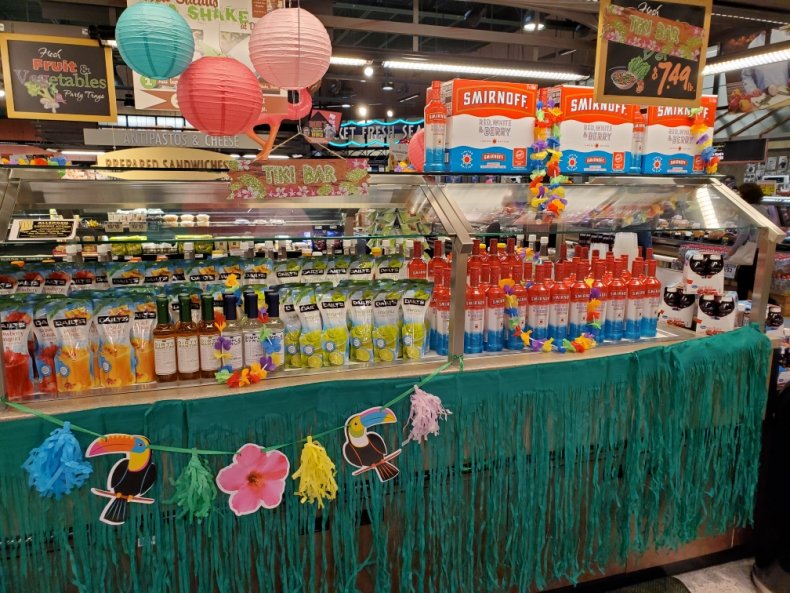 Its success also touches on the popular internet phenomenon of sharing images that seem to highlight the darkly humorous elements of what the year has wrought. It is not dissimilar from the "My Plans v. 2020" meme which has been rapidly spreading, primarily on Twitter.
The set up is simple, the user shares two images. The first is under the header of "My Plans," featuring a pop cultural 'before' moment. The second, "2020," features the proverbial 'after' moment. Writer Bianca Piazza's contribution pulls from the 2019 dramatic horror flick Midsommar.

While Dierberg's likely didn't intend to strike this kind of chord with people who stumbled upon its salad bar, others, like Piazza, have set out to create memes like this in order to connect with others through humor. "I've just been loving the relatable nature of the meme and all of the niche film and TV show references," she said. For those who aren't fans of the horror genre, don't worry, Piazza's got you covered there too. "The Drag Race ones are particularly hilarious," she added.