St. Louis Man Who Aimed AR-15 at Protesters Says They Threatened to Kill His Family and Dog
A Missouri man who aimed an AR-15 rifle at protesters marching past his home on Sunday said he and his wife were threatened by protesters who allegedly forced their way onto his property and threatened to kill him and his family, according to a report from the KSDK-TV
The incident took place as protesters were marching to the home of St. Louis Mayor Lyda Krewson, and demand that she resign after she publicly revealed the names and addresses of some calling for the defunding of the police department.
Krewson read the information Friday during a Facebook live when she was asked about a meeting with some protestors outside City Hall. In answering the question, she read off portions of letters, including names and addresses, where those writing asked that the police department be defunded.
Krewson has since apologized, writing a tweet that she did not intend "to harm anyone or cause distress," but it didn't stop Black Lives Matter protesters from marching through an affluent St. Louis neighborhood to her home.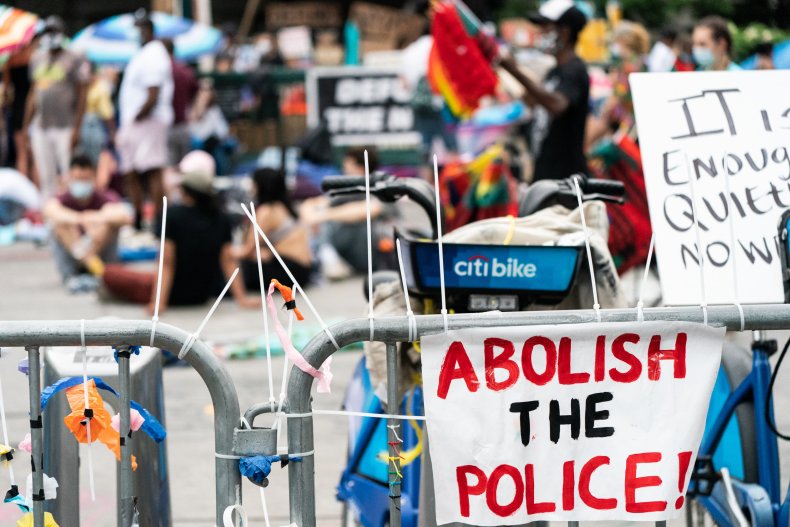 Mark McCloskey said in a Monday interview with the St. Louis NBC affiliate that he and his wife were sitting out on their patio having dinner when they heard the commotion of the protests outside their gate.
McCloskey said when about 100 protesters forced the gate open on the way to Krewson's property, he yelled that this was private property, which McCloskey said enraged the crowd.
McCloskey said he ran and got his rifle, fearing that he and his wife would be injured or killed by the angry protesters, who he said were yelling and threatening them.
"Horde, absolute horde came through the now smashed down gates coming right at the house," he told the NBC affiliate.
McCloskey said some in the crowd wore body armor, and that one pulled out two loaded magazines and threatened him and his wife.
"It was about as bad as it could get," he said.
The protesters eventually moved on, leaving the McCloskey's shaken, he said. In the hours that followed, images of the McCloskey's brandishing their weapons at the crowd went viral on Twitter.
McCloskey told the affiliate he hasn't slept since the incident; he has received threatening calls and emails as a result of the incident and has been forced to turn off his phones and board up his office.
"It is interesting to me that the very people that are asking the mayor to resign for 'doxxing' people have now put all of my information all over the web, everywhere in the world" he said. "Is there some hypocrisy there?"
Newsweek reached out to Black Lives Matter but did not hear back before publication.