St. Louis Mask Mandate Reissued, Effective Immediately for Indoor Public Places, Transit
St. Louis became one of the first areas in the United States to reissue a mask mandate. Effective immediately, everyone ages 5 or older in St. Louis city and St. Louis county is required to wear face coverings in indoor public places and on public transportation.
Masks are required for everyone, even people who are fully vaccinated, as St. Louis County Executive Sam Page explained the mandate extended to those who received the vaccine as it does not prevent the virus from being passed to someone else.
"For those who are vaccinated this may feel like punishment, punishment for doing the right thing," Page said at a news conference Monday. "I've heard that and I feel that frustration. While the vaccination can protect against serious illness, it can't protect you from being infected with COVID-19 and passing it onto someone else, someone who may be more vulnerable."
Missouri ranks fourth nationally in the most new cases per capita, according to data gathered by Johns Hopkins University Center for Systems Science and Engineering. The uptick in new cases and hospitalizations has been largely attributed to low vaccination rates and the Delta Variant.
For more reporting from the Associated Press, see below.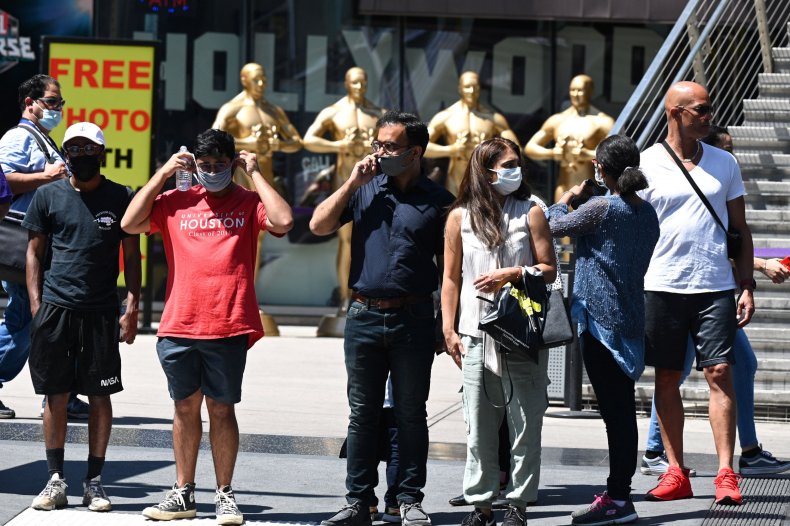 Arkansas Sees 161 Percent Increase in New COVID Cases
The University of Arkansas for Medical Sciences on Monday said it's reached a new peak of COVID-19 patients at its hospital as a surge in coronavirus cases continued in the state.
UAMS Chancellor Dr. Cam Patterson tweeted that the hospital had 66 COVID-19 patients, surpassing its previous record of 63 in January. The Department of Health said the number of people hospitalized statewide with COVID-19 rose by 44 on Sunday to 919. The state's COVID-19 cases rose by 1,022 and its deaths increased by six.
The rolling average number of daily new cases in the state has increased by 161 percent over the past two weeks, according to figures compiled by Johns Hopkins University researchers. Only 36 percent of the state's population is fully vaccinated, according to the Centers for Disease Control and Prevention.
Past AMA President Calls for Health Care Workers to Receive Vaccination
"It is critical that all people in the health care workforce get vaccinated against COVID-19 for the safety of our patients and our colleagues," said Dr. Susan Bailey, immediate past president of the American Medical Association.
"With more than 300 million doses administered in the United States and nearly 4 billion doses administered worldwide, we know the vaccines are safe and highly effective at preventing severe illness and death from COVID-19. Increased vaccinations among health care personnel will not only reduce the spread of COVID-19 but also reduce the harmful toll this virus is taking within the health care workforce and those we are striving to serve."
Second shots are safe for most people who develop signs of allergy to their first COVID-19 vaccinations, a study published Monday suggests.
As many as 2 percent of people develop these reactions to the first dose of Pfizer and Moderna vaccines, with symptoms including flushing or redness in the face, dizziness or hives. Potentially life-threatening reactions, including breathing difficulty, swelling of the tongue and face and rapid heart rate, are much less common.
The study included 189 people who contacted allergy specialists at five U.S. centers after developing any of these symptoms after their first dose. Most received a second shot within several weeks. Allergy-like symptoms occurred soon after in 32, or 30 percent, but they were milder than after the first shot and the researchers said all tolerated the second dose well.
The results were published in JAMA Internal Medicine.
Anti-Mask Louisiana Representative Contracts COVID
Republican Representative Clay Higgins of Louisiana, a critic of mask mandates and public health restrictions during the pandemic, said he, his wife and son have contracted the coronavirus.
He made the announcement on Facebook Sunday night and said he and his wife had been infected last year, but this time around is much more difficult. He has not said whether he has been vaccinated.
"This episode is far more challenging. It has required all my devoted energy," he said. "We are all under excellent care, and our prognosis is positive."
Higgins is the second member of Congress to announce in the last week that he'd contracted the virus. Representative Vern Buchanan, a Republican who represents parts of southwest Florida, said July 19 that he had tested positive. Buchanan said he had been fully vaccinated and was experiencing mild symptoms.
Elsewhere in the Louisiana delegation, Congressman-elect Luke Letlow died December 29 at the age of 41 from COVID-19 complications. House Minority Whip Steve Scalise waited until July 18 to get vaccinated, saying he thought he had immunity because he tested positive awhile back for coronavirus antibodies
Biden Announces Disability Protection for Long-Term COVID Effects
President Joe Biden says that people grappling with the long-term effects of COVID-19 will have access to disability protections.
The president announced the initiative Monday at the White House as he marked the 31st anniversary of the Americans With Disabilities Act.
Biden says the initiative is the first of its kind. Lingering challenges from the coronavirus such as breathing problems, brain fog, chronic pain and fatigue could rise the level of a disability. So Biden says he's bringing federal agencies together to ensure that people who had the virus will know their rights and available resources as they navigate work, school and the medical system.