St. Louis Cop Calls Black Lives Matter 'Klan With A Tan' and 'Domestic Terrorists'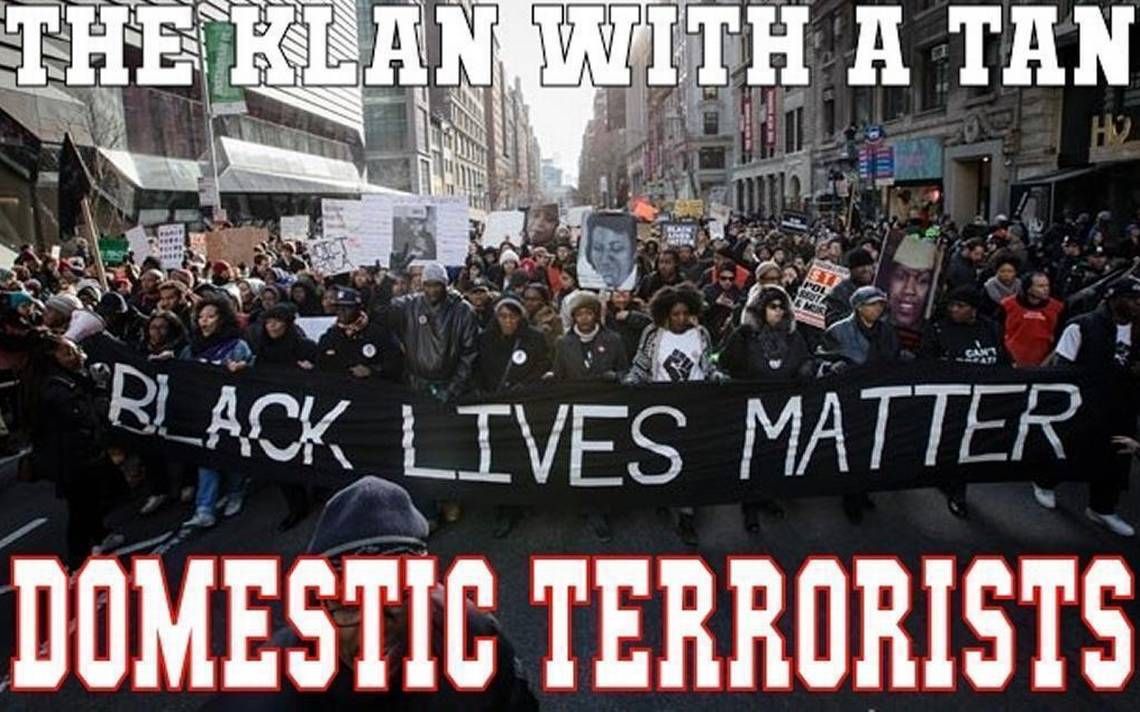 A St. Louis police officer who called Black Lives Matter activists "the klan with a tan" and "domestic terrorists" on Facebook is reportedly under an internal investigation by the police department.
On Saturday morning, the day after a white former St. Louis cop was acquitted of shooting a black motorist, the officer posted the comments as a meme on a stranger's Facebook page, and did not attempt to conceal his name. Social media users quickly connected him to his job through a Google search and the St. Louis Metropolitan Police Department launched an investigation, a spokesperson wrote in an email to Newsweek.
The officer posted the meme—a picture of a Black Lives Matter rally with the words "The Klan with a Tan" and "Domestic Terrorists" on it—on the Facebook page of Lisa Clancy, a resident of St. Louis, who said she had attended protests of the Jason Stockley not guilty verdict because she wanted her son "to live in a world where he doesn't fear those who are different than him."
Clancy told Newsweek she was "frazzled and taken aback" when she saw the officer's comment on her public post, especially since she wasn't Facebook friends with the officer.
She said she's reached out to the St. Louis Metropolitan Police Department and Mayor Lyda Krewson's office several times, but has not gotten any kind of response. Neither office has commented as of Wednesday morning.
"The fact that they've been silent shows me that, one, that kind of behavior is OK, and two, there's some deeply embedded racism in that institution."
The internal investigation does not give her confidence, she said.
"Since Ferguson, there's been this conversation about the trust and relationship-building that needs to happen between community and law enforcement, and letting this kind of behavior go on totally undermines everything they need to be working on right now," she said.
The officer deleted his comment on Monday, she said, and changed his name on Facebook.
The police department has been criticized by residents and activists for its lack of professionalism during the demonstrations, with some officers chanting,"Whose streets? Our Streets" at protests this weekend, and some employing a tactic called "kettling," where officers close encircle protesters and enclose them into a small area, making it hard to escape. Police employed tear gas, rubber bullets and mace to control crowds, and 123 arrests were made on Monday, a peak for the days of demonstrations.
Since Friday's verdict, protesters have congregated throughout the city. Most have been peaceful, but some have thrown bricks and water bottles at police, brought guns to the demonstrations, and engaged in vandalism throughout the city, including breaking windows.
St. Louis police did not respond to a response for comment from Newsweek, and neither did the police officer.
What Happened?
In 2011, Jason Stockley, 36, fatally shot Anthony Lamar Smith, 24, after a car chase following what Stockley said was a drug transaction. Just before he shot Smith, Stockley said, "We're killing this [expletive deleted], don't you know," according to dashboard camera video cited in the trial.
According to prosecutors, Stockley planted a gun in Smith's car that day. Stockley's DNA was found on the gun, according to court documents, and Smith's was not.
The court did not set a public date for its verdict, and Stockley waived his right to trial by jury. New evidence reopened the case in May 2016 despite a $900,000 settlement the police department paid the Smith family in 2013, one of the largest police department settlements in city history.