St. Louis Has Women to Thank for Its Sports Teams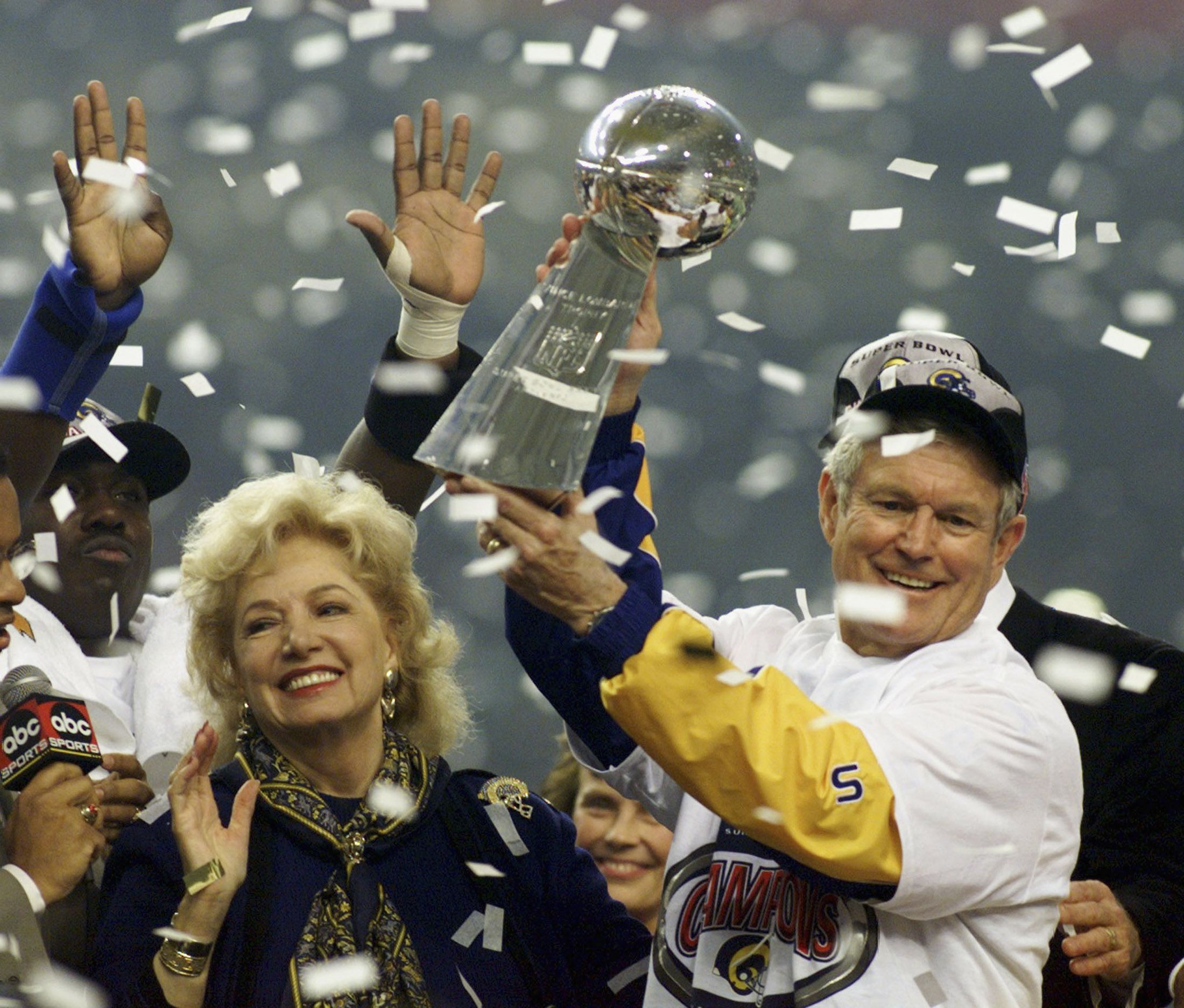 By now, it's no secret how St. Louis fans feel about Rams owner Stan Kroenke, especially since his plan to move the team to L.A. has become official. "You can't help but feel abandoned and disrespected by Kroenke," St. Louis native David Biello tells Newsweek. "Especially after the city made a good-faith effort to keep the team."
Biello, like many longtime fans, is dealing with the loss of his hometown team for a second time around, after suffering through the Cardinals' move to Arizona in 1988. "When Bill Bidwill moved the Cardinals from St. Louis to Arizona, it was tough. But it feels easy compared to the greed and deceitfulness exhibited by Kroenke, who, to make matters worse, is a St. Louis native."
While Bidwill and Kroenke may have left St. Louis feeling bitter toward the NFL and its owners, fans actually have two women to thank for providing them with teams in the first place.
Violet Bidwill Wolfner became the principal owner of the Chicago Cardinals after her husband, Charles Bidwill, died in 1947. Things started out pretty well her first season, as the Cardinals beat the Philadelphia Eagles to win their first undisputed franchise championship (their win in 1925 is still considered controversial). They made it to the playoffs the following year as well, but that would be the last time they would do so as a Chicago team.
In 1949, Bidwill Wolfner was remarried to St. Louis businessman Walter Wolfner. In the years that followed, the Cardinals' poor winning percentage, and a losing battle with the Chicago Bears in front of hometown fans, left the organization facing bankruptcy. The Wolfners (Walter served as managing director for the team) heard offers to move the Cardinals to other cities including Dallas, Buffalo and Miami, but settled on St. Louis for the beginning of the 1960 season.
Bidwill Wolfner got to see the St. Louis Cardinals play for only two seasons before dying suddenly in 1962. Ownership moved to her sons, Bill and Charles Jr., and after 28 mediocre seasons in St. Louis, Bill moved the team to Phoenix for the 1988 season. To this day, Violet Bidwill Wolfner remains the only Cardinals owner to see the team win an uncontested league championship.
But St. Louis had to wait only seven years to welcome an NFL team back, courtesy of perhaps the most well-known female team owner, Georgia Frontiere. Born in St. Louis in 1927, Frontiere is often remembered for being a colorful and controversial figure in a male-dominated league. She grew up in a family of entertainers who moved to Fresno, California, when she was a teenager. She appeared in a singing duo with her mother and acted at a local playhouse, eventually moving to Miami in the late 1950s to star in her own TV interview show and sing in nightclubs.
In Miami, Frontiere was introduced to then-Baltimore Colts owner Carroll Rosenbloom. They married in 1966, and six years later Frontiere was back in California after Rosenbloom traded ownership of the Colts for the Los Angeles Rams.
In 1979, Rosenbloom died from a heart attack while swimming, and a 70 percent ownership of the Rams went to Frontiere, although Rosenbloom's son Steve had been acting as operations manager for the team for some time. Frontiere fired her stepson upon taking over, sending a clear message about who was really in charge. She was much more of a visible owner than Violet Bidwill Wolfner ever was (often standing on the sidelines during the games and giving players pecks on the cheek for a job well done), and as a result, she was under constant scrutiny for her actions.
She moved the team to Anaheim, California, in 1980, acting on a deal her late husband had made two years before. In the early '90s, after suffering a series of losing seasons and low ticket sales, Frontiere decided it was best to relocate the team. She settled on her hometown of St. Louis, an offer that came with a new domed stadium and an outpouring of love from the locals. The Rams got off to a shaky start, but in 1999, led by quarterback Kurt Warner and featuring the "Greatest Show on Turf," the Rams won the Super Bowl.
Frontiere died in 2008 at the age of 80, and by that time she had been the Rams' principal owner for 28 years. Though she left her share of the team to her children, Chip Rosenbloom and Lucia Rodriguez, they ended up having to sell the team for tax and legal reasons. Stan Kroenke, who already had a 40 percent stake in the team since they moved to St. Louis, wound up buying the whole outfit in 2010…and we all know how that went.
Both Bidwill Wolfner's and Frontiere's teams won an NFL championship, a feat many male owners never accomplished. Today, there are two women serving as principal owners—Martha Ford owns the Detroit Lions, and Virginia Halas McCaskey, also the oldest owner in the league, is behind the Chicago Bears. St. Louis may no longer have a team, but it will have a permanent place in the NFL-ownership history books. And if female ownership grows, who knows? It may even get another shot at a franchise.