St Patrick's Day 2016: How the World Will Celebrate from Dublin to Tokyo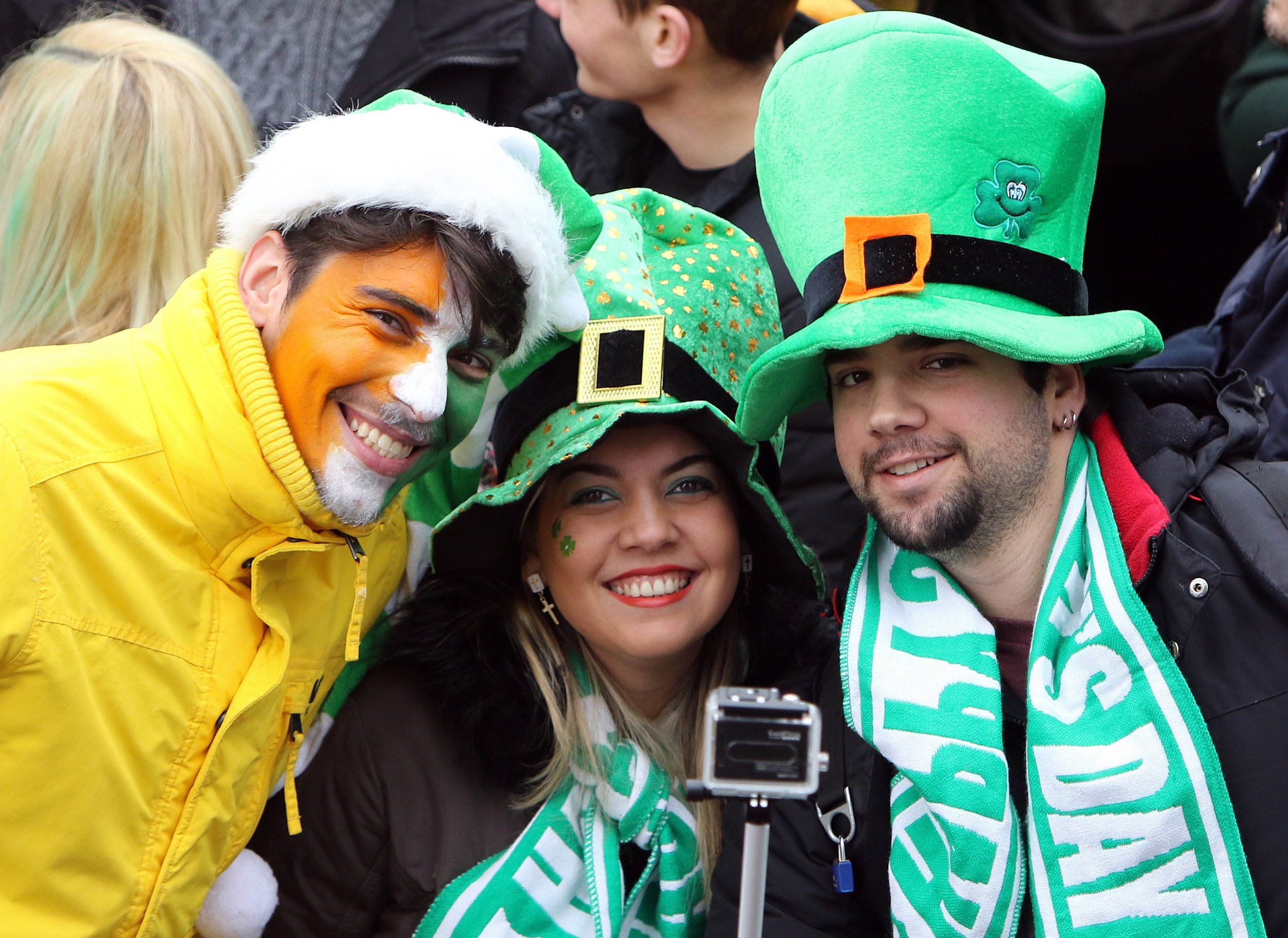 St Patrick's Day is nearly upon us and on March 17, millions of people will be adorning themselves in green, orange and white and toasting with a pint of Guinness. But the annual holiday, honoring the patron saint of Ireland, isn't just for Irishmen and women—it's celebrated the world over.
As well as being a national holiday in Ireland and Northern Ireland, St Patrick's Day pride has spilled over into other parts of the world including London, home to an annual party in Trafalgar Square, various cities in the U.S., Tokyo in Japan and Australia.
The revelry, of course, is all in the name of Saint Patrick, who was born in Britain but sold into slavery in Ireland as a child. He eventually escaped but after becoming deeply religious he decided to return to Ireland to spread the word of Christ. Legend has it Saint Patrick was responsible for making the shamrock synonymous with Ireland after using the three-leaf clover to demonstrate the Holy Trinity. He's also been attributed with driving snakes out of Ireland.
Saint Patrick is thought to have died on March 17, 461 AD, hence the date for St Patrick's Day.
So where and how will St Patrick's Day be celebrated around the globe? Read on:
Dublin
St Patrick's Day isn't just a single day in Dublin, it's a whole week. The annual St Patrick's Festival celebrates its 21st anniversary in 2016 and will take place from March 17 to 20.
Kicking off the festival is a free parade through Dublin's city centre on March 17. This year's theme is "the imagination of the youth of Ireland as they look to the future."
Other events include a village dedicated to craft beer and whiskey that should certainly prove popular, a city-wide treasure hunt, a walking tour inspired by Saint Patrick and an annual tradition known as " Greening the City," that sees various landmarks lit up in green.
If you're looking to celebrate St Patrick's Day by boozing on the finest ale Dublin has to offer, check out this handy guide to the best pubs in the city.
Belfast
Not to be outdone, Belfast is hosting its own parade on March 17, kicking off at the city's town hall at 12pm. There's also a free concert in the centre of the city between 12.45pm and 3pm; the event will be headlined by former X Factor winner Ben Haenow and ex-Westlife singer Brian McFadden.
Fitness fanatics, why not earn your pint of Guinness by first taking part in the annual Spar Craic 10K run?
London
With the annual Trafalgar Square party already behind us, there's still plenty to do in London on March 17. For a unique St Patrick's Day, you could always sign up for an evening of papier mache leprechaun-making at Drink, Shop Do.
For a themed night out, visit the world famous Cutty Sark and dance under the ship's hull on March 19. Traditional music will come from a ceilidh band at this alternative St Patrick's event.
New York
There is perhaps no bigger parade marking St Patrick's Day than this one in the Big Apple on March 17. Join the party along 5th Avenue from 11am Eastern Time.
For cinephiles, what better way to spend your St Patrick's night than by reliving the horror that is a pre- Friends Jennifer Aniston in 1993's Leprechaun ? The film is playing for one night only at the Nitehawk Cinema.
Chicago
The Chicago river goes green but once a year in celebration of St Patrick's Day. Head down to the river to see the spectacle, which dates back over 50 years, for yourself.
Boston
Boston has a rich history as one of the most Irish cities in America and so it's fitting that South Boston play host to an annual parade on March 20. The event kicks off at 1pm local time.
For an Irish pub to sink a beer, check out this array of Boston drinking holes.
Montserrat
Saint Patrick isn't just an important figure in Ireland, he's also recognized as the patron saint of the Caribbean island of Montserrat. The luxurious isle is celebrating St Patrick's Day in style with a week of festivities including a parade on March 17, and a fun fair on March 18.
Tokyo
More than 30,000 people attended Tokyo's I Love Ireland celebrations in honor of St Patrick's Day in 2016, and now the day-long festival is back. Taking place in Tokyo's Yoyogi Park, the event promises "Irish musicians and dancers, food and drinks, sports, culture and crafts."