St. Patrick's Day 2021 Google Doodle Celebrates Ireland's Geography and History
St. Patrick's Day falls annually on March 17, and this year, Google Doodle is celebrating the Irish holiday in a Doodle reflecting Ireland's rich culture. The Doodle, illustrated by Dublin-based guest artist Arron Croasdell, replaces the letters of the word Google with artwork that symbolizes Ireland's geography, architecture, and history.
The G in 'Google' reflects Ireland's mountains, forests, and lighthouses, while the first O represents the hands and heart of the legendary Claddagh ring, which symbolizes love, loyalty, and friendship. The second O features a vase filled with Irish wildflowers: spring squill, crocuses, and a three-leaf clover—Ireland's iconic emblem that represents faith, hope, and love.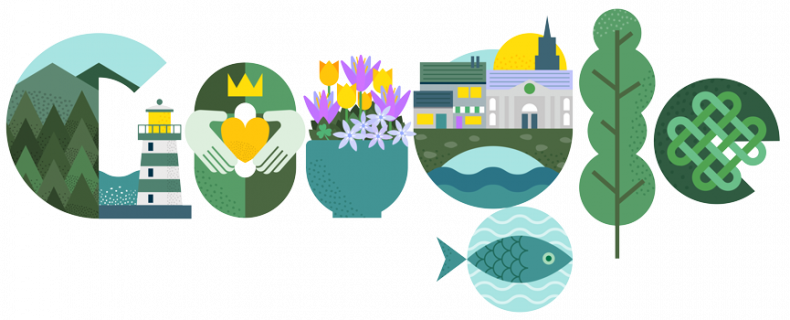 The second G features a river flowing past city buildings, while the L in Google has been replaced by a tree, to represent Ireland's woodlands which are being restored in new state reforestation initiatives. Finally, the E is depicted with a Celtic knot, which is a symbol of Irish hope in the infinite interconnectedness of humanity.
In an interview with Google, Croasdell said: "Being an Irish designer, it's so nice to represent our national holiday on a global scale.
"I drew inspiration from contemporary design styles. I wanted to incorporate items that represent Ireland without being over-the-top traditional (ie. leprechauns). I want people to know that Ireland is more than just the stereotypes. It has a vibrant culture and landscape, as well as a thriving design and illustration scene."
St.Patrick's Day is celebrated by millions of people every year, and while it is a national holiday in the Republic of Ireland and Northern Ireland, it is widely celebrated by people across the world.
St. Patrick is the patron saint of Ireland, though it is thought that he was born and grew up in Britain in Roman times, before being kidnapped and taken to Ireland as a slave.
Once free, he returned to Britain and began training as a priest, before going back to Ireland to convert thousands of Irish people to Christianity.
St. Patrick's Day falls on the day the saint died, March 17, and is typically celebrated with parades in Ireland, the U.S., and elsewhere. However, due to coronavirus restrictions this year, cities in Ireland are celebrating virtually.
Belfast, in Northern Ireland, is celebrating with virtual events including an online disco and a virtual guided tour of the city's street art, plus Irish language festivals. Dublin, in the Republic of Ireland, is celebrating with a virtual parade which will be broadcast to millions of people.
This chart from Statista, using data from the U.S. Census Bureau, shows that 30 million Americans claimed Irish ancestry in 2019.