St. Patrick's Day: Kissing Soldiers Is a Security Risk, Military Warns
Spectators at the annual St. Patrick's Day parade in Savannah, Georgia, have been warned that the tradition of kissing marching soldiers is a security risk, and have been asked to keep their lipstick to themselves.
According to local broadcaster WTOC, the 2018 parade organizers are requesting that spectators leave the soldiers of the 3rd Infantry Division, who are based at nearby Fort Stewart, unmolested.
It is a tradition for the mothers, wives and girlfriends of the soldiers to run out from the crowd and plant kisses on the troops, leaving distinctive red and pink lipstick marks. Over the years the tradition has spread to include anyone with lipstick and a liking for military men.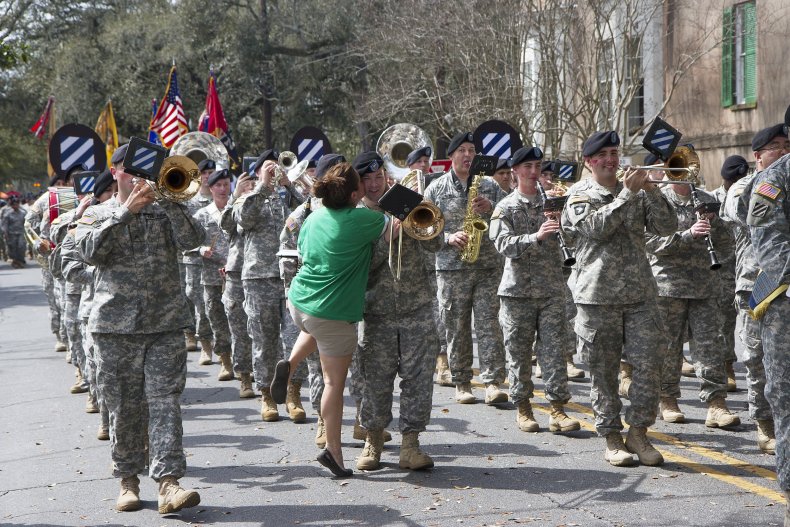 The request is intended to ensure the safety and security of the troops. "Really the worldwide situation, terrorism, you just don't want people running out to active military," parade committee grand chairman, Brian Counihan said. "It's a fun thing, but it puts them on edge and it could be a danger."
The army has asked that revellers respect the professionalism of the soldiers, although cadets from Benedictine Military Academy, who also take part in the parade, remain fair game, WTOC reported.
"The military doesn't want it to happen. We don't want it to happen. Just do the right thing," Counihan said. "You don't want someone running out there kissing your wife or momma so treat them the same way."
"Today's times, keep an eye out. If you see something suspicious, go to a policeman and tell them. Otherwise, just go have a good time," he added.
WTOC said there would be no punishment for attempted kissers, though the military members and police officers supervising the parade will be expected to stop them before they get too close.
The 2018 parade will be held on March 17 and will include around 280 participating groups. The city's first public St. Patrick's Day parade took place in 1824, making it one of the oldest in the U.S. The largest parade in the city's history was in 2012, with 380 groups marching. Organizers claimed that more than a million people attended the event.