St. Paul Police Chief Demands Apology From State Rep for Accusing Sgt. of Racial Profiling
St. Paul Police Chief Todd Axtell is demanding an apology from a Minnesota state representative who accused one of his sergeants of racial profiling.
"On Sunday, July 4, one of our sergeants working a traffic safety detail stopped a state representative for driving without a front license plate on his vehicle, which is unlawful in the state of Minnesota," Axtell said in a Facebook post. "Two days later I was shocked to hear that driver accuse the sergeant of making the stop based on race."
The police chief said he was compelled to look into the traffic stop upon hearing of the accusation from Rep. John Thompson, who is Black—an accusation he said he doesn't "take lightly."
After watching body worn camera footage from the early morning incident and speaking with the sergeant involved, Axtell concluded that the traffic stop "had absolutely nothing to do with the driver's race."
"What it did involve was a public servant doing what the community asks of him...Simply put, the traffic stop was by the books. What happened afterwards was anything but," Axtell wrote on Friday.
Thompson, who was known for his Black Lives Matter activism before being elected to office last year, publicly claimed that he was being racially profiled when the sergeant pulled him over on Sunday.
When asked for his driver's license, Thompson produced a Wisconsin driver's license, from which police learned that his Minnesota driving privileges had been suspended back in 2019 because he failed to pay for child support.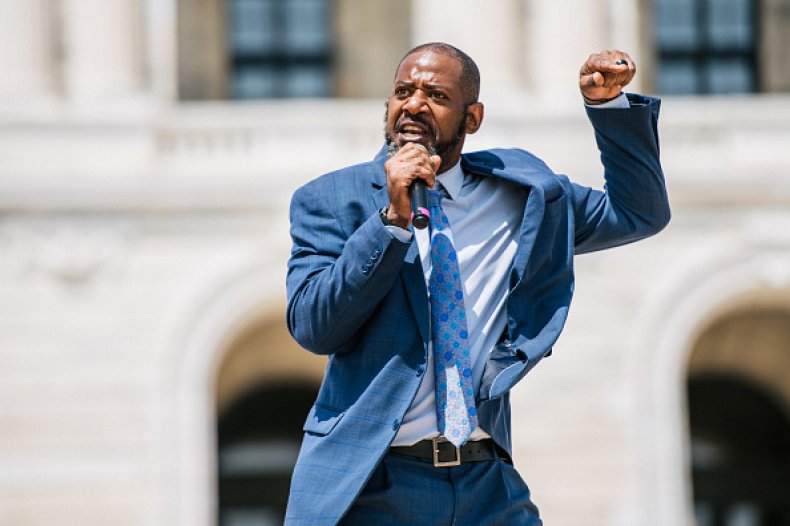 Thompson has been an outspoken advocate for changing state laws that prohibit traffic stops for things like expired tabs, arguing that these minor infractions are often used to racially profile Black drivers.
"I'm still being profiled...too," the state representative said at a Tuesday rally memorializing the fifth anniversary of Philando Castile's death. "In fact, I was just pulled over Saturday for a pre-textual stop...you don't have a front license plate and I got a ticket for my license. Anyway, I thought we weren't doing pre-textual stops here in this state, but we are. We're still getting 'driving while Black tickets here in this state. As a matter of fact, in St. Paul. So let's just call it what it is, right?"
Thompson was a friend of Castile, a Black man who was fatally shot by police during a routine traffic stop in 2016.
"I'm dismayed and disappointed by the state representative's response to the stop. Rather than taking responsibility for his own decisions and actions, he attempted to deflect, cast aspersions and deny any wrongdoing," Axtell wrote on Facebook.
"The driver, an elected official who does not dispute driving without a front license plate, owes our sergeant an apology," he said.
Axtell defended his officers, saying the department strives "to be fair, to treat everyone with respect and to lead by example." He said that his police force also takes responsibility for their mistakes and tries to remedy any wrongdoing and called on Thompson to do the same.
"It's what our community expects of its public servants," the police chief said.
Thompson's driving privileges were reinstated on Wednesday after the Minnesota Department of Public Safety (DPS) confirmed child support obligations had been fulfilled.
However, according to KSTP-TV, a DPS official said Thompson, who has lived in Minnesota for at least 18 years, does not hold a state licenses, which is required by any resident of Minnesota who has lived there for any more than 60 days.
Newsweek reached out to Thompson for comment but did not hear back before publication.