Public Officials Threatened Doctors Over Ivermectin Refusal, Hospital Says
Doctors at a Helena, Montana, hospital were threatened by public officials over the care of a COVID patient who wanted to be treated with ivermectin, a spokesperson said.
A St. Peter's Health spokesperson said that three different doctors were threatened after they refused to treat a woman in her 80s with ivermectin as she had requested, according to the Billings Gazette.
In a statement sent to Newsweek, a St. Peter's Health spokesperson said: "Last week, several of our providers and care team members who are working tirelessly at the bedside were harassed and threatened by three public officials.
"These officials have no medical training or experience, yet they were insisting our providers give treatments for COVID-19 that are not authorized, clinically approved, or within the guidelines established by the FDA and the CDC. In addition, they threatened to use their position of power to force our doctors and nurses to provide this care.
"These conversations were deeply troubling to our physicians and staff because they were threatened and their clinical judgment was called into question by these individuals."
The spokesperson later added: "Despite occasional requests by patients or family members to use alternative therapies or medications like Ivermectin that are not authorized or clinically approved to treat COVID-19, St. Peter's Health will continue to follow clinical protocols that have been developed by medical experts and are consistent with FDA and CDC guidelines and recommendations."
St. Peter's Health did not name who the elected officials were, although Republican Attorney General Austin Knudsen's office did confirm it had called hospital executives last week.
A spokesperson for the attorney general disputed St Peter's Health's version of events, including claims it had dispatched a Montana Highway Patrol trooper to the hospital.
The spokesperson told Newsweek: "The Attorney General's Office received a report from a family that said St. Peter's Hospital was violating their relative's rights by refusing to allow her to receive prescribed medications, not delivering legal documents, not allowing them to see their relative, and at one point, even cutting off text message communication between them and their family member.
"The family asked for our assistance and a trooper was dispatched to speak with the family at the hospital. Following that conversation, Attorney General Knudsen spoke with hospital executives and received assurances that they would cease preventing communication between the patient and her family and deliver the legal documents she needed.
"It's unfortunate that the hospital and members of the Montana media are trying to turn the focus away from the serious allegations regarding the mistreatment of a patient. The Department of Justice's ongoing investigation does not involve any specific medical treatment, nor did anyone at our agency give any directive to hospital staff regarding any specific medical treatment.
"No one was threatened or had their clinical judgment questioned while the Department of Justice was trying to get to the bottom of the serious allegations made against the hospital. Our concern was—and the focus of our investigation continues to be—allegations that the hospital mistreated a patient and violated her rights and her family's rights."
The use of ivermectin has become controversial with anti-vaccine advocates wanting to use it as an alternative treatment for COVID-19.
Ivermectin is an anti-parasitic drug that has different formulas for humans and livestock, but it has become popular in the anti-vaccine movement as a treatment for mild-to-moderate forms of COVID.
The U.S. Food and Drug Administration (FDA) has warned against using ivermectin to treat COVID as it is not authorized or approved for treating the disease in humans or animals.
It is only approved for human use to treat infections caused by some parasitic worms, head lice and skin conditions like rosacea.
The FDA also warned that taking large doses of ivermectin is dangerous to people's health and that there is no available data to support its usage to treat COVID-19.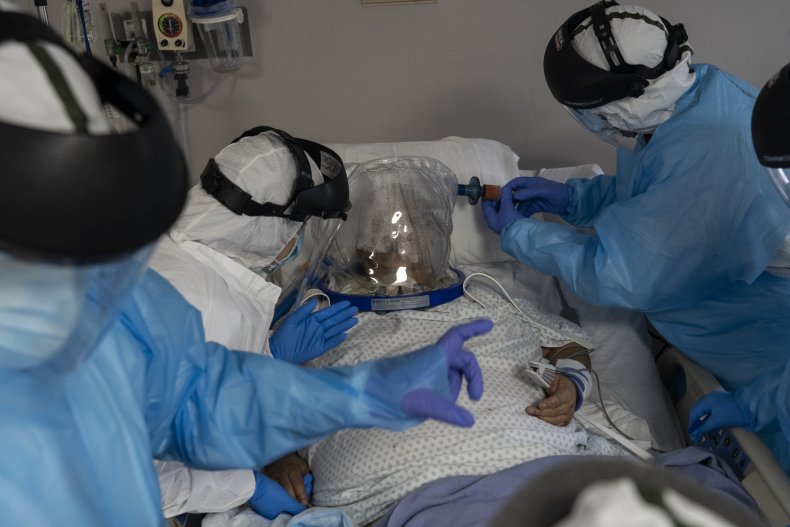 UPDATE 10/21/21 7:17 a.m. ET: This article was updated to include comments from the attorney general's spokesperson.