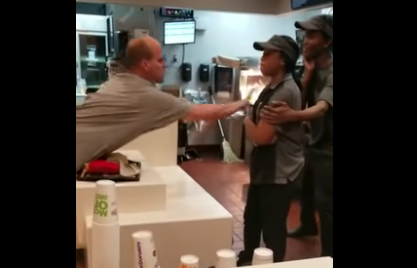 Outraged viewers of a video showing a white McDonald's customer assaulting a young black female employee are demanding the store manager be fired for not helping his co-worker.
Daniel Willis Taylor, 40, of Clearwater, Florida, was charged with two misdemeanor counts of simple battery after he lunged forward and grabbed a McDonald's employee across the counter on New Year's Eve. Video emerged on social media Tuesday showing the woman defending herself with a brutal series of punches to the man's face and body after he initially attacked her as she stood behind the register. The confrontation between Taylor and the employee identified by WFLA-TV as Yasmine James sparked a social media debate on race, privilege and gender divides.
"I am sick of seeing footage of men assault Women (often Black Women) and no one does anything about it. This conditioning contributes to the narrative that we are undeserving of protection and mark my words: it's reaching a peak and turning into an invitation for our abuse," reads one top Twitter response to the Atlanta Black Star video post.
The McDonald's in question is located at 4595 34th Street South in St. Petersburg and an affidavit from St. Petersburg police alleges Taylor also struck a second employee in the spat over a straw.
But thousands of angered viewers of the now-viral video are demanding the St. Petersburg store manager to be fired for not only refusing to help his employee under attack, but also for appearing to allow the assaulting customer to finish his order. The white man can be seen pointing his finger at the manager and demanding the female employee should be "fired."
Other people responded to the video by posting a quote from Malcolm X, which said "the most disrespected person in America is the black woman. The most unprotected person in America is the black woman. the most neglected person in America is the black woman."
"Im tired of seeing black women being abused and disrespected left to fend for ourselves," Twitter user Hennessy Haskin said. "I hope she leaves that job and everyone there far behind if she can."
Online Pinellas County arrest records show the 5' 8," 135-pound Taylor was charged with the two counts of 1st degree simple battery for initiating the physical encounter that quickly backfired as he received around a dozen furious blows to the face as she defended herself. Stunned male and female coworkers and a manager tried to physically restrain the young black female employee before ultimately coming from behind the counter to pull the two apart. Police identified Taylor as a "transient" or potential homeless individual in his arrest report.
But the customer continues to place his order and demands, "I want her ass fired right now," as the store manager reads his receipt and other employees can be seen cleaning up the mess from the fight over the register. The fired-up young female McDonald's employee who was assaulted can be heard responding incredulously that he should be going to jail.
"I was just asking you a f***ing question, bitch," the man screams at the woman after the altercation.
According to his arrest report, Taylor had just celebrated his 40th birthday the day before he appeared in the now-viral video assaulting the McDonald's employee.
Irate viewers of the video on social media are now calling for the middle-aged male manager, who appeared seemingly helpless in the video, to be fired.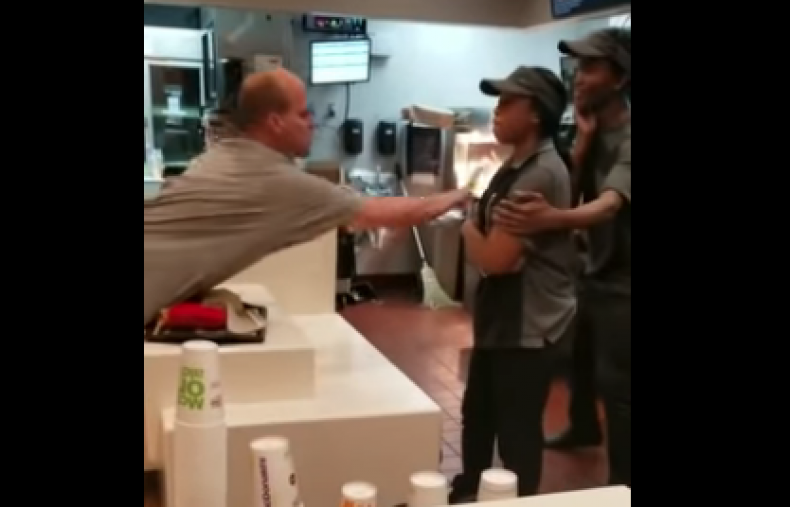 "This man needs to be locked up now, and then he has the nerve to call for her to be fired," another frustrated Twitter user wrote of the viral video. "#privilege and police should have been immediately called. The @McDonald's managers continued to take his order and accommodate him despite him assaulting a WOMAN."
"When will you be assisting your employee in pressing charges against this man and also training your staff on how to properly handle an assault on a woman and one of your employees. We need answers NOW," Rochelle Ritchie demanded Tuesday on Twitter.
This story has been updated to include more information about the victim and the reaction to the video.