Like David Bowie before her, Annie Clark, the innovative singer-songwriter-guitarist who goes by the stage name of St. Vincent (the moniker, she says, comes from a line in a Nick Cave song), has come up with alter egos tied to each of her albums. For 2011's Strange Mercy, she told Billboard, she was a "housewife on pills;" for 2017's Masseduction, she was a "dominatrix at a mental institution." On her latest Daddy's Home (due May 14), she's gone back to the early 1970s as an Andy Warhol-esque character living in gritty and bohemian New York City, the kind of downtown scenester Lou Reed celebrated in "Walk on the Wild Side."
This era has always fascinated the Tulsa-born Clark, 38. "It was this period of time in downtown New York where culturally things were really tumultuous: life was bad, but music was great," she tells Newsweek. "It kind of reminds me of where we are now: 'Okay, we're kind of sifting through the rubble, we're singing from the burned-out building.' We're in this period of transition where we're reassessing and tearing down old institutions of power."
The music on Daddy's Home is an homage to the old vinyl records that Clark's father introduced her to when she was a kid, recalling such acts as Parliament-Funkadelic, the Pointer Sisters, Stevie Wonder, Steely Dan, Pink Floyd and Bowie during his Young Americans period. "This kind of music has been in my ears forever," Clark says. "I wanted to approach some of the sophistication of it. As a musician, I probably wasn't ready to learn some of the lessons that this kind of music taught me until this moment. But I was just instinctively drawn to it."
The new record still has the familiar aspects of St. Vincent's previous works: surrealistic soundscapes and edgy lyrics in addition to her guitar heroics and exquisite singing. But the most striking aspect of Daddy's Home is its warmth and its reflective mood in contrast to the futuristic bombast of her last album. "Masseduction was like, 'Here, drink this cup of acid and then dance till your feet bleed,'" explains Clark. "[Daddy's Home] is like, "Hey, come sit in the beat-up leather armchair and I'll pour you a glass of tequila.' I think there is something more inviting in the tone of the songwriting, because I'm writing about the human condition with humor and empathy. It's sort of like I can write about flawed people doing their best to get by, because I've been almost every character on the album."
In keeping up with the theme of imperfect people is the down-and-dirty funk of the album's first single, "Pay Your Way in Pain," which Clark describes as a blues for 2021. "I think we live in a society that often makes people choose between dignity and survival," she says. "It's all of the classic blues tropes: 'I don't have any money,' 'my baby left me,' 'I've been kicked out of polite society'—that feeling of alienation."
The soulful "The Melting of the Sun" is Clark's acknowledgment of women artists "who inspired me and made great work, and were met with hostility from the world for being political like Nina Simone, or Tori Amos talking about sexual assault. Joni Mitchell was just so head and shoulders above a lot of the male artists at the time but people [were] not willing to give it up for her genius."
Amid the predominant soulful and spacey rock sounds of the record is the folk-inflected "Somebody Like Me," which recalls "Everybody's Talkin'" by Harry Nilsson. It's Clark's meditation on relationships "in the way that love is a mutually agreed-upon delusion. It's something that you build together and there's an aspect of love, which is similar to an aspect of faith or self-mythology, where you truly can just believe it into existence. I think that's really powerful. That might not seem romantic to some people where the predominant feeling about love is it's just something that happens to you."
Daddy's Home (which marks St. Vincent's second collaboration with producer Jack Antonoff) concludes its late-night, downtown vibe with "Candy Darling," a tribute to the late transgender actress and Warhol Superstar, who actually was featured in "Walk on The Wild Side" ("Candy came from out on the Island..."). "I thought what an incredible story Candy Darling is," Clark says. "I was thinking about how her ascent to heaven is sort of like taking the final uptown train of the night. I wanted to write a love letter to somebody who was truly themselves and powerful [with] her particular kind of glamor, but would also stick you with a shiv if you crossed her."
Clark admits the album's title might sound "funny," "cringey" or "pervy." But it has a poignant backstory: In 2010, her father was sentenced to 12 years in prison in connection with a multi-million dollar stock manipulation scheme (he was released in 2019). "It's so sad," Clark recalls of the episode. "It's all the emotions. You're angry, you're sad. At the time, I dealt with it the way that I knew how, which was to write about it."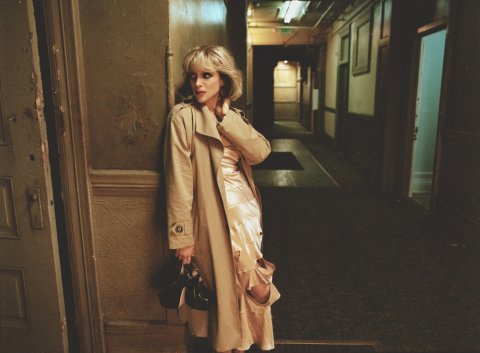 Since bursting onto the scene with her 2007 debut album Marry Me, Clark has evolved from a critically acclaimed indie rock artist to a formidable pop star. "I'm not indifferent to it," she says of the attention. "I'm at the occasional 'free-coffee-at-the-coffee-shop' level, not the 'severed-pig's-head-to-my-front door' level. So that's a pretty cool place to be. The interactions that I have with fans on the street or anything, it's so lovely. I got to learn how to be a person in the midst of also learning how to be a musician because I didn't blow up at age 18. I feel pretty chill about it."
Not only her music, but also her stage appearance has gone through periods of reinvention, as indicated with her current '70s Candy Darling-inspired alter-ego. Asked if there was one particular persona from her career that perhaps represents her real life, she says, "I think that everything is sort within me, and it's just a question of which aspects of your personality do you turn up and what aspects do you turn down. It's all in there somewhere. I think I'm a little more interested in what I can make than what I am."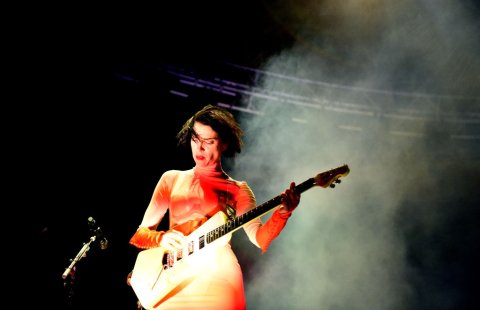 Further Listening
Marry Me (Beggars Banquet, 2007)
After performing with the Polyphonic Spree and Sufjan Stevens, Clark released her full-length debut as St. Vincent. (The stage name comes from the line "Dylan Thomas died drunk in St. Vincent's Hospital" from Nick Cave's 2004 "There She Goes, My Beautiful World"). The hallmarks of her sound are all here: theatrical art pop arrangements and surreal lyrics.
Actor (4AD, 2009)
In a 2009 interview with NPR, St. Vincent said watching movies provided the inspiration for her second album. The jagged "Marrow" drew from The Wizard of Oz, while "The Strangers" came from Snow White and the Seven Dwarfs; another standout was the frenetic-sounding yet catchy single "Actor Out of Work."
Strange Mercy
(4AD, 2011)
St. Vincent's third album was released in 2011, a difficult period for Clark and her family. A sense of tension runs through the record in tracks like the pulsating "Cruel," the avant-garde pop of "Chloe in the Afternoon," and the metallic stomp of "Cheerleader." The dramatic "Surgeon" was inspired by a line from Marilyn Monroe's diary referencing the famed acting teacher Lee Strasberg.
St. Vincent (Loma Vista, 2014)
Until Masseduction, this record was Clark's most brash-sounding effort, with memorable cuts like the New Wave-ish "Birth in Reverse," a meditation on the mundane, and the funk-driven "Digital Witness" a commentary on our obsession with social media.
Masseduction (Loma Vista, 2017)
Her first album to reach Billboard's Top 10, Masseduction saw Clark go mainstream. Co-produced by hitmaker Jack Antonoff, hard-hitting tracks like the "Los Ageless," the industrial-leaning "Fear the Future," the pointed and satirical "Pills" and the thrilling title cut pummel the listener. Subdued numbers like "New York" and "Happy Birthday, Johnny" counteract the bombast.