'I Was Stabbed Through The Eye By a Fencing Sword'
My uncle first took me to fencing class at a local hall in Coro, Venezuela when I was just 8 years old. Most of the other fencers were family and friends, and by the age of 12, I had already begun taking part in national competitions. By 25, in 2007, I had competed in numerous international contests and I was completing my second four year Olympic cycle; preparing to represent Venezuela in fencing in the 2008 Olympics.
The morning of November 23 that year began in a very normal way for me. A friend and I delivered fencing equipment to a group of athletes in a nearby city and later, I went to training as usual. Just days before I had arrived home from an International Grand Prix in Doha, so I was in good physical condition and generally feeling positive about training that day. As a group, we had taken all the usual safety precautions and, as I normally did, I was wearing an FIE authorized mask; the same one I had just used while competing in Doha.
My brother-and-law and I were in the middle of a 15 touch bout when he performed an attack move and his fencing sword somehow impacted my mask and broke the glass front of the visor. The blade then penetrated my skull just below my right eyeball.
I collapsed and when I briefly regained consciousness I remember just seeing the terror on the faces of my teammates and coaches as they desperately tried to help me. At this point the blade was lodged in my brain and I have since been told that my teammates carried me out of the training room and my trainer took me in his car to a local hospital.
But, my injuries were so serious that doctors decided to send me in an ambulance to Luis Razetti Hospital. I was drifting in and out of consciousness and I only remember moments, like asking my teammates what was happening, but I must have realized the seriousness of the situation, because I remember asking to call my wife.
After arriving at the second hospital, I was taken for a brain scan immediately before doctors decided to place me in an induced coma until surgery the following day. The sword had caused a deep puncture wound that had penetrated my cranial vault, so during that surgery, a ventriculoperitoneal (VP) shunt was inserted to drain the liquid that was beginning to build and release the pressure on my brain. Then, the severe damage to my brain—including my cerebellum, brainstem and hypothalamus—had to be treated during cranial and brain surgery. The doctors and surgeons couldn't believe I was still alive after the accident, but they also wanted to ensure that as well as simply existing, I would be able to stand, walk and have decent vision in the years to come.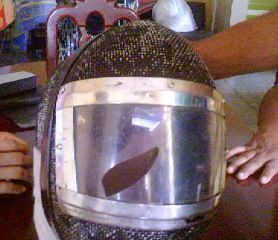 Following my surgeries, I spent a month in the hospital's Intensive Care Unit (ICU) in an induced coma. I can still remember the hallucinations I had during those weeks; I heard voices, saw bright lights, saw faceless people dressed in white taking care of me and I imagined my daughter, who hadn't been born. When I eventually woke up, I still didn't completely understand what had happened, and the doctors weren't communicating anything directly to me about my situation. Instead, they shared updates on my condition with my family, but even they didn't explain fully to me at the time. Looking back, I think they were concerned that knowing the severity of what had happened would have a negative impact on me and my recovery.
In fact, the opposite happened. The knowledge of how severe my injuries were strengthened me spiritually and mentally. My perspective was that I had already survived an accident that should have killed me on the spot; I experienced a fencing injury that is incredibly rare. And, because my wife was pregnant, I was inspired to persevere in my recovery by the thought of my unborn daughter. Although doctors had thought it could take me up to 10 years to learn to walk again, within two months, I was able to stand and take a few small steps.
But when I eventually left the hospital one month later, I weighed around 100lbs, so it was a long and difficult road to recovery. I had to relearn to walk and talk, as well as the many smaller skills I had to master all over again. Over the past 14 years, I have had numerous neurological and physical rehabilitation treatments. Due to the serious damage caused by the accident, I had to work to recover use of both the right and the left side of my body. But the most intense and difficult work over the years has been to regain strength, mobility, sensitivity and balance on the left side of my body. That's without taking into account the many sessions of psychological therapy I had to help me deal with no longer being an elite athlete competing for my country.
In the early years after the accident, because of the obvious physical and mental issues, I didn't work. But in 2012, I began to coach fencing in Venezuela, even travelling abroad with athletes. At the time, Venezuela was already in the midst of a political, social and economic crisis that continues even now. I knew these conditions were counterproductive to my recovery and ultimately, my wife and I made the decision that I would go and live in Spain in 2018. My wife and daughter also now live in Europe too.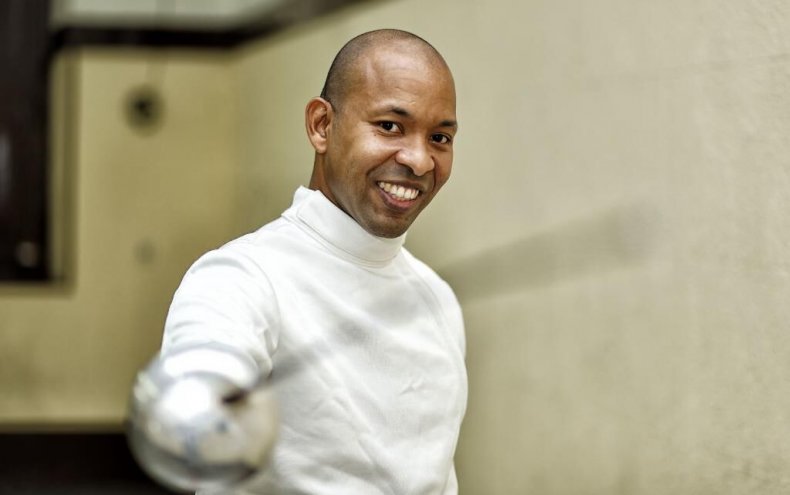 After moving to Madrid in 2018, I began coaching teams here, which I still do, along with working on a program called Esgrima Sin Fronteras (Fencing Without Borders), which takes fencing into schools in Madrid.
On October 9, 2021 I took part in my first competitive fencing event since the accident. Having recovered from such a serious injury, I now feel as though I'm capable of anything I set my mind to and I can share a message of resilience, optimism and perseverance with others. And, my outlook on life has changed for the better. More and more, I understand that although the road through life can be hard, we must enjoy every step and every second we breathe.
I have never felt nervous about fencing again, I was actually more anxious to return to the sport. So, I put a huge amount of work and effort into being physically ready. Even after such a serious accident, I still love this sport.
Luymar Hernández is a fencing coach and athlete living in Madrid, Spain. He is the founder and director of Esgrima Sin Fronteras (Fencing Without Borders). You can find out more at esgrimasinfronteras.com.
All views expressed in this article are the author's own.
Translation from Spanish by Marc Vargas. Edited from an interview by Jenny Haward.