Stacey Abrams Says She Can Still Win 2020 Election Even If She Enters Primary Months From Now
Georgia Democrat Stacey Abrams is still leaving the door open for a presidential run, saying she believes she can enter the crowded 2020 race months from now and still be victorious.
"I do believe I could enter the conversation as late as the fall and still have a chance to win," Abrams said during an appearance on MSNBC on Thursday morning.
Abrams added that she is "watching to see what happens" among the crowded Democratic primary before she makes her final decision on a White House bid. As of Thursday, there were 23 liberal candidates vying for the Democratic Party's nomination.
The Georgia Democrat added that if she does decide to "join the fray" then she looks forward to "being a robust competitor."
Ever since Abrams entered the national spotlight during her 2018 gubernatorial bid against longtime Republican Brian Kemp (a race that garnered the attention of Barack Obama and Oprah Winfrey) there has been widespread speculation about what level of office she would run for next.
It had been rumored that Abrams, the former minority leader of the Georgia House of Representatives, would seek a Senate run in 2020. But last month Abrams shut those rumors down, saying that she did not believe being a senator would be "the best role for me in this battle for our nation's future."
Abrams has left the door open for a White House bid in the upcoming election—either as president or vice president.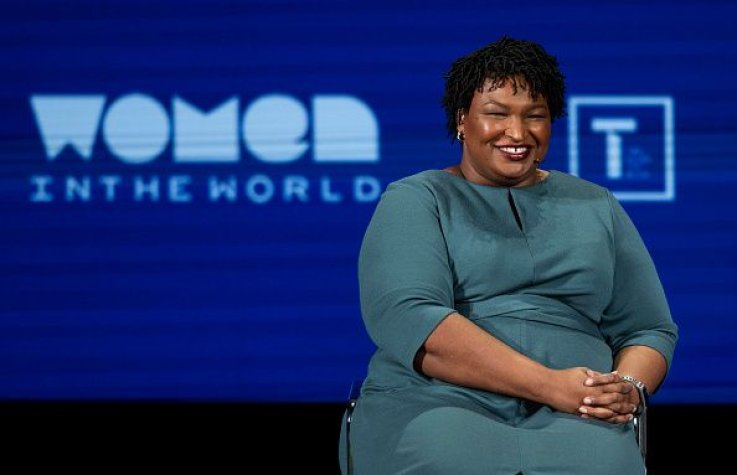 There are already rumors that 2020 Democrats have been talking with Abrams about being their running mate. Abrams has met with Joe Biden, Elizabeth Warren, Kamala Harris and Cory Booker.
But on Thursday, Abrams told MSNBC that no one has reached out to her yet about running for vice president. She also appeared to shut down any talks of running for vice president last month when she told The View that "you don't run for second place."
Abrams was the first female leader in the Georgia General Assembly and the first black leader in the state House. She made history during the 2018 midterm election as the first black woman to be nominated by a major party for governor.
Since her failed gubernatorial bid, in which she was defeated by Kemp by fewer than 60,000 votes amid allegations of election mismanagement, Abrams had become an advocate against voter suppression.
In an editorial published by The New York Times on Wednesday, Abrams wrote that "in Georgia and across our country, voters deserve the right to pick their leaders and set the direction of our nation. And we shall not rest until this democracy is fully realized."
Stacey Abrams Says She Can Still Win 2020 Election Even If She Enters Primary Months From Now | U.S.