Stacey Abrams vs. Donald Trump in 2020? Georgia Governor Candidate Says 'I Am Open to All Options'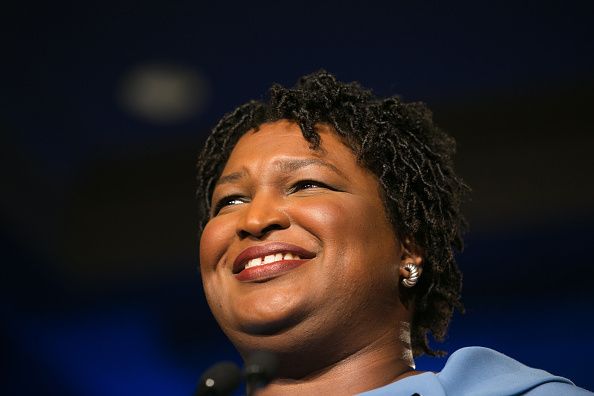 Stacey Abrams, whose bid in Georgia to become the first black female governor in U.S. history drew national attention, has not ruled out a presidential run in 2020.
Asked on Monday about whether she would launch a presidential campaign, Abrams initially responded: "No…I haven't thought about it at all." But before ruling out the idea completely, she said: "I am open to all options, and it's too soon after the election to know exactly what I'm going to do."
Abrams also said that she had considered running for the U.S. Senate seat currently held by Republican David Perdue in 2020, or even run again for governor in 2022, which would mean a possible rematch between Abrams and her Republican opponent Brian Kemp.
Kemp narrowly defeated Abrams at the polls in November, with Abrams losing to the Trump-endorsed candidate by fewer than 60,000 votes. But even as the Democrat formally ended her bid more than a week after Election Day, she refused to concede given the allegations of voter suppression throughout Georgia.
"I acknowledge that former Secretary of State Brian Kemp will be certified as the victor in the 2018 gubernatorial election," Abrams announced. "But to watch an elected official who claims to represent the people in this state baldly pin his hopes for election on suppression of the people's democratic right to vote has been truly appalling."
Abrams and her campaign also announced that they would be filing a "major federal lawsuit" against the state of Georgia for its "gross mismanagement" of the gubernatorial election.
Kemp, who as Georgia's secretary of state was responsible for overseeing his own election, repeatedly dismissed accusations that he was involved in suppressing the vote of thousands of minority residents. During a debate weeks before the election, Kemp called voter suppression a "farce" and said the claims made against him were "absolutely not true."
Abrams's remarks about her political future came at a conference organized by Way to Win, a progressive donor network that donated more than $20 million to this year's midterm elections. In her address to the crowd, Abrams said that the "Deep South is rising again. And we will not stop."
"Georgia is my state," Abrams continued "And the changes I talked about in this campaign remain changes I believe are necessary for our state to continue to progress, to serve the entirety of our state, and that the issues that I raised remain urgent and important."