Stacey Abrams' Abortion Comments 'Deny Science': Lindsey Graham
Senator Lindsey Graham of South Carolina called out Democratic Georgia gubernatorial candidate Stacey Abrams for comments she made Thursday about reproductive rights.
"There is no such thing as a heartbeat at six weeks," Abrams said at the Ray Charles Performing Arts Center. "It is a manufactured sound designed to convince people that men have the right to take control of a woman's body away from her."
Graham, who on September 13 introduced legislation that would allow no abortion "on demand" after 15 weeks except in cases of rape, incest or to save the life of the mother, ridiculed Abrams on Twitter.
"Stacey Abrams perfectly encapsulates the belief and direction of the Democratic Party when it comes to the unborn -- deny science and support abortion on demand up until the moment of birth," Graham wrote. "This extreme position only works if you deny science."
Graham's bill, which is facing opposition from some of his Republican colleagues in the Senate, addresses how an unborn child first reacts to touch at eight weeks' gestation; how eyes begin to form and conclude formation between five and 10 weeks; and how at 12 weeks an unborn child takes on "human form."
When previously asked about abortion limits, Abrams said it was a medical decision left to the woman, her physician and her family.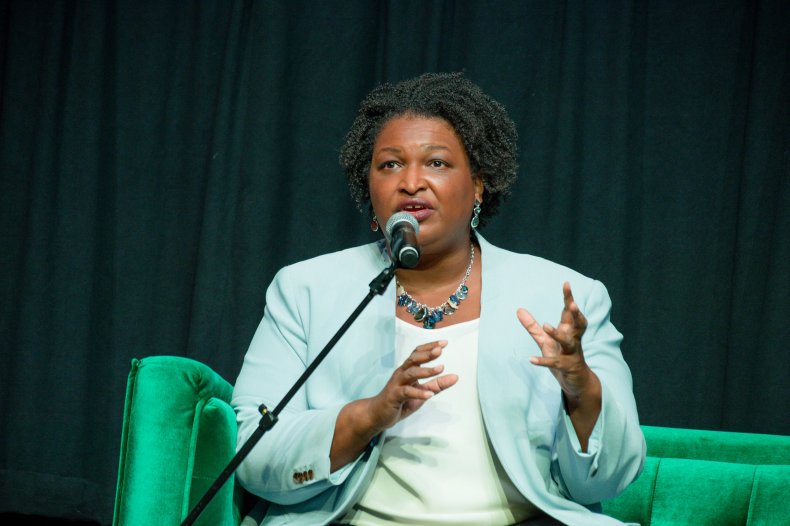 In June, she clarified her views to The Atlanta Journal-Constitution, saying she avoided specific time limits due to ever-changing science. Now, if elected, she intends to pass legislation for the rights of women in Georgia.
"That right continues until a physician determines the fetus is viable outside of the body, except in the case of protecting the woman's life or health," she said.
Abrams' campaign website says that in addition to protecting and expanding reproductive rights, she would "veto legislation that would further restrict abortion rights and work to repeal the six-week abortion ban."
"Stacey Abrams has already stated her support for limits in line with Roe and Casey, and doctors have been clear that the so-called 'heartbeat law' is not medically accurate," Abrams campaign spokesperson Alex Floyd told Newsweek on Thursday.
Floyd referenced comments made by Dr. Nisha Verma, an OB-GYN who specializes in abortion care and works at the American College of Obstetricians and Gynecologists.
"At six weeks of gestation, those valves don't exist," she told NPR. "The flickering that we're seeing on the ultrasound that early in the development of the pregnancy is actually electrical activity, and the sound that you 'hear' is actually manufactured by the ultrasound machine."
It is a view that has been shared by other medical professionals, notably in the aftermath of Texas passing a law in September of 2021 banning abortions after the six-week mark of pregnancy.
Dr. Saima Aftab, medical director of the Fetal Care Center at Nicklaus Children's Hospital in Miami, told Live Science last year that although the flutter can be detected by ultrasound, it is basically just a cluster of cells that will become the heart gaining the capacity to transmit electrical signals.
A challenge to Texas' Heartbeat Act was quashed in federal court in April, in what state officials called a victory for the unborn.