Stacey Abrams Apologizes for Maskless School Photo, Takes Swipe at GOP
Georgia Democratic gubernatorial candidate Stacey Abrams has apologized for taking a maskless photo in front of a group of schoolchildren, and also used the opportunity to criticize the GOP for a recent decision on voting rights.
Abrams' picture, tweeted by her official account, triggered a backlash from conservatives and outraged parents who oppose mask mandates in schools. So fierce was the anger, critics compared it to Gavin Newsom's "French Laundry" moment, when the California governor was photographed breaking his own COVID rules at an upscale restaurant in a scandal that helped propel an unsuccessful recall campaign.
During an appearance Tuesday on CNN's Erin Burnett OutFront, Abrams apologized for the decision to take a maskless photo with the children. The photo, which was taken last week at a Decatur, Georgia, elementary school, shows Abrams sitting unmasked among a class of kids, all of whom appear to be wearing masks.
Many compared the photo to ones that emerged in November 2020 showing Governor Newsom attending a birthday party at a restaurant with at least a dozen people, violating California's COVID restrictions at that time.
However, just as Newsom apologized following his incident at the restaurant, Abrams reiterated that she made a poor choice in taking the photo, and that she had followed COVID-19 protocols during the event.
"I told the kids, 'I'm taking my mask off,' because I'm reading to kids who were listening remotely as well," Abrams said. "And we were socially distanced, the kids were socially distanced from me."
"In the excitement after I finished...I took a picture, and that was a mistake," Abrams added. "Protocols matter, and protecting our kids is the most important thing, and anything that can be perceived as undermining that is a mistake, and I apologize."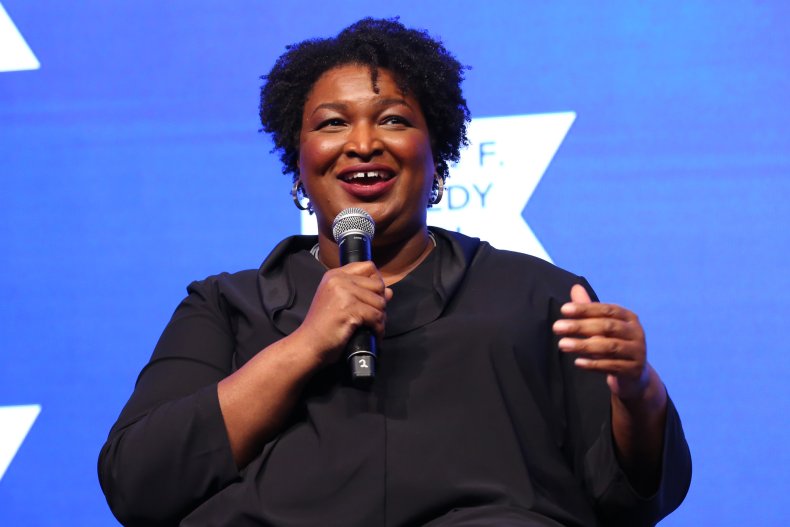 Pushbacks against masking has traditionally been seen as a conservative issue. However, in the wake of at least four Democratic governors easing or ending mask mandates in a number of states, Abrams told Burnett, "We can only follow the science and follow our circumstances."
"Unfortunately in Georgia, we're not in a place where that conversation is ready because we have one of the lowest vaccination rates in the country...I believe that our job is to protect children, and I know that educators and parents have to balance protection and education, and that is a complicated issue," Abrams continued.
"I think each governor has to evaluate what's happening where they are, we have to look to the CDC, but we also have to recognize that we are shifting from pandemic to endemic," Abrams said. "My responsibility if I am lucky enough to be the next governor of Georgia is to look at the science...and to set the right example, and right now that example is that we wear masks whenever possible."
Following her apology, the conversation shifted to voting rights, the topic Abrams is most known for. She founded a group known as Fair Fight Action in 2018 in order to help fight voter suppression.
Burnett asked Abrams her opinion on a recent Supreme Court decision that upheld a GOP congressional map in Alabama. The map has been decried by Democrats and liberals as being unfair toward African Americans, who, under this map, would be able to select just 14 percent of the state's congressional despite Alabama being 27 percent Black.
"I'm very concerned, and I think it's worth noting that Chief Justice Roberts...sided with the minority, saying that this is indeed a clear example of the erosion of voting rights," Abrams said. "And when John Roberts says that you're doing something wrong on voting rights, we need to pay attention."
"We are seeing an attack on minority voting rights, and we're seeing Republicans operate with impunity, believing that they do have a majority that will allow them to crush...the ability of communities of color to elect representatives who reflect their values," Abrams concluded.
Newsweek has reached out to Fair Fight Action for comment.