Democrats are living in 1992, and they're losing elections because of it, one of the party's potential new stars, Stacey Abrams, said Tuesday Morning.
Abrams, the Democratic gubernatorial candidate for Georgia is in a tight race against Republican ally of President Donald Trump, Georgia Secretary of State Brian Kemp. If elected, Abrams will be the first black female governor in the United States.
Minorities, single woman and millennials have been left out of the Democratic political calculus, Abrams said, "because as a party Democrats have been trying to re-create the coalition that last elected Bill Clinton."
Abrams discussed these issues at The Wing, a woman-focused club in New York City Tuesday morning. Georgia is now nearly at racial parity between whites and non-whites, she said, and yet the normative identity in Democratic politics remains the white man.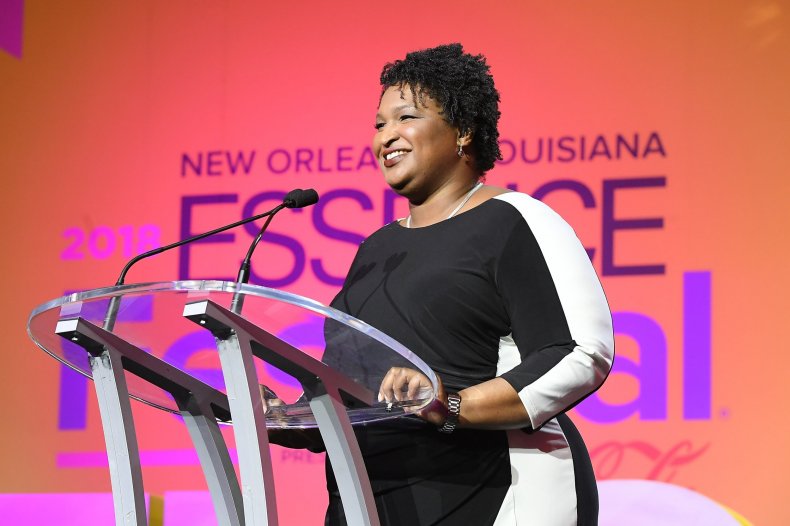 "That's not the coalition that exists today and as long as our political imagination is yoked to a time that is no longer true, our behavior is going to be yoked to that and we're going to lose," she said. "And so Democrats have lost elections across this country trying to relive 1992."
A record 16 of women have won gubernatorial primaries in their state this year, far surpassing previous years. The previous record, reached in 2010, was 10 women.
Abrams questioned why when women vote, they're considered part of a gender gap and when minorities speak about their barriers to opportunity they're seen as talking about identity. "But when we talk about white working class poverty or other issues that's seen again as normative."
Following the election of President Donald Trump, the Democratic party was criticized widely for ignoring the plight of working-class white Americans, renewing the debate about where to focus electoral resources. Hillary Clinton would have won the election if she had maintained Barack Obama's advantage with white non-college graduates, even if she had replicated his black turnout, statistics showed.
But Abrams contends that this is the wrong way to think about things. "I don't want it, I'm good," she said.
"And so instead my approach has been, let's figure out what the pieces are. The first piece of the problem was people of color were not registered to vote in Georgia and so I started a program to register people of color in Georgia, we've registered more than 200,000 of them." People can't be involved in politics if they're not involved in politics, she said, they need to be registered to vote.
Abrams also expressed her own frustration with what she called the dog-whistle racism she's experienced during the election. "It's not anger as much as it is deep frustration because there's no question that I'm the most qualified candidate running for Governor," she said. The candidate has received numerous threats based on the color of her skin and is now accompanied by a security detail.
Internal polls by Abrams's team have the candidate up by 6 points. Democratic bigwigs like Hillary Clinton and Joe Biden have announced their support for Abrams, and Biden is expected to join the progressive candidate on the campaign trail in October.