Stacey Abrams' 'Buffy the Vampire Slayer' Opinions Delight Twitter
Stacey Abrams has recently been heralded for potentially handing Georgia to the Democrats for the first time in 28 years, but she also has some good opinions on Buffy the Vampire Slayer.
The Democratic politician played a pivotal role in helping the Biden-Harris ticket win the White House and is also something of a TV buff.
Abrams entered into a discussion on the beloved 90s series on Twitter today, and gained quite the reaction from social media users.
One Twitter user started a thread on the iconic Sarah Michelle Geller drama only to be told that Abrams is actually a massive fan of the show.
"Fun little tidbit about Stacey Abrams—she's a huge Buffy fan!" they wrote, leading the original poster to tag Abrams who responded to a claim that she "ships Spike."
"To be fair, Angel was the right boyfriend for Buffy coming into her power," Abrams tweeted. "Spike was the right man to be with as she became the power."
For context, the Buffy/Angel/Spike love triangle is a much-discussed nugget of Buffy the Vampire Slayer canon.
Angel (played by David Boreanaz) is Buffy's on-off against first love and Spike (played by James Marsters) was her "bad boy" turbulent relationship.
Abrams' views on the love triangle have resonated will with fellow Buffy fans on Twitter, with legions commenting in agreement and praise.
"Oh my god Stacey Abrams is sharing CORRECT OPINIONS ABOUT BUFFY ON THE TL. 2020 is really turning AROUND," one person tweeted.
While another added: "Ya'll @staceyabrams is out here saving democracy by day and debating #Buffy minutia by night and she continues to find new and exciting ways to be legendary."
Congressman Ruben Gallego even waded in to respond: "Totally agree on Buffy. If you ever have time, can we talk about Sex & the City? I am team Aidan but it seems like everyone else is for Mr. Big? Mr. Big just is too toxic. IMHO."
Series creator Joss Whedon is also in agreement.
In 2019, Abrams invoked Buffy as a metaphor for understanding political activism in the Trump era.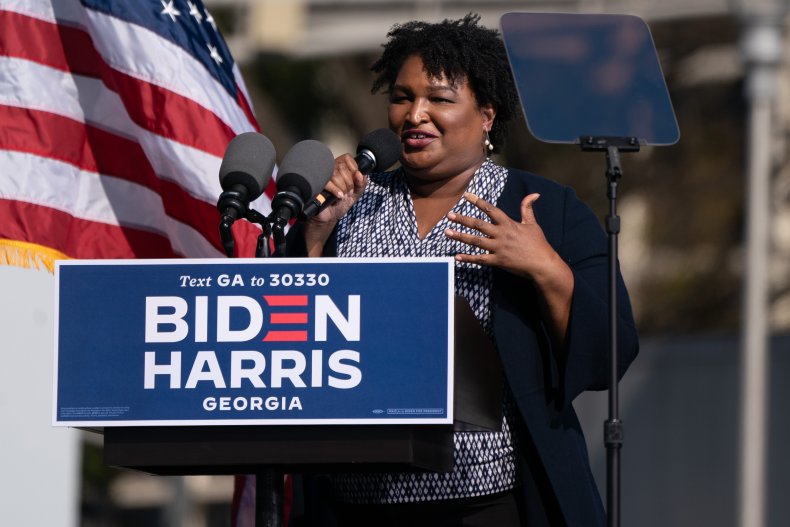 "This political moment has activated people who for years, wanted to do more and say more but didn't think they were ready to be called," Abrams said in an interview with Now This.
Gellar herself said she "fangirled" when she found out Abrams was such a big fan of the show.
"I was shocked. That's where I get the fangirl moment," Gellar said.