Stacey Abrams' Endorsements Sweep Georgia Primary Runoffs
The winners of Georgia's primary runoffs scored huge victories for gubernatorial nominee Stacey Abrams, reaffirming the Democrat's influence on voters.
On Tuesday, all three of Abrams' endorsed candidates won the runoff elections against their Democratic opponents, clinching the party's nomination and heading to November's general election.
State Representative Bee Nguyen, Charlie Bailey and William Boddie won their races with 74, 62 and 63 percent of the vote at the time the race was called by the Associated Press.
Abrams had endorsed Nguyen for secretary of state, Bailey for lieutenant governor and Boddie for labor commissioner.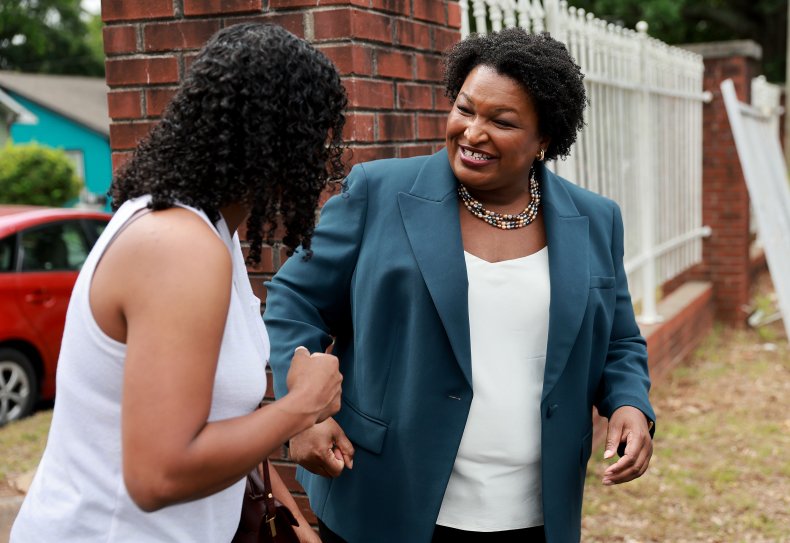 Nguyen and Boddie led their primaries with 44 percent and 28 percent, respectively. On Tuesday, Nguyen faced off against state Representative Dee Dawkins-Haigler, who received the endorsement of all the other secretary of state candidates who didn't make the runoff, while Boddie ran against entrepreneur Nicole Horn.
Bailey had finished second in his primary with 18 percent of the vote, behind former Atlanta City Council member Kwanza Hall, who received 30 percent.
In a statement this month, Abrams called all three candidates "proven leaders."
"To build a stronger Georgia, we need leaders who will work for quality, affordable healthcare, defend civil and human rights, protect the right to vote and build an economy that works for everyone," Abrams said.
Abrams is on the ballot for the general election as she prepares for a second showdown against incumbent Governor Brian Kemp. Abrams, who ran unopposed last month in the Democratic primary, narrowly lost to Kemp in 2018. Kemp, who recently crushed his Republican opponents in a landslide primary victory, defeated Abrams 50.2 to 48.8 percent in the previous gubernatorial election.
In the wake of her loss to Kemp, Abrams turned her efforts to helping the Democratic Party in federal politics, delivering the rebuttal to the State of the Union address in 2019 and being largely credited with helping flip Georgia blue in the 2020 presidential election.
The voting rights activist—known for boosting voter turnout across the state, especially among Black voters—also found Fair Fight Action, an organization dedicated to fighting voter suppression, particularly in Texas and Abrams' home state of Georgia.
Tuesday's victories bolster Abrams' endorsement record in Georgia. Nineteen of her endorsed candidates, who are all running for re-election, are already on the general ballot in November:
Senator Raphael Warnock
Representative Sanford Bishop
Representative Hank Johnson
Representative Nikema Williams
Representative David Scott
State Senator Sheikh Rahman
State Senator Nan Orrock
State Senator Tonya Anderson
State Senator Gail Davenport
State Senator Gloria Butler
State Representative Marie Metze
State Representative Park Cannon
State Representative Debra Bazemore
State Representative Billy Mitchell
State Representative Rhonda Taylor
State Representative Carl Gilliard
State Representative Al Williams
Fulton County Board of Commissioners Chairperson Robb Pitts
DeKalb County Commissioner Larry Johnson