Stacey Abrams Targets Voter Suppression in Key Swing States Ahead of 2020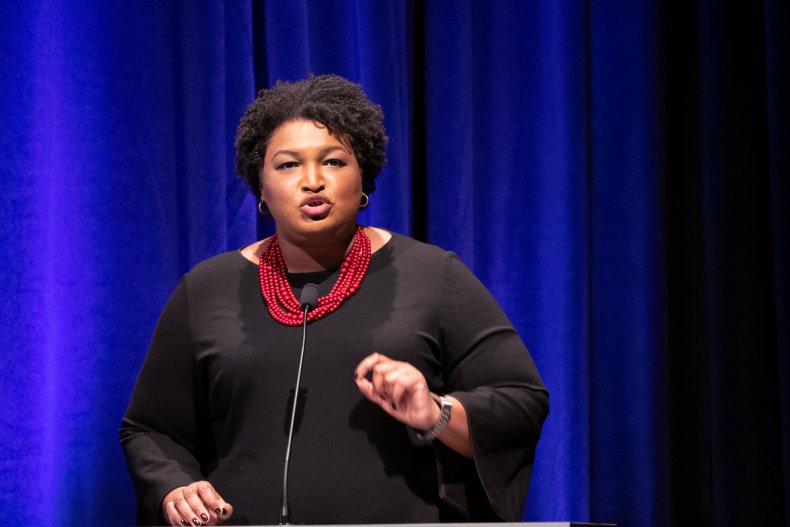 Former Georgia gubernatorial candidate Stacey Abrams, widely seen as a rising star within the Democratic Party and a possible 2020 presidential candidate, is launching a new effort in key swing states to combat voter suppression, the Atlanta Journal Constitution reported on Tuesday.
This initiative will expand on the Fair Fight campaign that she developed after losing to Republican Brian Kemp in Georgia's 2018 gubernatorial election. She is reportedly set to announce the expansion of her voting rights efforts on Tuesday during a speech to a labor union in Las Vegas.
"Fair Fight is working to expand democracy and ensure all voters have access to the polls," the group's website reads. "We promote fair elections in Georgia and around the country, encourage voter participation in elections, and educate voters about elections and their voting rights."
Abrams is a newly prominent figure within a Democratic Party that has struggled to coalesce around an individual leader. She served as the minority leader of Georgia's House of Representatives for seven years and has long been an advocate for voting rights and equal access to the polls.
Her unlikely campaign against Kemp during the 2018 elections garnered outsize national attention, with many looking to the race as a bellwether for broader political sentiment across the country. Though her loss stung during an election cycle where many Democratic women candidates did manage to flip individual districts that were previously Republican-held, there were a number of irregularities in the electoral process in Georgia that many blame for her demise.
Kemp, as Georgia's then-secretary of state, was allowed to oversee an election in which he was a candidate. Additionally, the Brennan Center for Justice said that on Kemp's watch, 1.5 million Georgia voters were removed from the voter rolls between 2012 and 2016. The year before his election to the state's highest office, the Atlanta Journal Constitution reported that 665,000 Georgia voters were purged from the rolls.
Georgia law also made it difficult for new voters to register under its "exact match" requirements, which are believed to have stymied registrations in around 50,000 cases when a voter's information did not perfectly match other data about them contained in government databases.
A misplaced hyphen or missing middle name could have raised flags for any individual applicant. A Reuters analysis found that more than two-thirds of voters whose applications were languishing on the state's "pending" list due to "exact match" requirements were black.
Abrams is reportedly planning to take her rebranded campaign for the upcoming elections, Fair Fight 2020, to battleground states. The initiative will enact voter-protection programs directly and invest in local fundraising efforts.
In addition to the focus on swing states, Abrams is said to bring her ballot-access efforts to three conservative states with upcoming governor's races, Louisiana, Mississippi and Kentucky.
A representative for Fair Fight did not immediately respond to a request from Newsweek about Abrams's new initiative.