Stacey Abrams' Fair Fight Slams Georgia House for Passing 'Anti-Democratic' Voting Bill
The voting rights organization founded by Stacey Abrams criticized proposed election-related legislation the Georgia House of Representatives passed on Monday, calling it "one of the strictest and most anti-democratic pieces of voter suppression legislation" in the nation.
The HB 531 bill has received extensive pushback in recent days not only from Fair Fight Action, which Abrams founded after she lost Georgia's gubernatorial race in 2018, but from other Democrats and voting rights organizations as it progressed through the state legislature. Republicans pushed the bill through the state's Republican-controlled House on Monday, sending it to the state Senate for consideration.
In a Monday afternoon Twitter thread, Fair Fight Action suggested Georgia Republicans' move to push the bill through was "yet another step" toward shifting voting rights for the state's residents "back to the days of Jim Crow."
HB 531 "is a dangerous attempt to roll back voting rights, leading to longer lines and more restrictive rules for absentee ballots while limiting weekend voting and threatening Georgians' privacy by creating opportunities for identity theft just to request a mail-in ballot," the organization tweeted. In addition to saying the proposed legislation would make voting harder for people of color, the group's Twitter thread also suggested it would necessitate tax hikes in order to afford its outlined requirements.
The bill "does nothing but harm voters and fuel conspiracy theories to undermine our democratic institutions," Fair Fight Action tweeted.
One of the bill's sponsors is state Rep. Barry Fleming of Georgia's 121st District, who was appointed the House Special Committee on Election Integrity's new chairman earlier this year. Fleming told GPB News the bill was "designed to begin to bring back the confidence of our voters back into our election system" following the 2020 election and said it would also seek to reduce confusion about voting by introducing "more uniform voting times" across the state.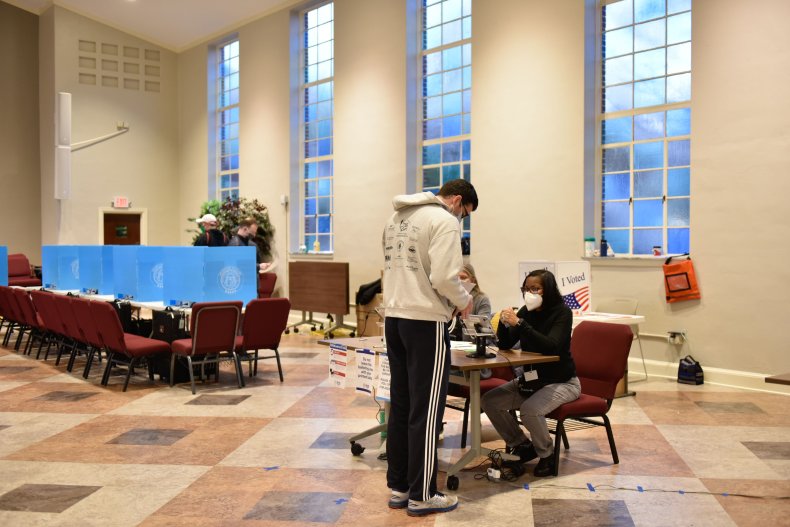 Georgia became a focal point of the 2020 election cycle as polls showed then-Democratic presidential candidate Joe Biden in a tight race with then-President Donald Trump. Biden ultimately won Georgia, flipping the state from red to blue for the first time in a presidential race since 1992. Allegations of voter fraud led some to question the outcome of the election in Georgia and other battleground states, though the allegations were widely debunked and Biden's win was ultimately certified in Congress.
Among the criticisms aimed at HB 531 is that it would limit early voting and place additional restrictions on absentee ballots, both of which ACLU of Georgia's political director, Christopher Bruce, spoke out against during a rally held on the steps of the Georgia State Capitol ahead of Monday's House vote.
"Every eligible Georgian who wants to cast a ballot, to make their voice heard should be able to do so with ease. But HB 531 does not reflect that goal," Bruce said in his prepared remarks for Monday's rally. "At every turn, the bill erects new hurdles to access and guts much of Georgia's existing voting infrastructure."
Georgia Democrats also spoke out against the legislation on Monday, saying it would "threaten millions of Georgia voters' access to the ballot box."
The bill's passage in the Georgia House marked a "dark, dark day" for the state, according to U.S. Rep. Nikema Williams of Georgia, who serves as the chair of the Democratic Party of Georgia.
"Republicans voted as a caucus to enact the most blatantly racist attacks on voting rights in the South since Jim Crow, after losing in an election system they planned, built, and oversaw," Williams said in a statement. "Let history show that instead of fighting for our democracy, these cowards betrayed Georgia voters, threw out truth and facts, and attempted to undo Georgia's legacy as a home for civil rights and accessible elections."
Newsweek reached out to Fleming's office for comment but did not receive a response in time for publication.