Stacey Abrams Burned the Georgia State Flag in 1992 to Protest Confederate Imagery and Doesn't Regret It
Stacey Abrams, the Democratic candidate for governor of Georgia, defended her decision to attend a protest in 1992 that included a burning of the state flag. The flag, she explained, was seen as a symbol of the Confederate States of America and institutionalized racism.
Abrams attended the flag burning on the steps of the Georgia Capitol when she was a freshman at Spelman College in Atlanta. At the time, the flag included the emblem of the Confederate battle flag.
"During Stacey Abrams' college years, Georgia was at a crossroads, struggling with how to overcome racially divisive issues, including symbols of the Confederacy, the sharpest of which was the inclusion of the Confederate emblem in the Georgia state flag," read a statement from Abrams's spokeswoman Abigail Collazo. "This conversation was sweeping across Georgia as numerous organizations, prominent leaders, and students engaged in the ultimately successful effort to change the flag."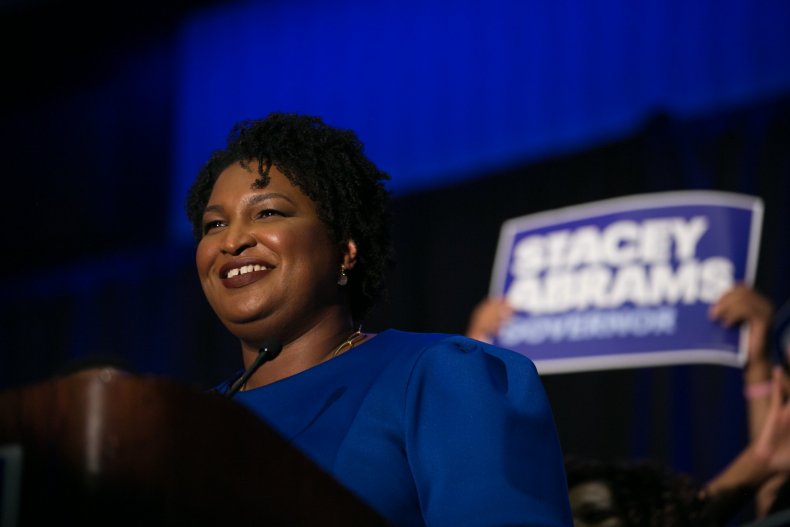 The confederate emblem was added to the state's flag in 1956 as a response to the growing civil rights movement. It was ultimately removed, largely due to protests like Abrams's, in 2001.
If elected, Abrams, 44, will be the first female African-American governor in the country. She is currently polling just two points behind her Republican opponent, Brian Kemp.
"Abrams' time in public service as deputy city attorney and as a state legislative leader have all been focused on bringing people together to solve problems." wrote Collazo.
Images of Abrams burning the flag began emerging on social media earlier this week, ahead of her first debate with Kemp on Tuesday evening. Kemp and his Republican operatives have made attempts to brand Abrams as an extreme leftist who doesn't have Georgia's best interests in mind.
Kemp has said that Georgia should not "attempt to rewrite" its racist past and is in favor of preserving the Stone Mountain carving, a Confederate monument in a popular Georgia state park. The carving is currently protected by state law.
Kemp said that he would work to protect the monument from the "radical left."
In September, a group of white nationalists interrupted an Abrams campaign event and began shouting racial slurs and threatening violence against her while holding signs for Kemp. Kemp did not comment on the issue.
"Today, Georgia is 53 percent white non-Hispanic and 47 percent people of color," Abrams explained at a New York City event last month. "When most people think about the South don't realize that Georgia is nearly at racial parity between whites and non-whites. And because of that lack of comprehension, there has been a lack of imagination about our politics because our politics presume that the normative class is going to decide what happens. But the normative class is moving slowly into the minority."